Report: Zinke used government helicopters for D.C. travel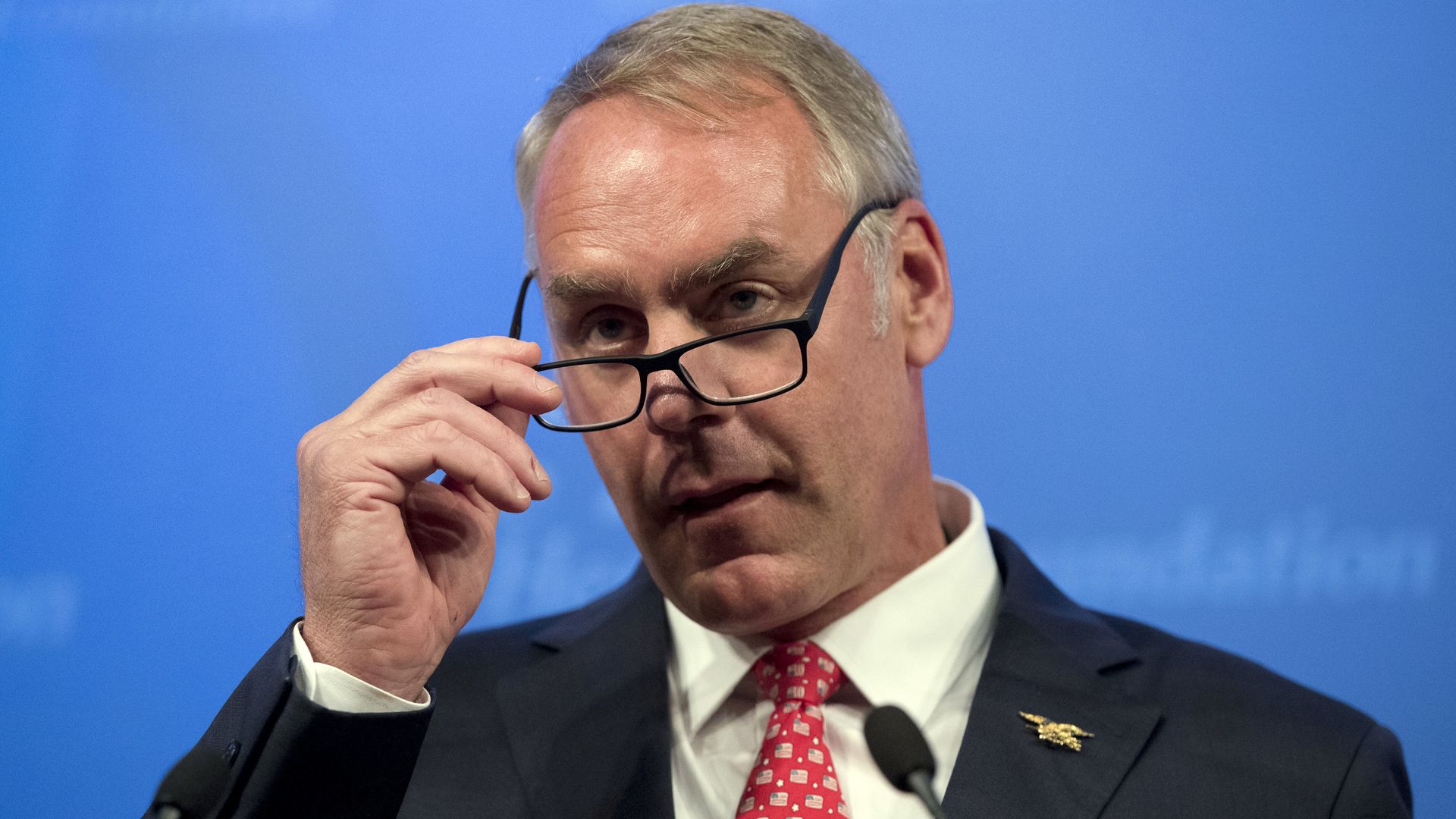 Interior Secretary Ryan Zinke reportedly booked taxpayer-funded helicopters this summer traveling to events near D.C., according to previously undisclosed travel documents obtained by Politico. He also used government vehicles to help accommodate his political events schedule.
Why it matters: Zinke is already under investigation for taking charter and military planes to political events on taxpayers' dime, including a $12,000 charter flight from Las Vegas to his hometown in Montana. Several Trump officials have also come under fire for splurging on government-funded luxury travel, which led to former Health and Human Services Secretary Tom Price's resignation.
Details of his travel, per Politico:
Zinke ordered a U.S. Park Police helicopter to take him and his chief of staff Scott Hommel to an emergency management exercise in West Virginia in June. Zinke's staff said his attendance at a swearing-in ceremony for his replacement in Congress, Rep. Greg Gianforte (R-Mont.), would've kept him in D.C. past 2 p.m., too late to make the two-hour drive to the exercise.
The Interior's response: "The swearing in of the Congressman is absolutely an official event, as is emergency management training," Interior spokeswoman Heather Swift told Politico. "Shame on you for not respecting the office of a Member of Congress."
Zinke also booked a Park Police helipcopter to fly he and another Interior official to and from Yorktown, Virginia on July 7 so he could make it to a horseback ride with Vice President Mike Pence.
The Interior's response: An Interior employee wrote in an email obtained by Politico that the more expensive form of travel would allow the Secretary "to familiarize himself with the in-flight capabilities of an aircraft he is in charge of." He also said the Park Police staff on board would "provide an added measure of security."
Statement from Heather Swift, Press Secretary for the Department of the Interior, on the Politico report: "It's yellow journalism at its worst. After a congressional hearing, the Secretary attended an official Congressional event with the Congressman from Montana and the Speaker of the House before going to an emergency management briefing. On the other occasion he did an aerial survey of a power line corridor, which was pending before the Department, while traveling back from meetings in southern Virginia in order to get to a meeting with the Vice President."
Go deeper: The Trump officials caught splurging on luxury travel
Editor's Note: This article has been corrected to note that the email obtained by Politico was between Interior staffers.
Go deeper