Exclusive: Thune unveils AI certification bill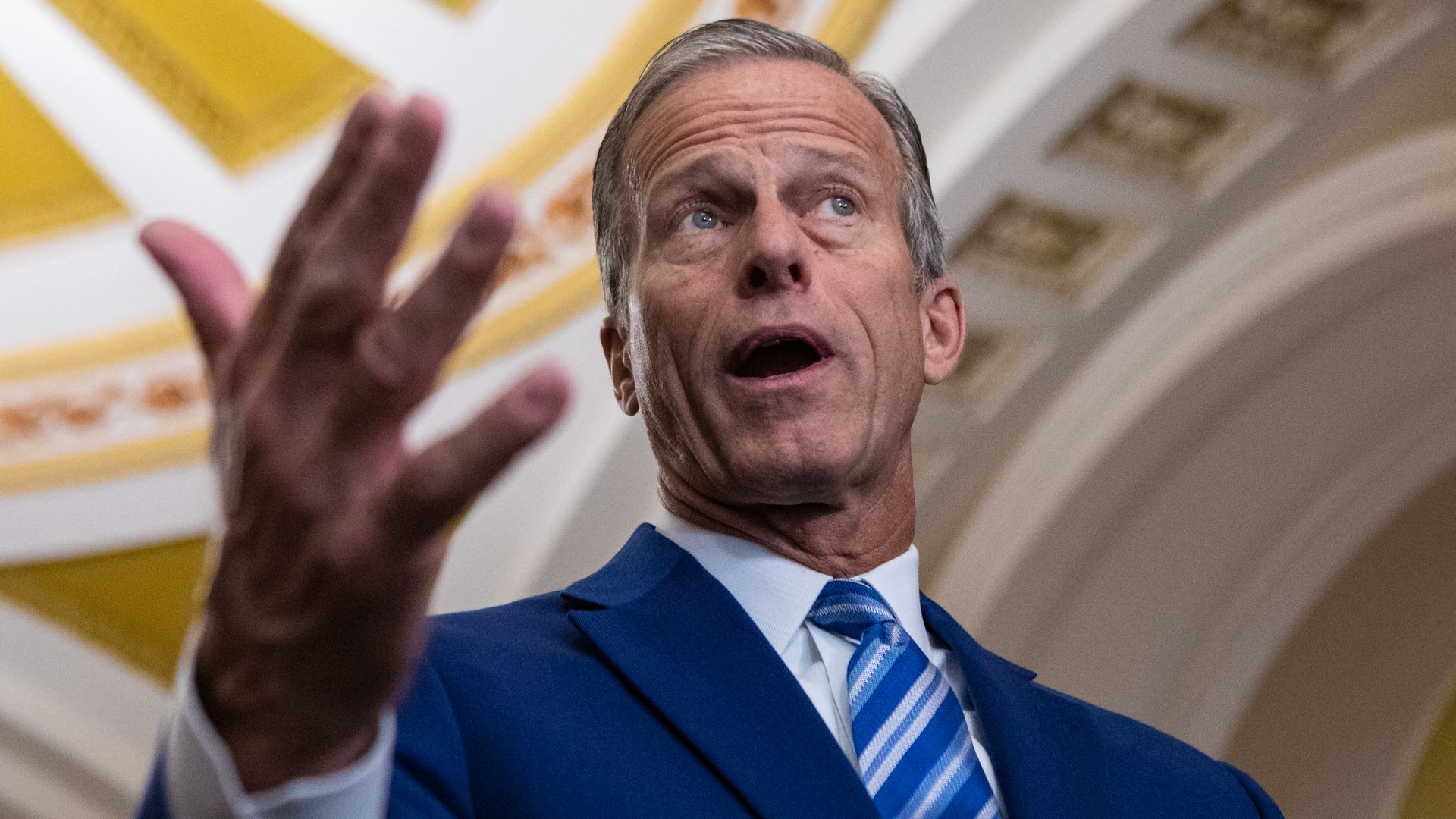 Sen. John Thune will release his long-awaited AI certification bill Wednesday, per a copy of the bill shared first with Axios.
Driving the news: Thune's bipartisan bill, the Artificial Intelligence Research, Innovation and Accountability Act of 2023, is co-sponsored by Sens. Amy Klobuchar, Roger Wicker, John Hickenlooper, Shelley Moore Capito and Ben Ray Luján.
What they're saying: "AI is a revolutionary technology that has the potential to improve health care, agriculture, logistics and supply chains, and countless other industries," Thune said in a statement to Axios.
"As this technology continues to evolve, we should identify some basic rules of the road that protect consumers, foster an environment in which innovators and entrepreneurs can thrive, and limit government intervention," he said.
"This legislation would bolster the United States' leadership and innovation in AI while also establishing common-sense safety and security guardrails for the highest-risk AI applications."
Klobuchar said that the bipartisan legislation "will put in place common sense safeguards for the highest-risk applications of AI — like in our critical infrastructure — and improve transparency for policy makers and consumers."
Details: The bill lays out content provenance and detection standards, requiring the National Institute of Standards and Technology to develop such standards of authenticating online content and showing where it came from.
It also requires NIST to develop recommendations for federal agencies on guardrails for "high-risk" AI systems.
It provides new definitions of "generative," "high-impact" and "critical impact" systems, with distinctions made between developer and deployer of AI systems.
The bill also requires companies deploying "critical-impact AI" to conduct risk assessments and submit transparency reports to the Department of Commerce.
The big picture: Most notably, the bill lays out a certification regime for AI, requiring "critical-impact" AI systems to self-certify compliance with standards developed by Commerce.
An AI Certification Advisory Committee with industry stakeholders would help inform the standards.
Commerce would have to submit a five-year plan for testing and certifying such AI systems.
After submitting the plan, the agency would have the authority to prescribe testing, evaluation, validation and verifications standards for critical-impact AI, which will be open for public comment.
As laid out in the bill, Commerce would work with companies if they report noncompliance with the standards.
Fines, along with bans on certain practices, are possible. Commerce would also make recommendations for consumer education on AI.
Context: Senate Majority Leader Chuck Schumer has been holding AI forums with tech CEOs, academics, civil society, startups and other industry groups to form the basis of AI legislation and hasn't specifically endorsed any AI bills already floating around Congress.
Schumer is aware of Thune's bill, Thune's office said.
Go deeper