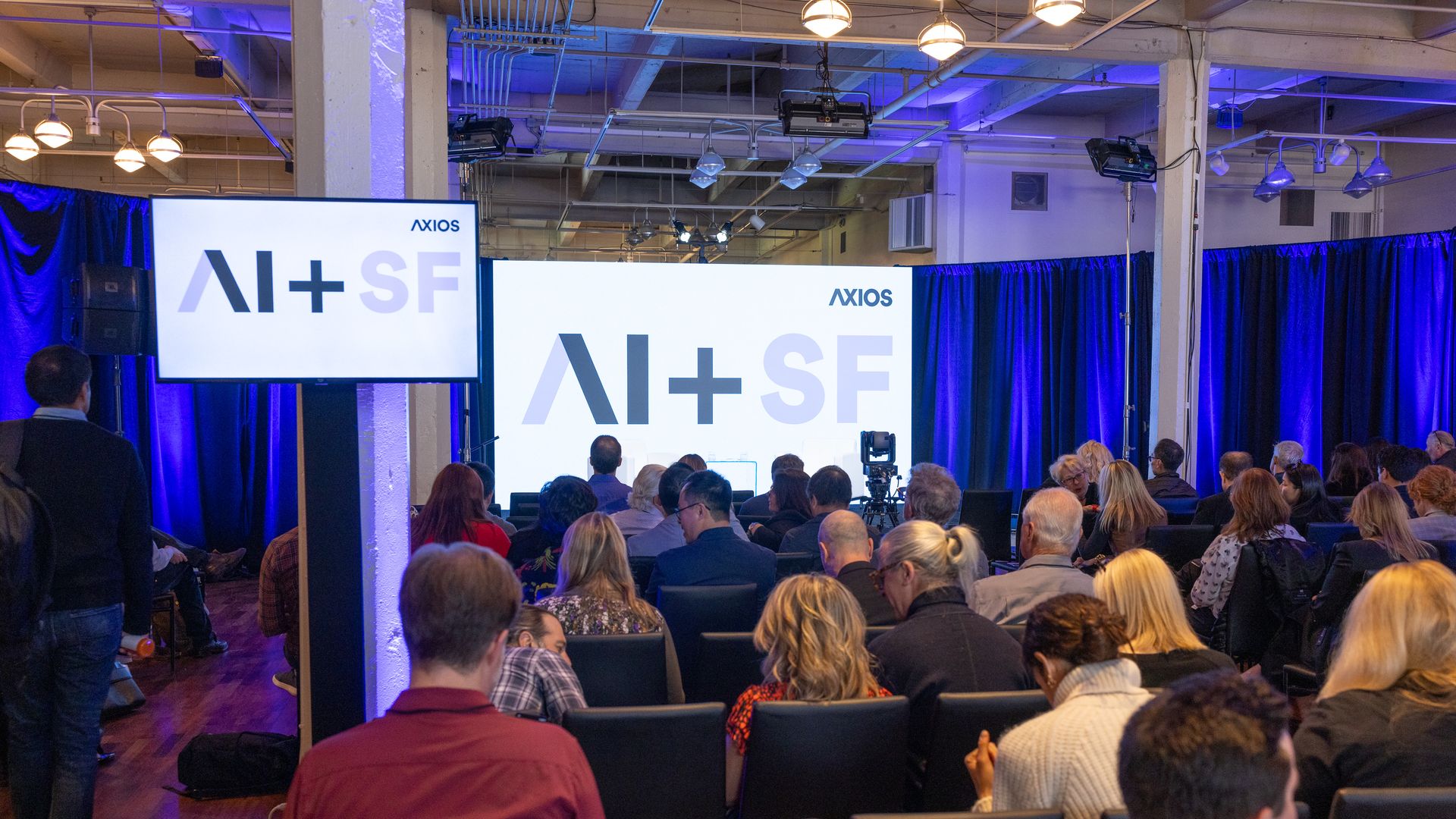 Ashley and Maria led a wide-ranging conversation on artificial intelligence innovation and regulation at Axios' inaugural AI+ Summit in San Francisco on Wednesday.
Why it matters: Policy conversations are often siloed in Washington, D.C., but the decisions made on Capitol Hill, the White House and across government agencies will be heavily felt in places like the Bay Area.
The discussion featured tech industry staffers, academics, advocates for online privacy protections, and state government officials.
The big picture: Silicon Valley and Washington, D.C. often speak different languages regarding the role of regulation in the fast-moving and ever-changing tech industry.
Spurred by the generative AI frenzy, conversations around regulation in D.C. are moving at a dizzying pace.
Yes, but: Actually getting new regulation over the finish line is a slow and and often painstaking process. Still, we got the impression that San Francisco types are paying attention to the conversation, perhaps more than ever in the past.
Here are five takeaways from the Pro Tech Policy team:
1. Government procurement that prioritizes AI companies of varying sizes will be a key driver of competition.
Jonathan Porat, chief technology officer for the state of California, said governments can shape procurement processes in way that enables smaller companies to have a better chance of landing lucrative government contracts.
Generally, there was sentiment in the room that the biggest players in AI were calling too many shots in the regulatory conversation and smaller companies were being boxed out.
2. Unlike other technological advancements, AI will permeate so many aspects of a company that having a chief AI officer reporting directly to CEOs will be essential for companies' culture and operations.
Yes, but: Others said such positions would eventually become obsolete.
"I've always been a believer that it's the means, and not the end. Once you start centralizing this stuff in some individual with a title, I always worry that it takes on a life of its own," said Kareem Yusuf, senior vice president for product management and growth at IBM Software.
3. Companies think regulating the outcomes of AI applications versus the techniques used is the best way to regulate without stifling innovation.
Attendees described it as focusing on "deployment" instead of "development."
"There are some regulatory approaches that might unintentionally block open source innovation, like some of the licensing conversation, or requiring all AI models to have watermarking capabilities," said Daniel Zhang, senior manager for policy initiatives at the Stanford Institute for Human-Centered Artificial Intelligence (HAI).
4. AI's impact on energy and water consumption is less frequently discussed than its potential to address big societal issues like climate change.
Panelists discussed the need for governments to address the industry's use of energy for compute power and the impact on electric grids.
Some panelists thought the technology would correct the issue itself in time. Others suspected it would be the next big policy conversation about AI to bubble up.
5. AI can help address equity issues as long as conversations around it are made more approachable for everyone.
"Students can persist in colleges using tools in a way they've never been able to previously," said Claire Fisher, senior director of the Foundation for California Community Colleges.
Fisher said it's important for people not directly involved in tech to understand what is possible with the use of AI: "So I think starting from an opportunistic, positive framing, and then thinking about the carrot rather than the stick approach in some capacities."
Go deeper