The U.K. tries a tech policy middle ground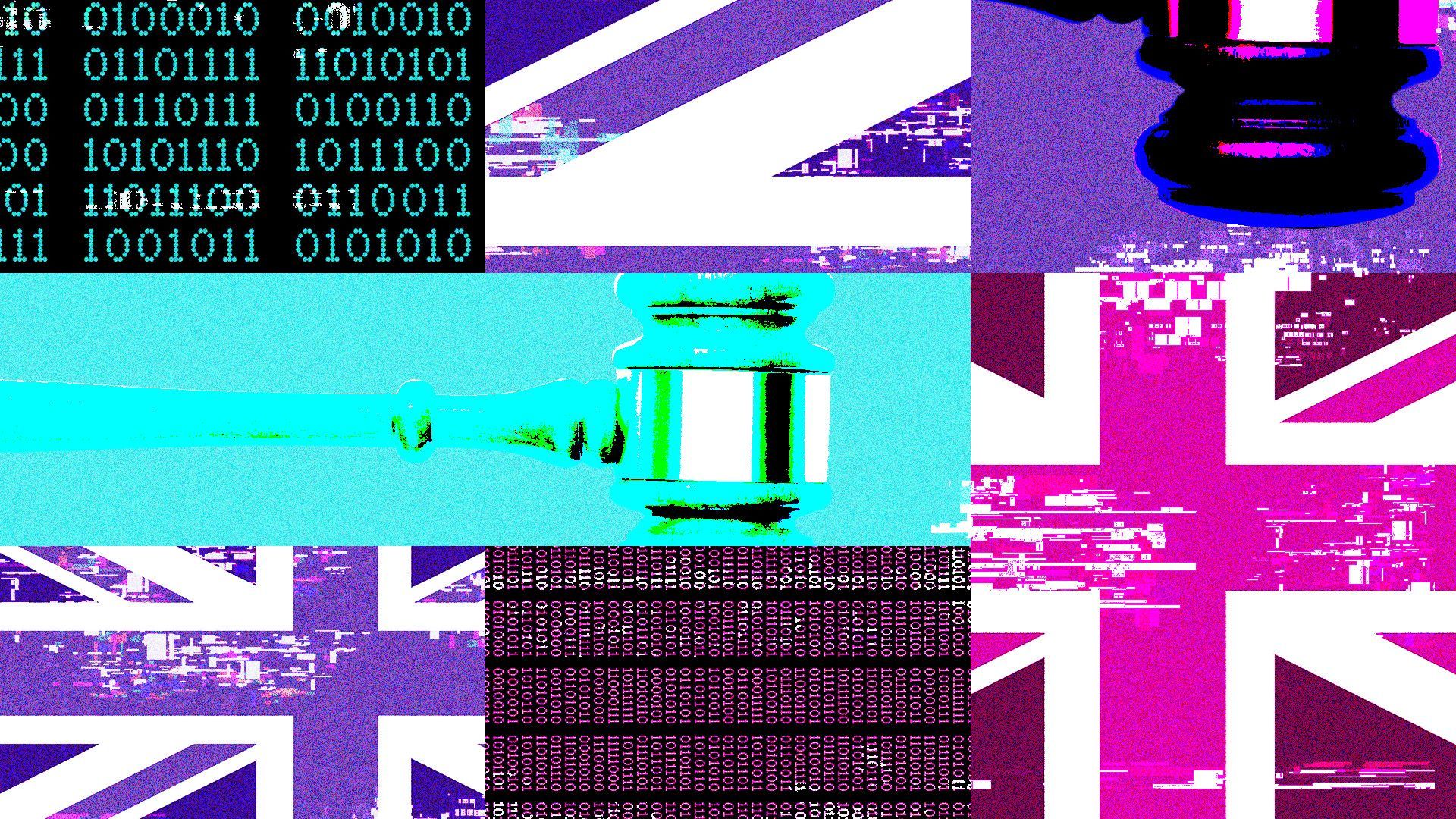 After the United Kingdom exited the European Union in 2020, it saw an opportunity on tech issues the EU has historically been aggressive on, like privacy, competition and digital content.
What's happening: A couple of years post-Brexit, the U.K. is fashioning itself as a leader on technology policy in its own right as the U.S. moves sluggishly and the EU speeds ahead.
Yes, but: Many of these plans are in the beginning phases, and it will take time to see whether the U.K.'s attempts at tech rules will be successful or have a major impact on the global tech policy landscape, given the U.K.'s relatively small size.
What they're saying: "While the U.S. and EU lie further apart on the AI policy spectrum, the U.K. is seemingly carving out ground in between," Joseph Hoefer, vice president for government relations at tech-focused lobbying firm Monument Advocacy, told Axios.
Industry has been gravitating toward London recently, Hoefer said: "It has somewhat positioned itself as the less volatile, more workable middle and potentially the frontrunner on how AI should be governed globally."
Details: In March, the U.K. government published an AI white paper with proposals for regulating the use of AI.
It takes a much more hands-off approach than the EU, setting expectations for the development and use of AI and laying out how existing U.K. regulators can treat AI.
In a similar approach to the U.S., the white paper advises regulators to put out their own guidance about use of AI for the businesses they have jurisdiction over.
It lays out five principles in a framework, echoing the White House's Blueprint for an AI Bill of Rights: safety and security, transparency and explainability, fairness, accountability and governance, and contestability and redress.
Beyond AI, the U.K.'s competition regulator has played a major role in the fate of Microsoft's attempt to buy gaming giant Activision Blizzard.
This spring, the U.K. announced a new Digital Markets Unit with the power to impose new rules and fines on Big Tech firms. The U.K.'s Data Protection Act of 2018 continues to be enforced.
U.K. lawmakers are also finalizing an Online Safety Bill that would impose more content responsibility on online platforms and aim to protect children online.
What's next: The U.K. will hold a global summit on AI this fall with other G7 countries.
"Our departure from the EU also allows us to act more quickly and agilely in response to this rapidly changing market," a release from the U.K. government about the summit reads.
"It is clear that the U.K. wants to position itself as a key player in AI, especially with recent announcements of the global AI safety summit and the foundation model task force that also has an AI safety focus," Daniel Zhang, senior manager for policy initiatives at Stanford University's Institute for Human-Centered Artificial Intelligence, told Axios.
Go deeper