Assessing two years of Lina Khan at the FTC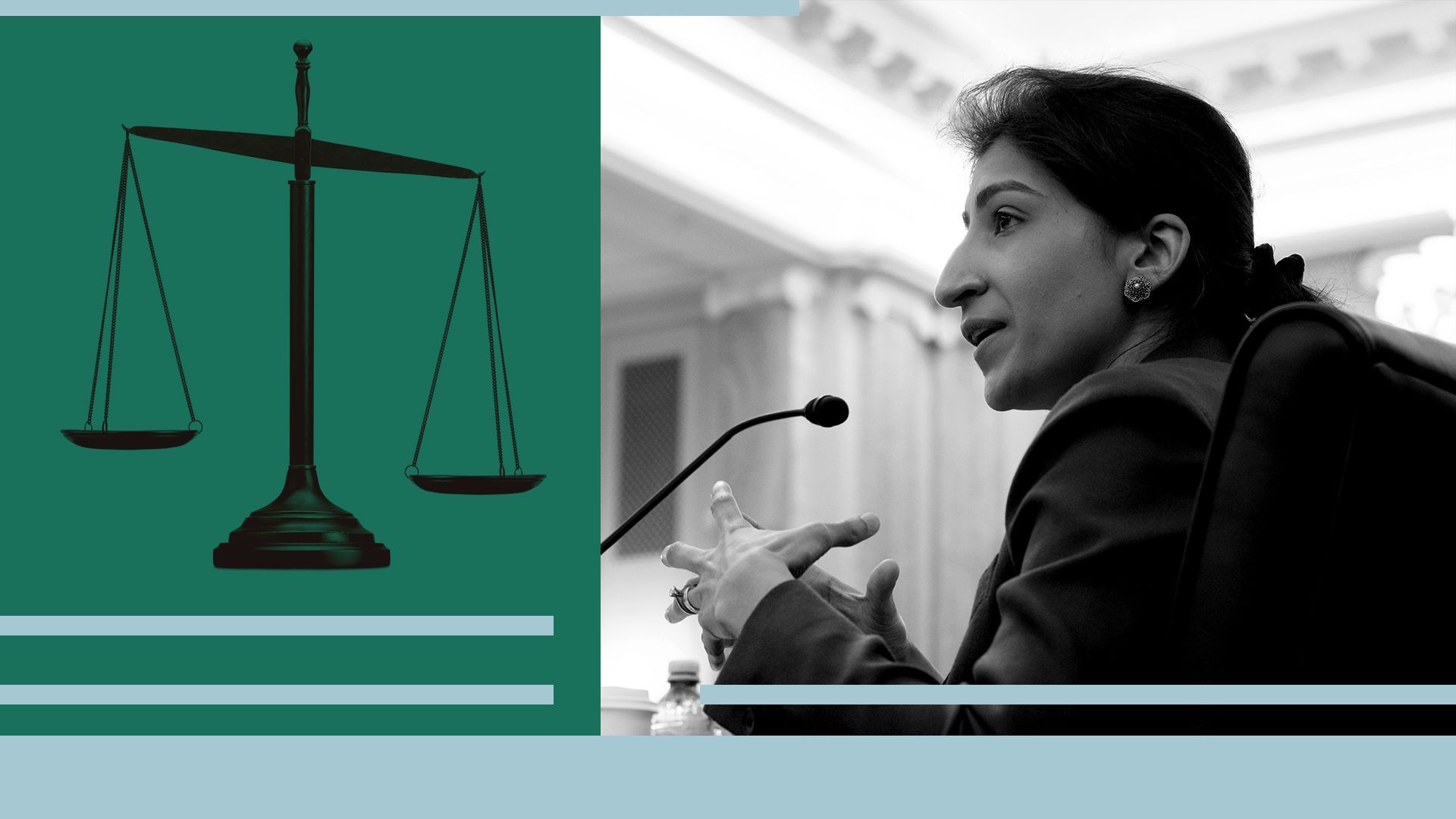 It's been two years since FTC chair Lina Khan took the reins, and her track record on tech so far is inarguably historical and aggressive. Whether it's considered a success depends on whom you ask.
Driving the news: Khan was sworn in to office June 15, 2021, and her term expires in September 2024. She currently enjoys a 3–0 majority at the FTC as Republicans drag their feet on nominees to fill out the agency.
Why it matters: If President Biden doesn't win re-election, Khan may have a very short timeline to complete some extremely ambitious items on her pro-competition and pro-consumer protection agenda for tech.
What they're saying: Industry watchers and former agency staffers say Khan has brought more attention and popularity than ever to the topic of tech antitrust.
"Lina has made the FTC relevant again," Tim Wu, former White House adviser on tech and competition policy, told Axios. "She's doing the stuff that Congress should be doing: taking on privacy, noncompetes, and AI." 
"And along with [DOJ antitrust chief Jonathan] Kanter and the White House, she's rebooted the antitrust law and managed, somehow, to make antitrust cool."
Her detractors, including the U.S. Chamber of Commerce, say she's trying to ruin American business and entrepreneurship with onerous and unfair rules. Other pro-business groups point out attrition at the FTC under her tenure, alleging a bad work environment.
Yes, but: Khan could have an impact at the FTC even under a Republican president. She could stay on as a commissioner, along with fellow Democrats Alvaro Bedoya and Rebecca Slaughter, with a new Republican chair at the helm.
Having no Republican commissioners at the agency may speed things up internally, but likely makes Khan a little more cautious around controversial measures, said Daniel Francis, a former FTC deputy director of the bureau of competition.
"The agency is vulnerable on many fronts, and acting without internal bipartisanship exacerbates the political risks," said Francis.
The intrigue: In the early days, Khan enjoyed some limited bipartisan Hill support, but that is mostly gone.
The House Oversight and Accountability Committee launched an investigation into Khan early this month, using former commissioner Wilson's accusations that Khan has acted "in defiance of legal precedent" as a basis.
What to watch: The agency is expected to soon issue new merger guidelines in conjunction with the Justice Department, which are expected to inform how companies will evaluate mergers and acquisitions going forward and could change how courts interpret antitrust law.
Generally, agency rule-makings take a very long time, and Khan's FTC is pursuing a proposed ban of employers' noncompete agreements and another rule that would keep companies from selling and sharing consumer data, looking to end "commercial surveillance."
If Khan loses her top perch in 2024, the future of some of those rule-makings, which all run on slightly different timelines, is unclear.
Khan has long been expected to bring an antitrust suit against Amazon, for which litigation would take years, but that hasn't happened yet. The FTC recently settled with Amazon for $30 million over alleged privacy violations by its Ring doorbell and Alexa home assistant.
In the courts, the FTC went after Meta's acquisition of VR fitness startup Within and lost, giving up that fight in February, and has sought to block Microsoft's acquisition of Activision Blizzard.
Back-and-forth with Meta over its past purchases of WhatsApp and Instagram continues — and relations between the agency and the tech giant have gotten more publicly hostile, with new tussles over a 2020 privacy order.
Be smart: Khan's supporters at think tanks, nonprofits and in the Biden administration have long argued that the FTC wins even when losing when it tries to stop Big Tech companies from buying rivals or test out new legal theories or arguments, introducing new ideas about tech antitrust into the public and seeing if they stick.
Khan has said she isn't afraid to go to court, previously telling Axios she would rather challenge alleged anticompetitive acquisitions than negotiate settlements.
Ultimately, Khan's biggest enemy will be time. "It's a lot of fronts to be moving on under fire," Francis said.
Go deeper