Broken immigration system imperils China competition goals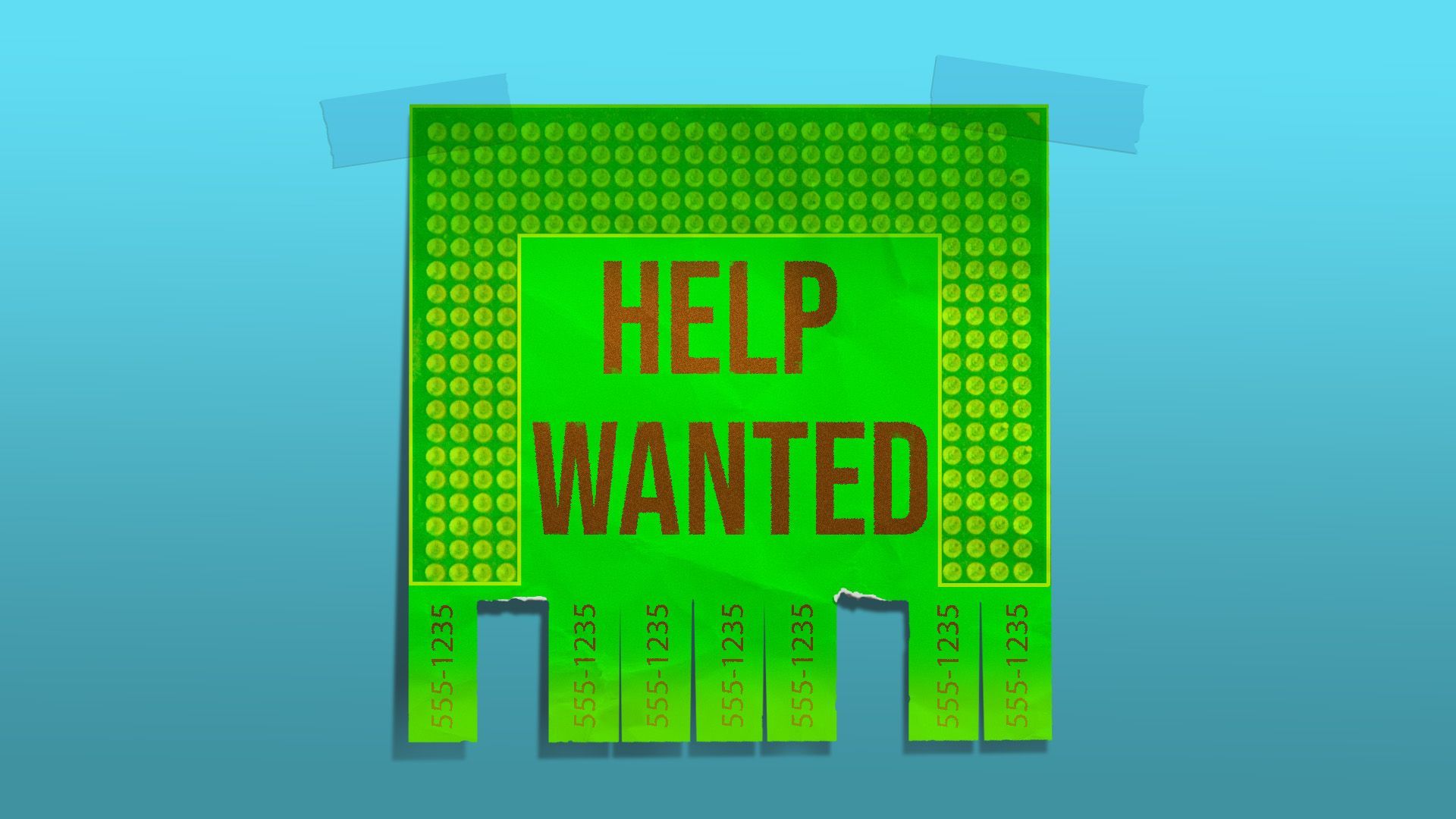 Stalemate in Congress over immigration reform threatens to undermine broadly bipartisan interests to compete with China as tech companies scramble to obtain and retain talent.
Driving the news: Senate Majority Leader Chuck Schumer wants to pass a bipartisan package to build on the CHIPS and Science Act, in part through addressing workforce issues.
Tech companies were facing labor shortages before the CHIPS and Science Act infused billions of new dollars into chip research, development and manufacturing.
The law includes money for domestic workforce development, but that talent pipeline won't be in operation for years, and those American workers will need to shadow existing foreign talent.
Reality check: Immigration is among the most polarizing issues on the Hill, and there's little hope lawmakers will agree even on targeted, tech-related reform this year.
Flashback: A version of the China competition bill that passed the House last year included immigration language later stripped out in the Senate.
It would have significantly reduced the wait time to get permanent residency for people with STEM doctorates and people with STEM master's who work in a critical national security industry. (Which industries are considered critical wasn't specified in the bill, but it required a report that would identify them.)
Sen. Chuck Grassley, who opposed that language, told Axios he's open to including his bill with Sen. Dick Durbin to overhaul the H-1B and L-1 visa programs or a similar effort in Schumer's package.
"That's a possibility, because we need high-tech people. But remember it's if we need them because we don't have American people to fill them," Grassley said.
Unlike the House language that was killed, Grassley and Durbin's H-1B and L-1 Visa Reform Act would not increase the number of visas for high-skilled immigrants or address getting permanent residency through green cards.
By the numbers: The Center for Security and Emerging Technology estimates at least 3,500 foreign-born workers would be required to staff eight new fabs.
For fiscal year 2024, 758,994 eligible H-1B visa registrations were filed, and U.S. Citizenship and Immigration Services selected 110,791.
David Shahoulian, director of workforce policy for Intel, said the company over the past five years has invested $280 million domestically and $365 million globally to build a chip talent pipeline. But he said there's still a need for additional talent.
What they're saying: "The current immigration system deters foreign high-skilled workers from joining American companies and hurts the United States as it competes to develop new innovations and remain a global technology leader," Karan Bhatia, Google's global head of government affairs and public policy, told Axios.
"We continue to urge Congress and the administration to address comprehensive immigration reform, including clearing the green card backlog and modernizing the H-1B visa system."
One industry source said: "This isn't a problem of industry not saying what we need; we do it all the time. It's that the two parties can't come to an agreement on anything having to do with immigration, and all the focus is on the border."
Another industry source noted: "We're definitely thinking there's an opportunity to fix [wait times for green cards] this year, and that can come in different forms, including another CHIPS Act. But there needs to be a lot of education done.... Legal immigration is a very nuanced topic."
What's next: Even if Congress does not pass immigration reforms this year, critical agency-level actions can be taken, the Institute for Progress says.
For example, USCIS could ensure the regional innovation hubs authorized under the CHIPS and Science Act can access cap-exempt H-1Bs.
Go deeper