Calls to reauthorize the FCC's spectrum power grow louder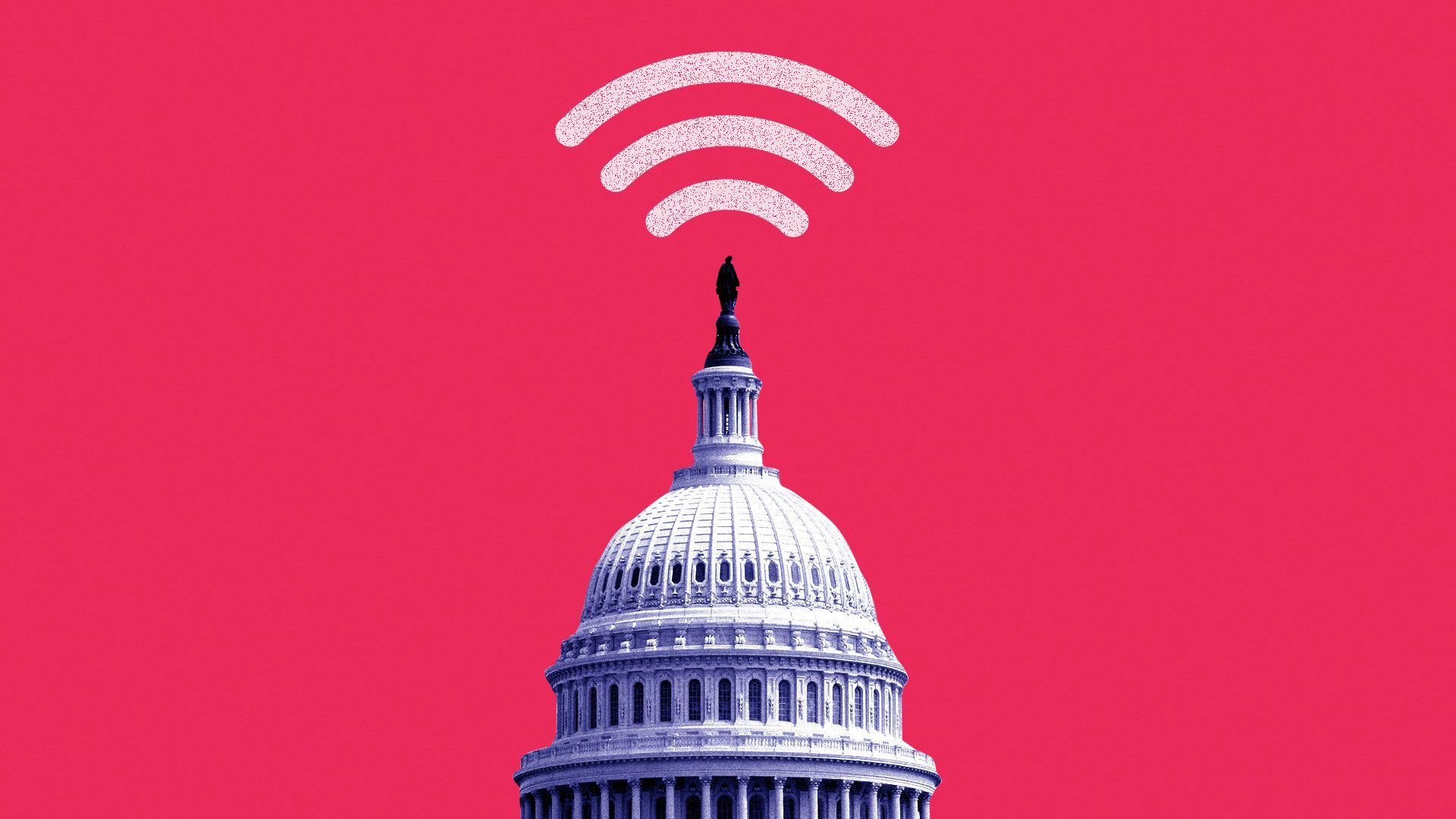 Pressure is ramping up on Congress to reauthorize the FCC's spectrum auction authority after it expired last month for the first time in its 30-year history.
Why it matters: Spectrum is the lifeblood of 5G, which competitors like China are investing heavily in to advance technologies that the private and public sector agree are critical to national security.
The 5G economy has the potential to add up to $1.7 trillion in GDP and 4.6 million jobs in the U.S. by 2030, according to an April 17 Boston Consulting Group report.
By 2027, wireless data demand will be up to nine times greater than it was in 2018, BCG projects.
State of play: Lawmakers don't seem to have made much progress on negotiations since the short-term authority extension expired in March.
Sen. Mike Rounds still wants to give the Defense Department until Sept. 30 to study whether the 3.1 to 3.45 GHz band, currently under the Pentagon's control, can be opened for commercial use.
"I'm simply not interested in expanding it into the DOD space at this time. I want to see the report, then we can start making determinations. But I'm very skeptical about the possibilities of finding significant amounts of spectrum in that region," Rounds told reporters this week.
Other lawmakers want an agreement sooner that would not only reauthorize the FCC's power, but identify the specific bands that should be auctioned.
Energy and Commerce Chair Cathy McMorris Rodgers said in an email she wants to Senate to take up legislation "immediately." She noted the House last year passed a bill with an 18-month extension and directives to tap into the 3.1-3.45 GHz band, and another one in February to extend the FCC's authority until May.
Sen. Ben Ray Luján, chair of the Commerce Communications, Media and Broadband subcommittee, told Axios he cannot support a short-term extension like the one proposed by the House and will continue to push for a long-term solution that provides stability.
What they're saying: As lawmakers hash it out, the FCC and industry players are emphasizing the consequences of a continued lapse in authority.
"There is incredible promise in next generation 5G wireless networks to spark greater investment in smart manufacturing, transportation, agriculture, and the industries of the future from robotics to virtual reality applications," 10 wireless and telecom trade associations wrote in a letter Thursday to House and Senate committee leaders.
"These auctions have fueled competition, provided consumers with a vast array of wireless technologies and services, and ensured that the Nation's scarce spectrum resources are put to their highest and best use," the full FCC said in a letter Tuesday to House and Senate committee leaders.
Meanwhile, the White House National Security Council is forging ahead with 6G research and development, bringing together about 100 academia, industry, civil society and government representatives for a workshop on Friday where a session on spectrum needs is on the agenda.
Go deeper