Sen. Ed Markey urges Congress to pass children's online privacy bill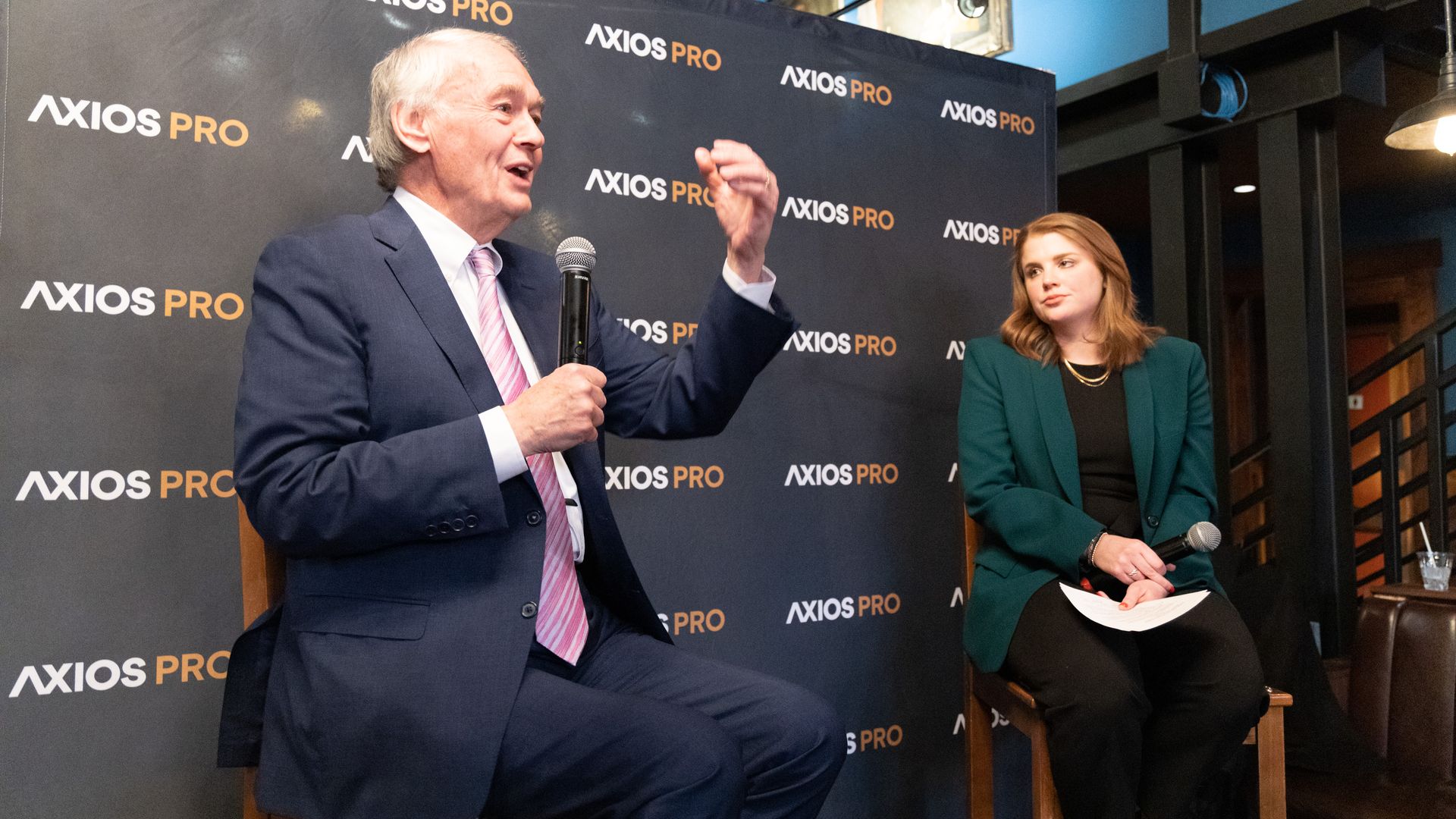 Congress has an imperative to pass children's online privacy legislation, and it should be an easier lift than a long-elusive comprehensive federal privacy bill, Sen. Ed Markey told Axios last week.
Driving the news: Markey made the remarks during an exclusive interview with me at a happy hour launching this very newsletter — after he was done lamenting a Red Sox loss.
Gaining impetus from a recent, fiery hearing featuring TikTok CEO Shou Zi Chew, there's strong bipartisan interest in passing stricter rules for how tech platforms can treat younger users online, as Axios previously reported.
What they're saying: "We have a crisis in our country right now," Markey said, citing a recent CDC study finding that 3 in 10 high school girls have seriously contemplated suicide.
"The surgeon general has pointed the finger directly at social media. TikTok, yes, but all of the American companies as well have acted irresponsibly in their relationships with their younger costumers."
"We need a strong teenage privacy bill of rights in this country."
Markey said both Congress and the FTC, which is currently considering updates to the Children's Online Privacy Protection Act, first implemented in 2000, must act.
Although Markey, an author of the original COPPA law, said he agrees that a comprehensive federal privacy bill is important, he thinks passing legislation for kids and teens is more important and should be dealt with first. He plans to reintroduce his own COPPA 2.0 soon, he said.
"I want a bill for everybody, I'm just sick and tired of the inability to get a comprehensive bill because of all the additional issues that it brings interfering with our ability to protect the most vulnerable among us," he said. "Let's deal with the crisis right now."
On state-level action on children's online privacy, including a recent set of laws from Utah that some groups are saying goes too far, Markey said: "What's going on at the state level is a response to paralysis in Washington."
The intrigue: Markey, who notoriously had a tiff with Twitter owner Elon Musk over impersonation and verification on the platform, said Musk should testify before Congress at some point.
"He is not showing the kind of responsible leadership for America's town square as [Twitter] holds itself up to be. I think my job is to continue to ensure he is made accountable for all of the decisions which he's making," Markey said.
Markey is especially concerned that Musk dismantled Twitter's disability team, which had been in charge of making the platform accessible to blind and deaf users.
What's next: Markey said it's imperative that Democrats get a majority secured at the FCC soon. He said he's looking for a commissioner who will:
"Support the codification of net neutrality as the law of the land."
"Understand we need algorithmic justice in this country" and that "we do need to enforce laws to protect privacy."
"Take on Big Tech and fight for the principles that we know have to be central to a broadband policy in our country serving everyone and not just the privileged."
Go deeper