When debt comes knocking at troubled retailers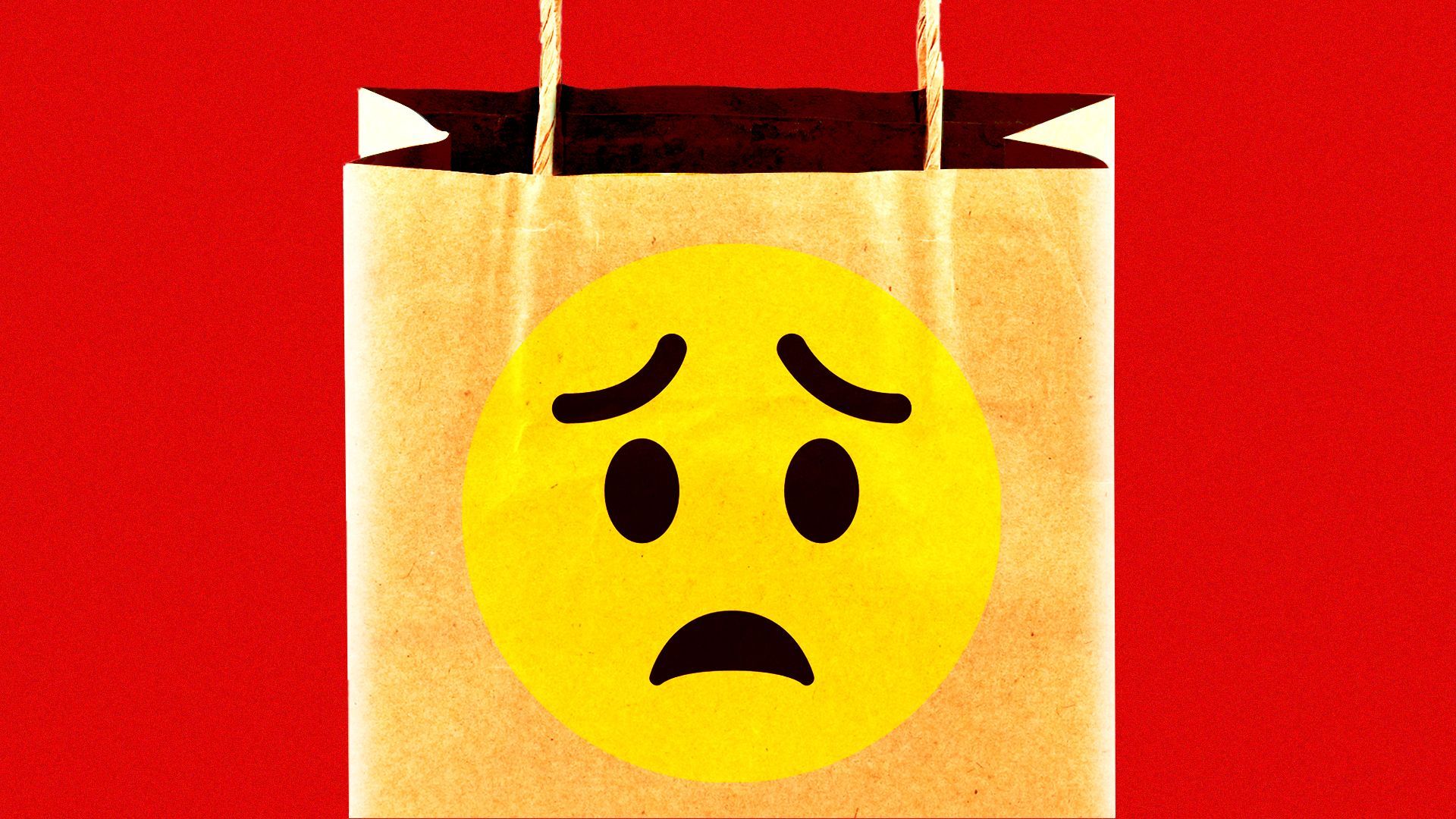 Troubled retailers aren't in the clear this holiday season as those burdened with a heavy debt load could find it too difficult to reverse.
Why it matters The more expensive financing environment is unlikely to improve the situation for those in distress.
What's happening: "While the availability of the financing is there, the ability to service the financing is more difficult," Perry Mandarino, senior managing director and head of restructuring at B. Riley Securities, tells Kimberly.
A loan could have cost a borrower 4% to 6% two years ago. Now, it's more like 9% to 11%, he says.
Interest rates will likely remain elevated over the coming months, says David Berliner, a principal at BDO's restructuring and turnaround services practice.
"We're going to see added borrowing costs and what that does is it limits your ability to refresh your stores and spend money on initiatives," he adds.
Zoom in: Most of the retailers that went south this year didn't have a particularly strong e-commerce presence, Berliner says. (Rite Aid and Bed Bath & Beyond both struggled in this regard).
If stores look old and sluggish and the shelves are empty or messy, "you don't get a lot of repeat business that way," he adds.
If retailers don't perform well this holiday season, then their lenders' and their vendors' support is going to erode, "making it harder and harder."
Between the lines: The most successful retailers have less debt, Mandarino says.
Flashback: Retail LBOs — a strategy predicated on the ability to open stores — were more successful when economic cycles were more regular and predictable, and e-commerce wasn't stealing as much market share.
The big picture: Retailers are contending with a disconnect on valuations, alongside inflation's impact on consumer spending, Mandarino says.
"[Retailers] are pressured from the pure economics of the transaction, and pressured from the demand side," he says.
By the numbers: S&P Global Market Intelligence clocked 64 bankruptcies in the consumer discretionary sector and 17 in consumer staples this year so far.
Overall there were 516 bankruptcies recorded through September, almost on par with the number of bankruptcies seen in 2020 in the same period.
The intrigue: "The number of retailers restructuring in bankruptcy, as a percentage of total bankruptcies for that year decreased, while the percentage of liquidations and asset sales has increased," according to BDO's bi-annual bankruptcy report.
Christmas Tree Shops, Shoe City (Esco) and Tuesday Morning went the liquidation route.
Meanwhile, Morphe parent Forma Brands sold to a collection of lenders, including Jefferies Finance, Cerberus Capital Management, FB Intermediate Holdings, and &vest in April.
David's Bridal got a court green light for a going concern sale to Cion Investment Corp.
Of note: A sale out of bankruptcy can be ripe pickings for a buyer, thanks to a provision that allows buyers to steer clear of the liabilities. "You can pick and choose as a buyer," Berliner says.
"That makes it a lot more desirable for some of these buyers to buy the assets of a retailer out of bankruptcy."
Bed Bath & Beyond liquidated its brick-and-mortar stores but sold the intellectual property of its eponymous brand name and digital assets to Overstock and BuyBuy Baby to Dream on Me.
What next: Mandarino says specialty retailers are particularly vulnerable, especially as you look at the recent crop that filed for bankruptcy this year.
The teen apparel sector may see some consolidation, he says, as well as home goods, such as bedding stores.
For those retailers "without a strong [e-commerce] presence, it's going to be super difficult," he adds.
Go deeper: Holiday reprieve for distressed retailers may be short-lived
This story has been corrected with Perry Mandarino's title as senior managing director and head of restructuring at B. Riley Securities.
Go deeper