VF Corp. under attack from activist hedge fund Engaged Capital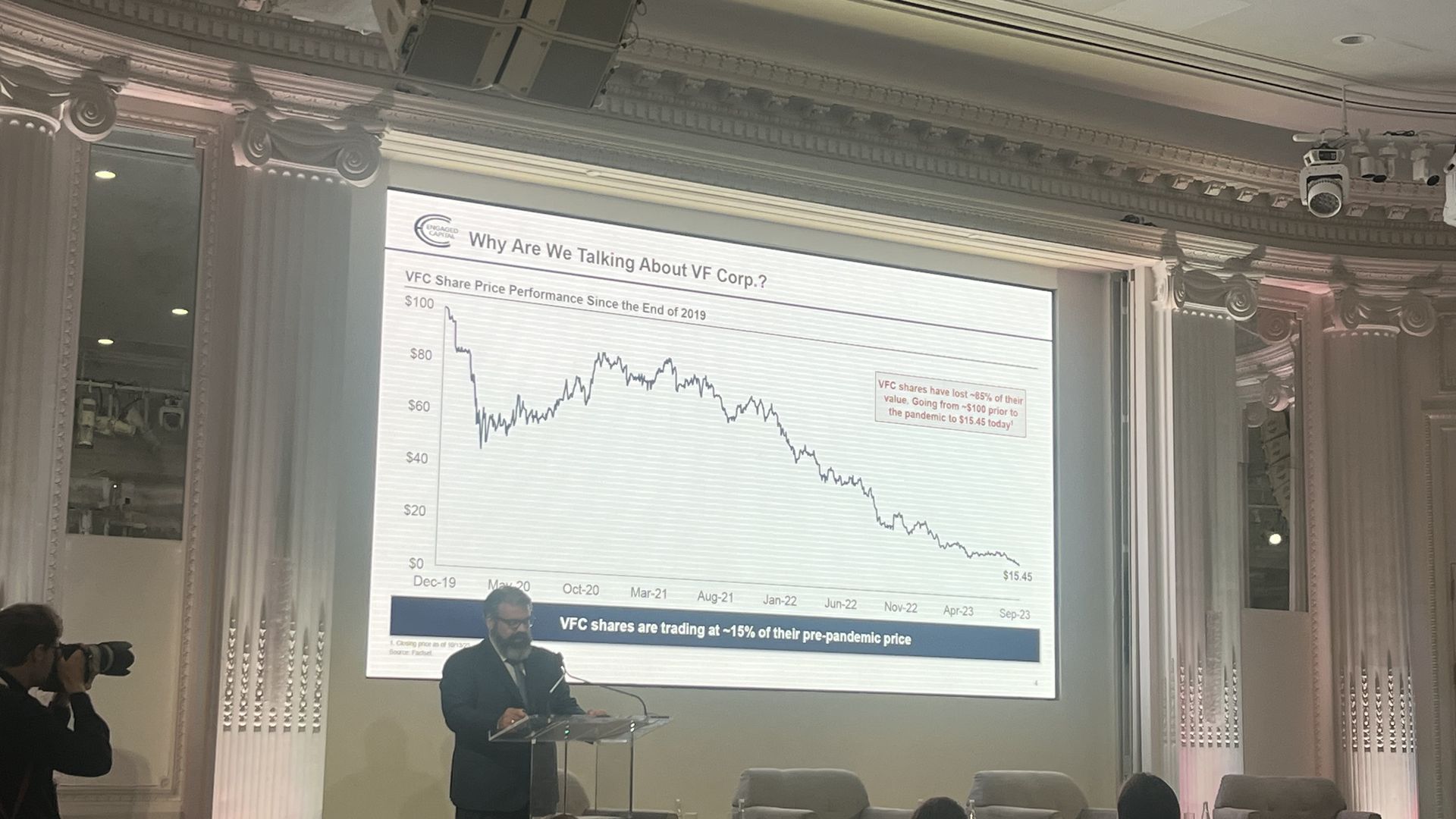 Apparel maker VF Corp. needs to dramatically reduce corporate spending and invest more in its treasured footwear brands, activist hedge fund Engaged Capital said Tuesday.
Why it matters: The company, whose brands include The North Face, Vans, and Timberland, will face serious pressure to make major changes from Engaged, a feisty activist investor with a long track record of shaking up companies.
What they're saying: Changes to the board are necessary and appropriate, Engaged's director of research, Chris Hetrick, said at the 13D Active-Passive Investor Summit in New York — making a not-so-subtle hint at the direction the fund's campaign is going.
VF said, in a statement: "We value the views of our shareholders and seek to maintain an open dialogue with the investment community."
"VF's Board and leadership team, including our recently appointed CEO Bracken Darrell, are taking immediate and decisive actions to strengthen the company's position and return VF to strong, sustainable, and profitable growth in the interests of all our shareholders," the company said.
Zoom in: Hetrick was critical of VF Corp.'s spending on its headquarters and other corporate campuses across the globe, referring to its new headquarters as the "VF Death Star."
He also said that VF Corp is underinvesting in some of its core brands, such as Vans.
"The Vans brand is healthy globally but it's the victim of past underinvestment. The brand has lost heat," Hetrick said.
He asked the company to "swear off M&A" and to more aggressively pursue more divestitures of non-core assets.
Of note: Following the presentation, VF Corp.'s stock jumped more than 11% to $18 per share.
The bottom line: "The issues that have driven this value destruction are fixable," Hetrick said.
Editor's note: The story was updated to reflect VF's statement.
Go deeper