Retail M&A picks up, with apparel brands in the spotlight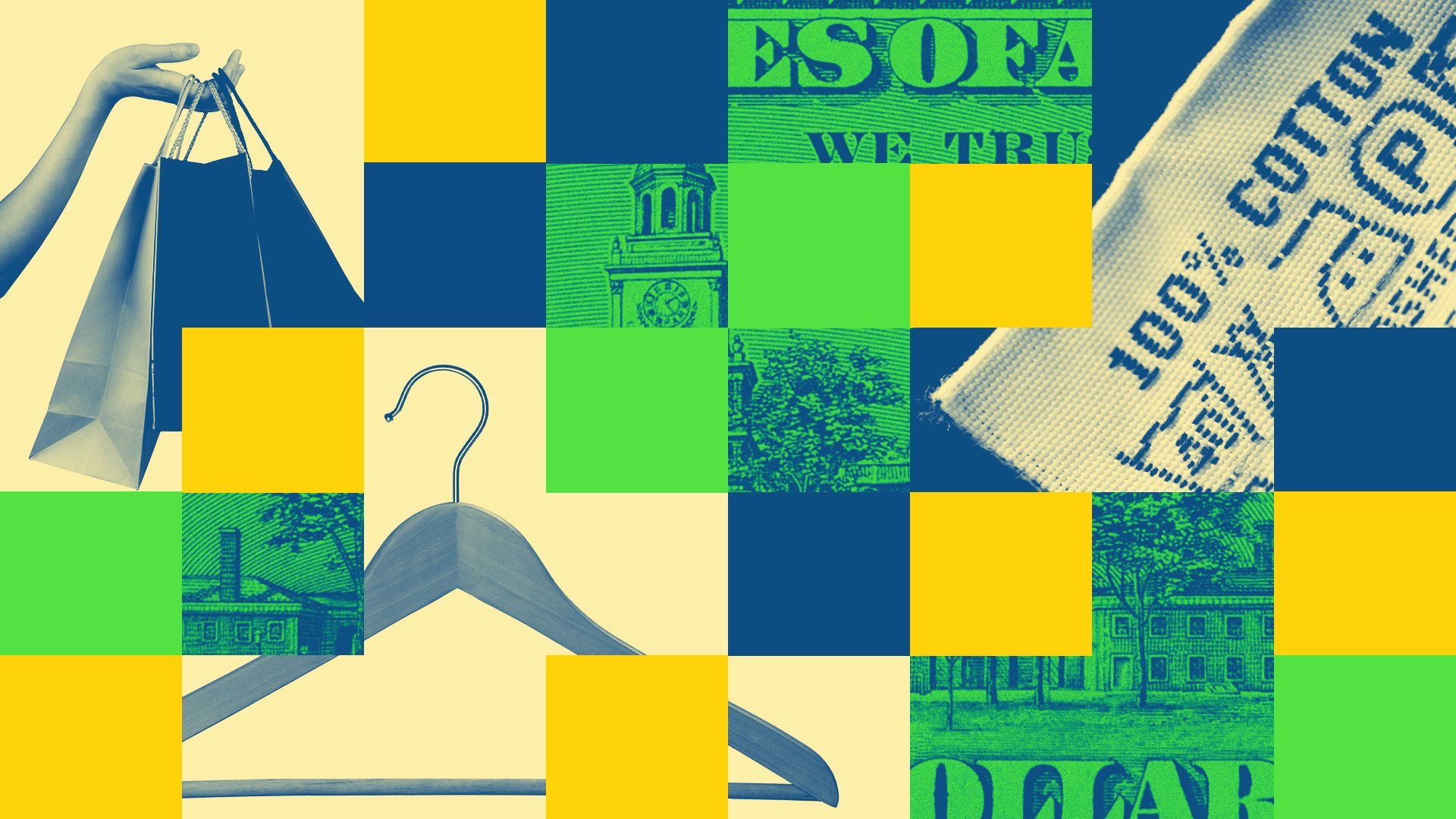 After a tepid first half of the year, retail M&A is set to accelerate, with apparel in dealmakers' crosshairs.
Why it matters: Private equity firm Consortium Brand Partners has acquired Reese Witherspoon's fashion and lifestyle brand, Draper James, Axios has learned.
Catch up quick: The number of deals in consumer staples rose 2.6%, in retail over the prior year, increased 17.4% but fell 7% for consumer products and services, Refinitiv data shows.
Meanwhile, deal value climbed in consumer staples and products and services but slipped in retail.
What's happening: "There's just been an outlook [that we're] not really certain how consumer discretionary spending is going to kind of evolve over the next 12 to 24 months," Baird's consumer and retail managing director Matthew Tingler says.
Yes, but: Retail has seen a resurgence in high-end apparel dealmaking, with Tapestry's $8.5 billion dollar acquisition of rival Capri and Advent's $1 billion acquisition of Zimmerman.
Alongside the demand for luxury, brand-licensing firms will continue to drive activity, Solomon Partners co-head of consumer retail Cathy Leonhardt tells Axios Pro at a virtual event.
She cites Authentic (with a string of acquisitions in Vince Holdings, Hunter, and Rockport of late) and WHP (which acquired menswear brand Bonobos and took a majority stake in Isaac Mizrahi this year).
Baird's Tingler notes workwear as another bright spot in apparel, citing its "repeat-use, replenishment nature."
Plus, Morgan Stanley's global head of consumer retail investment banking Kristen Rossi tells Axios strategic appetite is increasing for "better-for-you" food categories.
"There's a tremendous amount of interest in that," Rossi says.
The big picture: The leveraged finance market is strengthening, boding well for increased private equity activity, the insiders say.
"I think some of the conditions are improving to kind of support greater deal velocity and private-equity selling companies," Tingler says.
Between the lines: While debt has become less expensive, "there is this paradigm of PE that is going to be a little bit different for the foreseeable future where they are going to write bigger equity checks," KPMG consumer & retail partner Frank Petraglia says.
What we're watching: New merger guidelines from antitrust regulators could hit the sector hard, with large-scale tie-ups like the Albertsons-Kroger grocery merger under the microscope.
"There haven't been changes in the merger rules for many, many years. This is a new thing. It's just going to take longer and be more expensive for deals to get done," Leonhardt says.
Optics matter, too, she says.
"You have to be very sensitive to what looks competitive, anti-competitive and presenting the information carefully, not sharing information."
Go deeper