Natalie's Juice entertains partners for expansion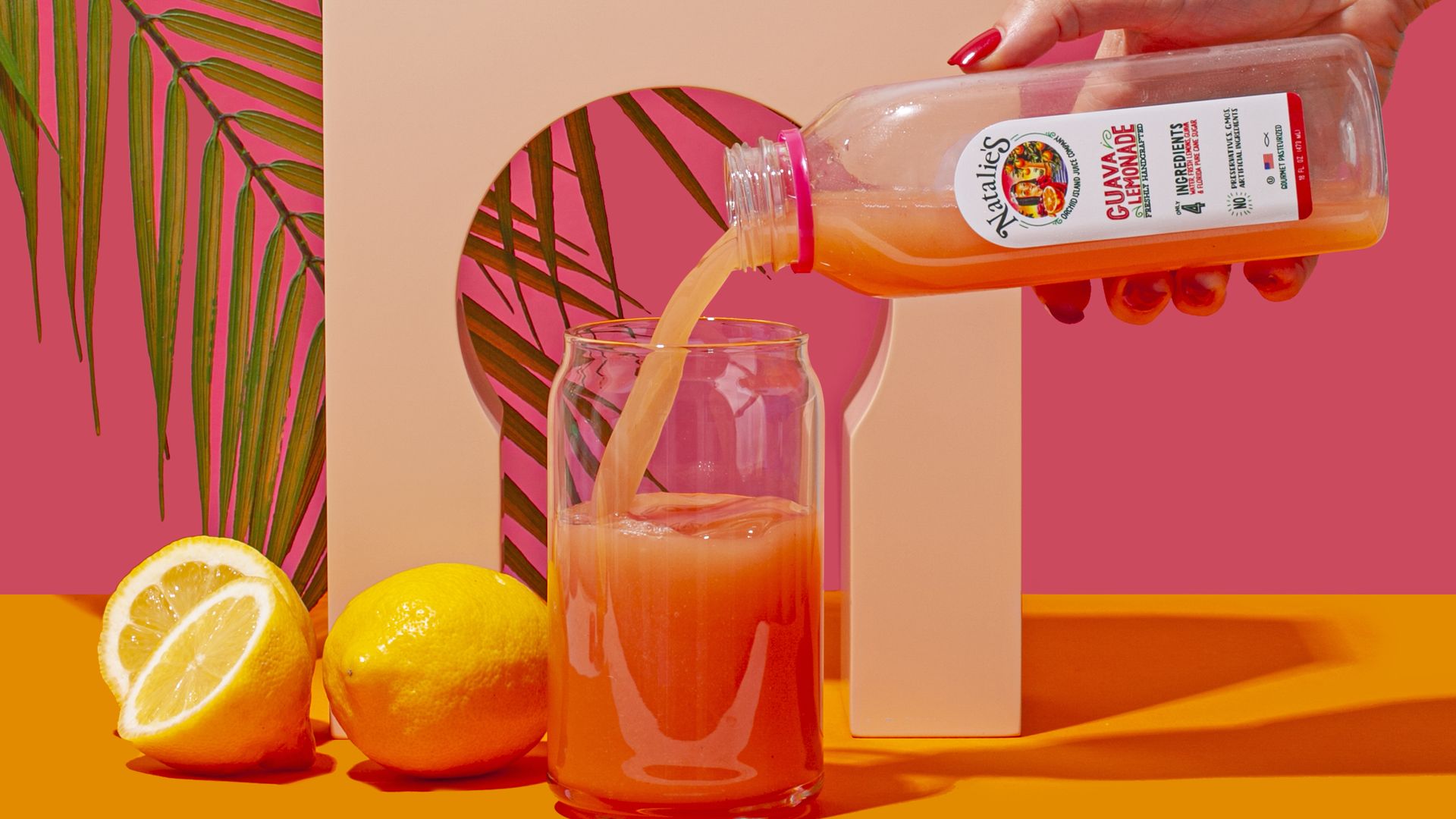 Natalie's Juice is exploring taking on a partner, particularly a juice extractor, to support the brand's West Coast expansion, CEO Marygrace Sexton tells Axios exclusively.
Why it matters: The sale of squeezed fresh juice is on the rise if Natalie's Juice is any indicator, with revenue projected to grow to $140 million from $120 million last year.
What's happening: Natalie's Juice hired a sales team to expand the business out West, bringing on a handful of distributors and signing agreements with between five and 10 new retailers.
The company is looking to expand production in the region as sales grow, Sexton says.
An ideal partner could be one that owns an existing extraction facility with excess capacity that can handle Natalie's Juice's needs, she adds.
With no debt and just a line of credit, Natalie's Juice isn't looking to take on debt, but whether a partnership would involve an exchange of equity is to be determined, Sexton says.
Zoom in: Natalie's Juice owns a manufacturing site in Florida and is in the process of opening a new production facility there financed from its cash flow, Sexton says.
The big picture: Juice sales by volume have taken a few detours over the past decade, seeing a temporary pandemic-induced spike before volumes declined again.
PepsiCo sold juice brand Tropicana to French private equity firm PAI Partners 2021 for $3.3 billion, reflecting uncertainty about the future of fruit juice for North American consumers.
Yes, but: As consumers began shifting preferences to clean, less processed foods with fewer ingredients, Natalie's Juice was well-positioned to capitalize on the trend.
Flashback: Natalie's Juice began life 35 years ago under the name Orchid Island Juice Co., squeezing juice from oranges in their "own backyard," Sexton says.
"We started juicing before it became chic," she says.
While it began with orange juice, Natalie's Juice has since expanded its product line to include guava lemonade, due to customer requests, and tomato juice, an initiative by Sexton to revive a product in decline.
In the early days, the company focused on the food service channel but then added branded products for sale at retail.
Catch up fast: Today, Natalie's Juice sells in some 10,000 retail doors and has a significant presence in Chicago, Colorado and Texas in addition to selling up and down the East Coast.
It changed its name to Natalie's after Sexton's daughter between 15 and 16 years ago as the company transitioned to overseas markets, namely France, Sexton says.
The founder was told its previous name was too long for the French market.
It has a frozen product line for international, which is sold in 12 countries, including Japan, South Korea, the Maldives and Canada.
The company's revenue is roughly 50% from food service and 50% from retail.
The bottom line: "We just want to go West," Sexton says.
Editor's note: This story has been corrected to show Natalie's Juice offers juices that are "gourmet pasteurized" (not unpasteurized) and "squeezed fresh" (not freshly squeezed).
Go deeper