1 big meal: A-Frame's Ari Bloom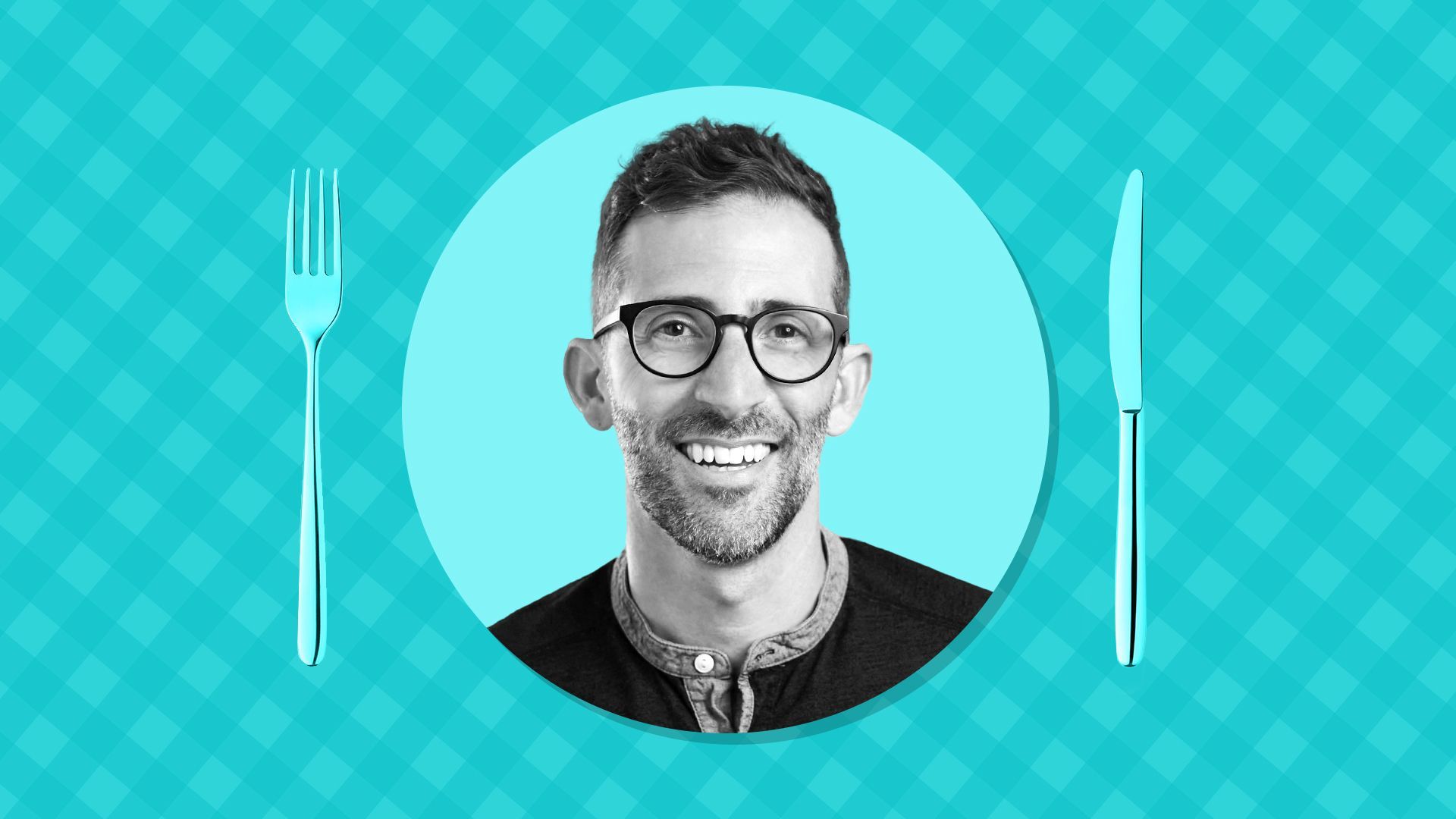 When it comes to launching a successful personal care brand backed by a celebrity in a crowded space, A-Frame Brands CEO Ari Bloom knows how to make it stick.
Why he matters: A-Frame Brands has tag-teamed with tennis star Naomi Osaka to launch KINLÒ, with former pro basketball player Dwyane Wade and actress Gabrielle Union to launch Proudly, and with musician John Legend to roll out Loved01.
"You've got to give them some time to live and breathe," he says of celebrity brands. "We get so enamored with the quote, unquote, overnight successes."
He dined with Kimberly as part of our "1 big meal" interview series.
Why we chose the restaurant: ABC Kitchen has a special place in Bloom's heart. He worked there. He fell in love there. He got married there.
When we first sat down, he told Kimberly, "This was my office for two years." She writes:
What we ate: We started with roasted carrots and avocado salad. For the main, Ari had the Faroe Island salmon with roasted maitakes and spring peas and a side of house-cut fries. I had fried organic chicken with rainbow Swiss chard.
This interview has been lightly edited for clarity and conciseness.
How does it feel to challenge people you idolize?
If they're asking for your opinion, or they want you in the room, and they value what your opinion is, I think you have to be able to formulate it in a way that people are going to hear.
It's also important that you are accepting partnerships and assignments, for lack of better words, that you have a willing partner who's willing to listen. Because if you don't, then you can't do anything with them anyways. They don't need you.
So at that point, I think I've said no to a lot more people than I've said yes to.
What are you looking for when you approach a celebrity?
I spent enough time in fashion to know the process. Just saying, 'I'm designing a better handbag or a better dress' — it doesn't usually lead to success. It can, but it's not that usual.
When I worked in tech, I learned better how to use design thinking and start with the problem and work backwards...And so everything since then has always been, what's the problem solving first?
What makes a celebrity-backed brand successful?
The celebrities themselves if you think about it…they're champions. People that have worked against all odds. They've been the best at what they do. Sometimes it's their luck, sometimes it's their skill, sometimes it's their hard work. Usually a combination of all those things. Brands are no different.
Will you continue to pursue personal care brands?
I do think that we will probably start doing other types of brands, as long as they are still problem-oriented and demographic-oriented.
We are getting a lot of calls from existing companies, whether they're retailers, distributors, manufacturers, or even in some cases, talent management or record labels, where they're looking to essentially take the access or the assets they already have and monetize them but they don't have the skill set of building new innovative brands.
Even in the personal care, skin care space —it's gonna be much more focused on life stage, gender, sexual orientation, things like that.
1 fun fact: He was a college triple jumper because it was complicated and "fun."
"Competition was a lot thinner and in order to succeed it was not just about pure athletic ability — it was a thinking person's event that required a lot of specific training and intellectual strategy."
He jumped through four years of college and was ranked the #4 jumper in his division at one point, he says.
Go deeper