Petaluma pitches vegan dog food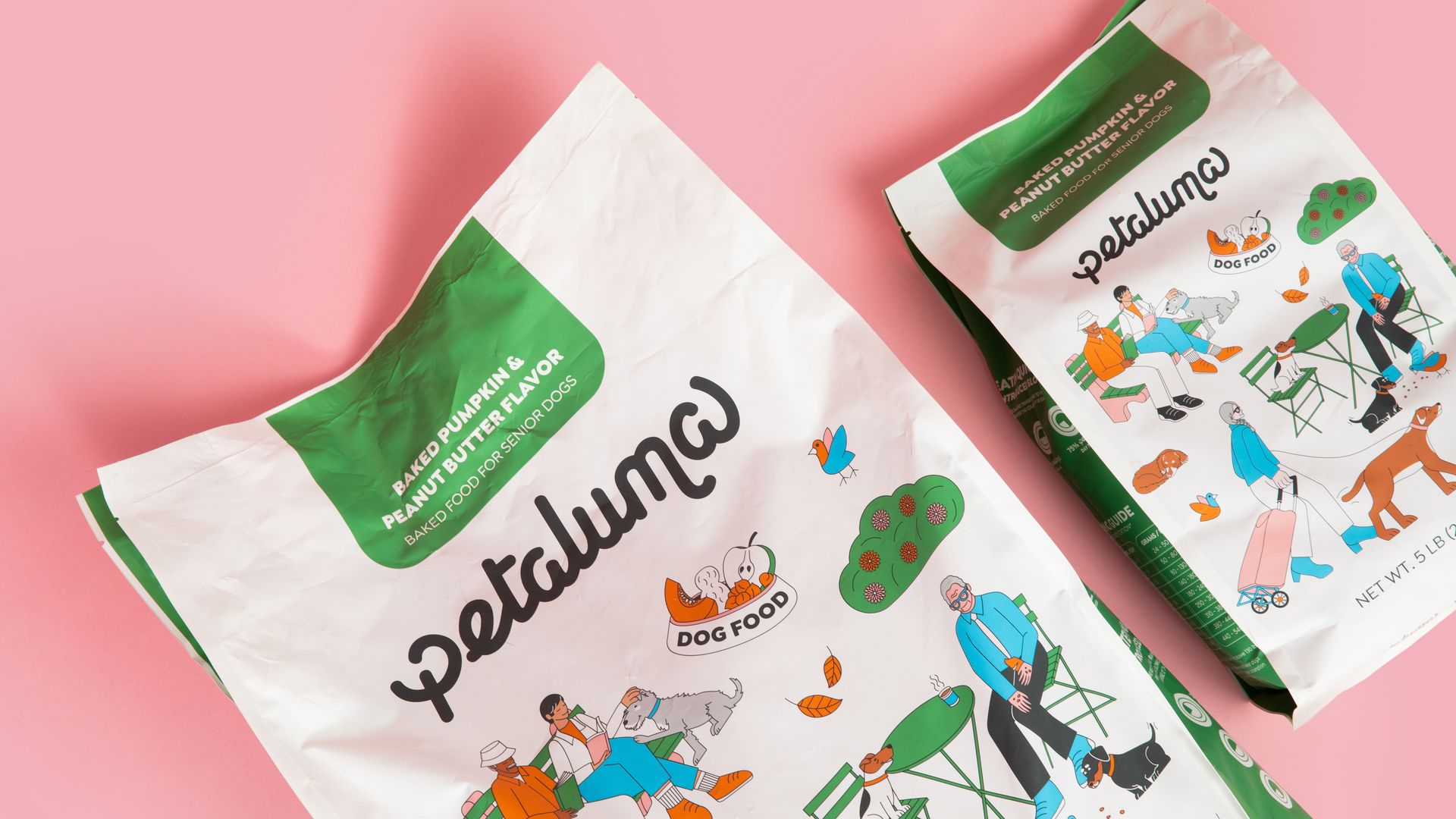 Petaluma, a DTC plant-based pet food startup, is introducing a product formulated for aging dogs, co-founder Garrett Wymore tells Axios.
Why it matters: The product exemplifies the push to convince pet owners to switch their dogs to a more sustainable vegan diet.
Details: The company, based in Oakland, California, was co-founded in 2019 by Wymore and Caroline Buck. In 2021, it introduced a sweet potato-flavored food for adult dogs, Wymore says.
Since then it has introduced a peanut butter flavor as well as dehydrated chews.
The senior formula, with fewer calories and anti-inflammatory benefits, is the latest addition, he says.
Its business is about 95% DTC and it intends to focus on growing via that channel, though Petaluma is in talks with pet specialty retailers, he adds.
By the numbers: Petaluma expects a $1 million revenue run rate by the end of the year, Wymore says.
So far it's raised some $500,000, an investment led by Leap Venture Studio, a partnership between Mars Petcare, Michelson Found Animals and R/GA Ventures.
While it does not have an active fundraising process underway given the difficult environment, it can raise extensions on an as-need basis, he says.
(Major) flashback: When dogs evolved from wolves into domesticated pets, they also switched from largely meat-based to starch-rich diets due to their close interactions with humans.
Researchers have even found that dogs can live healthier lives by eating a vegan diet.
The big picture: A number of trends point to growth for the vegan dog food category, including increasing pet ownership, humanization of pets, and a focus on sustainability, among others.
"'Ethical' products grew 48% to $11.7 million, while 'cruelty-free' products increased by 10% to account for $18 million in sales," according to NielsenIQ.
Zoom in: Vegan pet food remains a niche category but sits in a $95.6 billion pet food market globally.
State of play: Leading brands include Halo, V-dog, Benevo and Wild Earth, among others.
Also on that list are Wysong, Bramble, Lord Jameson, Pupums, Sooper Treats, Honest Paws, Addiction, Gather Endless Valley, PawCo, Hownd, Omni, The Pack, Ami's and Benefit.
Bond Pet Foods raised a $17.5 million Series A round to produce pet food using fermented meat as an ingredient.
Go deeper