Seafood startup Scout raising seed round extension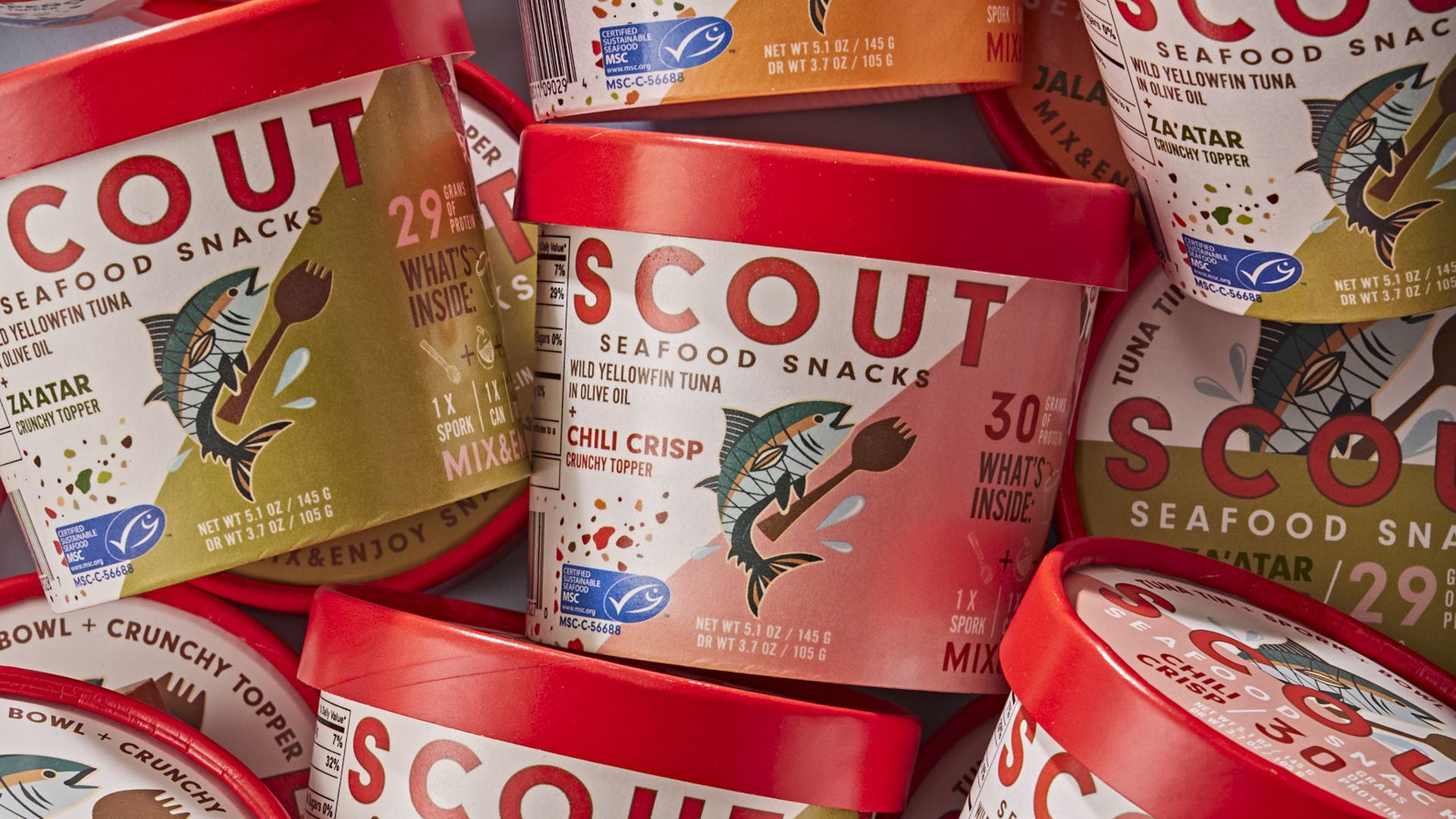 Scout Canning, a Vancouver-based maker of canned seafood, is currently raising between C$3 million and C$4 million in seed funds, CEO Adam Bent tells Axios exclusively.
Why it matters: Canned seafood is making a comeback, driven in part by tapas culture on TikTok.
Details: The raise is an extension to a C$4 million seed round in August, led by Semillero Partners and Export Development Canada, Bent says.
The seafood startup will raise a Series A round in 2024, he adds.
By the numbers: Scout, which launched in Whole Foods nationally this year, aims to have its products in 5,000 retail stores by year-end and more than 8,000 by the end of 2024, up from 2,000 stores as of March 1, Bent says.
It's on track to generate C$4 million in revenue this year and plans on increasing revenue to C$10 million in 2024.
What's next: By the end of May, Scout plans to roll out products in grocery chains H.E.B., Meijer and Sprouts, as well as Albertsons and Safeway on the West Coast.
The Certified B Corp. is also planning to explore adding frozen seafood to its product lineup over the next couple of years as about half of fresh seafood ends up spoiling.
Bent notes that are other types of seafood that could also work, such as oysters, clams and scallops,
What they're saying: The premise for Scout, which was co-founded by Bent with Charlotte Langley and Nate Dunn, was to "make canned seafood cool again," the CEO says.
Scout hopes to broaden palates to embrace a wider variety of seafood that includes lobster, trout and mussels, given tuna, salmon and shrimp are overfished.
"We've been working on biodiversity in seafood consumption," he says.
The latest: Scout recently began offering seafood snacks consisting of wild yellowfin tuna offered in flavors such as chili crisp, chile jalapeño, or Middle Eastern-inspired za'atar.
That's in addition to craft canned or "tinned" seafood, which is hand-packed in olive oil.
It offered more traditional salmon and tuna as a gateway to introducing them to other species, Bent explains.
Between the lines: "Our oceans and waterways are the most regenerative food system that we have on earth," and doesn't require fertilizer, seeds, or irrigation to maintain, he says.
"It's a zero-input food system with wild-caught seafood."
"The main issue is we have this monoculture with mass consumption of tuna, salmon and shrimp, but there are hundreds of species we could be consuming from the ocean and kind of restore balance to over-farming and overfishing."
Go deeper