Amazon's warehouse investments are all about speed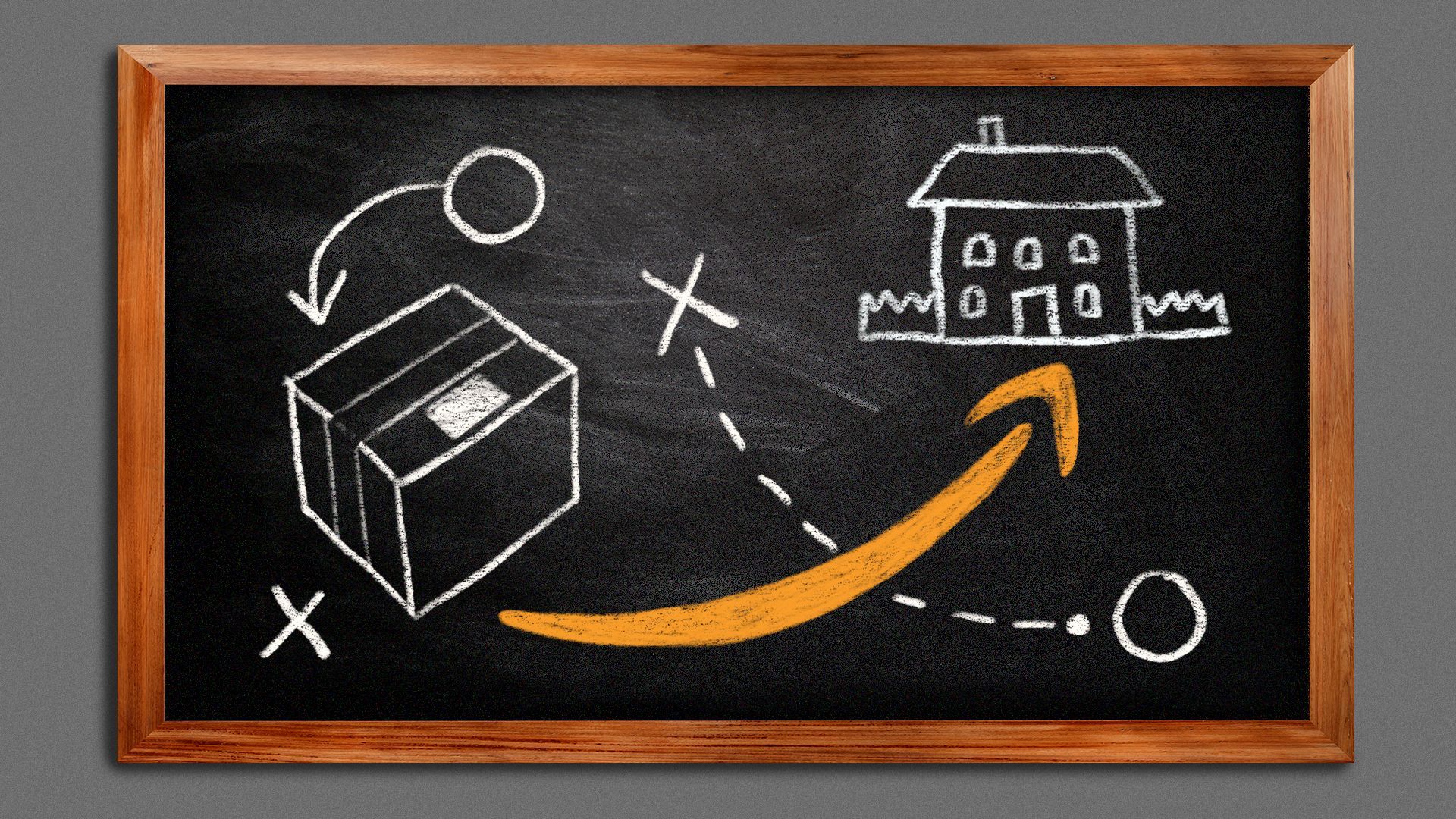 Amazon is gearing its warehouse investments toward speed and efficiency.
Why it matters: The company views the investments as key to getting packages to customers' doors faster than ever before.
What they're saying: "Speed is kind of at the forefront of where a lot of our investments are right now," Melissa Nick, Amazon's vice president of North American customer fulfillment, told Axios at the sidelines of Shoptalk.
"A lot of the investments coming through is in inventory placement, making sure that we have the right inventory in the right spot at the right time to meet that fast-speed commitment to our customers," she said.
This includes same-day delivery and next-day delivery.
Of note: The company is also investing heavily in digitizing its warehouses, such as utilizing inventory management systems.
Amazon is working a lot with algorithms and artificial intelligence to be able to determine where inventory should be and when based on a variety of inputs such as seasonality or customer demand, Nick said.
Zoom in: Amazon is also spending on robotics and automation, especially in package picking with smaller items that see high volumes.
In September, the company acquired Cloostermans, a Belgian company specializing in mechatronics for an undisclosed sum.
This was on top of the $775 million acquisition of robotic fulfillment company Kiva in 2012 and the $100 million acquisition of autonomous warehouse robotics startup Canvas Technology in 2019.
Robots have practically eliminated the ladder, reducing workplace risks, Nick said.
Its forklifts are also equipped with lidar technology, she adds, which allows the machine to sense what's around it and avoid collisions or slow down.
What's next: The company unveiled a human-shaped robot designed for warehouse work just last month.
Meanwhile, the company has poured $1.2 billion into an upskilling program for its workers to teach them how to work with automation and robotics systems.
Yes, but: Part of the e-commerce company's speed strategy is to place its physical footprint at the center, which means being thoughtful about where each fulfillment center across the U.S. is.
The company's goal is to expand its capacity, Nick said, so it continues to launch additional fulfillment centers and last-mile delivery stations to meet the overall capacity needs of its supply chain.
Catch up fast: The company has rolled out fulfillment centers in smaller cities like Omaha, Nebraska, and Sioux Falls, South Dakota, Nick said.
These cities made sense as locations because "it ties really nicely into our middle mile so that we can store inventory centrally across the country," and tap into its network that can get packages to customers' doors more quickly.
Context: Amazon nearly doubled its warehouse space during the pandemic to keep up with the pandemic-fueled e-commerce boom, but it started paring down its operating costs last year as demand slowed.
The result was the closure, cancellation or delay of dozens of facilities around the U.S., causing investors to stumble to read the tea leaves on warehouse demand.
"It was just a massive expansion of capacity," Nick said of that time. "Now we're kind of leveling off. We're still growing, but we're more strategic about…how we're growing that capacity now," she says.
Go deeper