Prebiotic soda brand Poppi keeps growing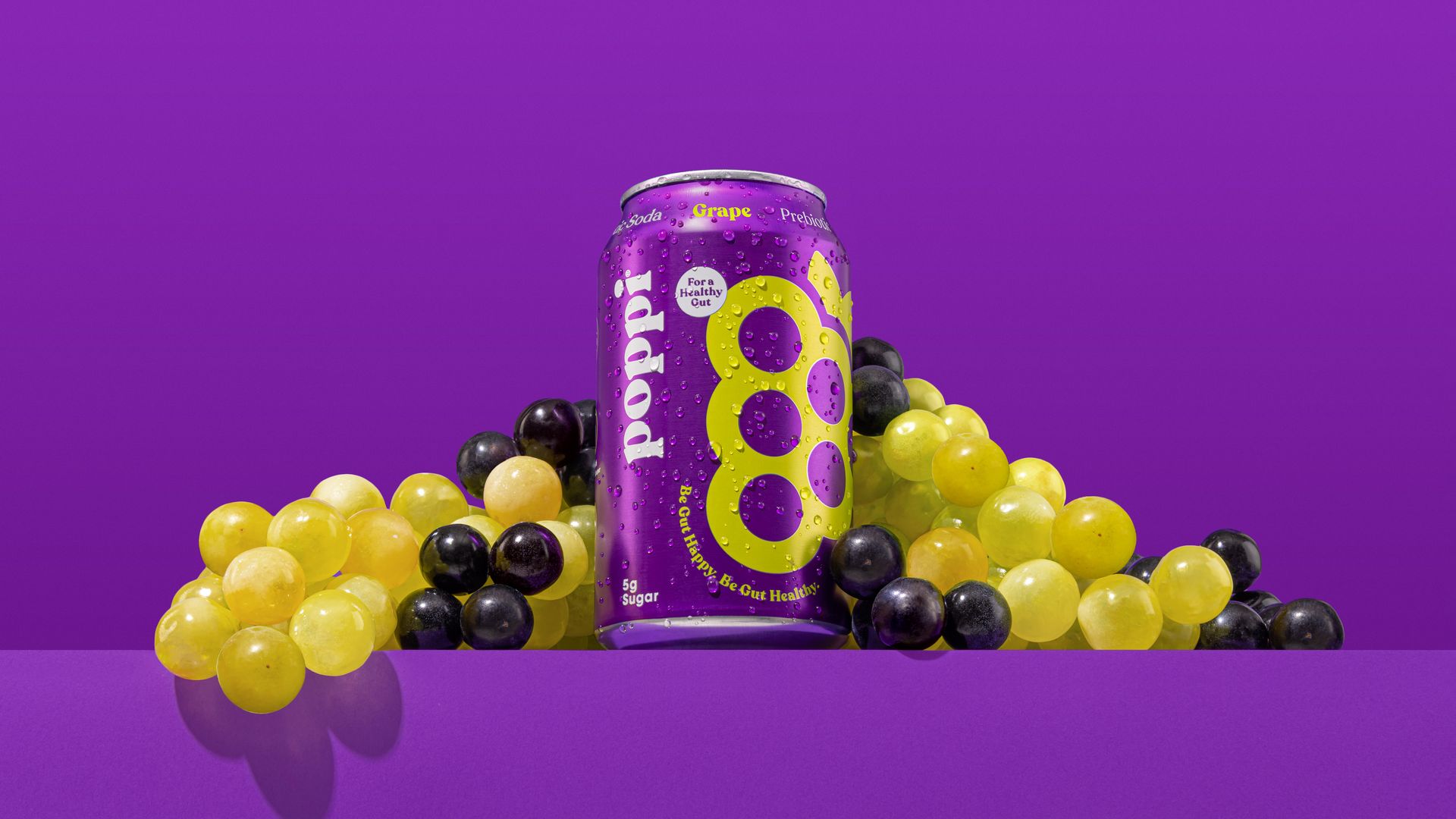 Poppi, an Austin-based maker of gut-friendly soda, will reach sales of more than $100 million and is aiming to take share from big soda with the launch of its grape flavor, co-founder Allison Ellsworth tells Axios.
Why it matters: By offering traditional flavors and packaging, Poppi aims to convince consumers to drink its beverages instead of soda.
Details: The grape version will also be sold in retailers such as Kroger and Target, she says.
Poppi already offers familiar flavors such as cola, root beer and orange.
What's next: Walmart is currently conducting a test with Poppi in 500 of its stores while Costco is testing it in the Midwest and Southern California.
The wholesale club plans to introduce the functional beverage to other regions based on strong sales results, Ellsworth says.
Poppi is also working on a holiday flavor it has yet to reveal.
By the numbers: Poppi will exceed well over $100 million in sales after three years of having its products on store shelves, Ellsworth says.
The company expects to have triple-digit growth this year alone, she says.
It will grow the number of stores it is sold in from between 22,000 and 25,000 currently to 30,000 by the end of the year, Ellsworth says.
Catch up fast: Poppi raised a $25 million Series B in December, with Cavu Consumer Partners providing most of the company's financing to date. Ellsworth says Poppi is three years away or less from an IPO or sale.
The brand built out its direct store delivery (DSD) distribution network to help it develop stronger relationships with retailers and obtain better displays.
Inking a distribution deal with a strategic, coupled with an investment — which could then lead to an acquisition is an attractive potential option, she says.
"We would love to work something out" with a strategic in the near future, Ellsworth says, noting that although Poppi has held discussions, there's nothing immediately planned.
Yes, but: She cautions that Poppi is still small for the large strategic players.
Niche players like Jones Soda could provide partnership opportunities, and Poppi's DSD capabilities keep the company's liquidity options open, she says.
Editor's note: This article has been corrected to note that Poppi is based in Austin, not Dallas.
Go deeper