Facing bankruptcy, Bed Bath & Beyond tries to raise more cash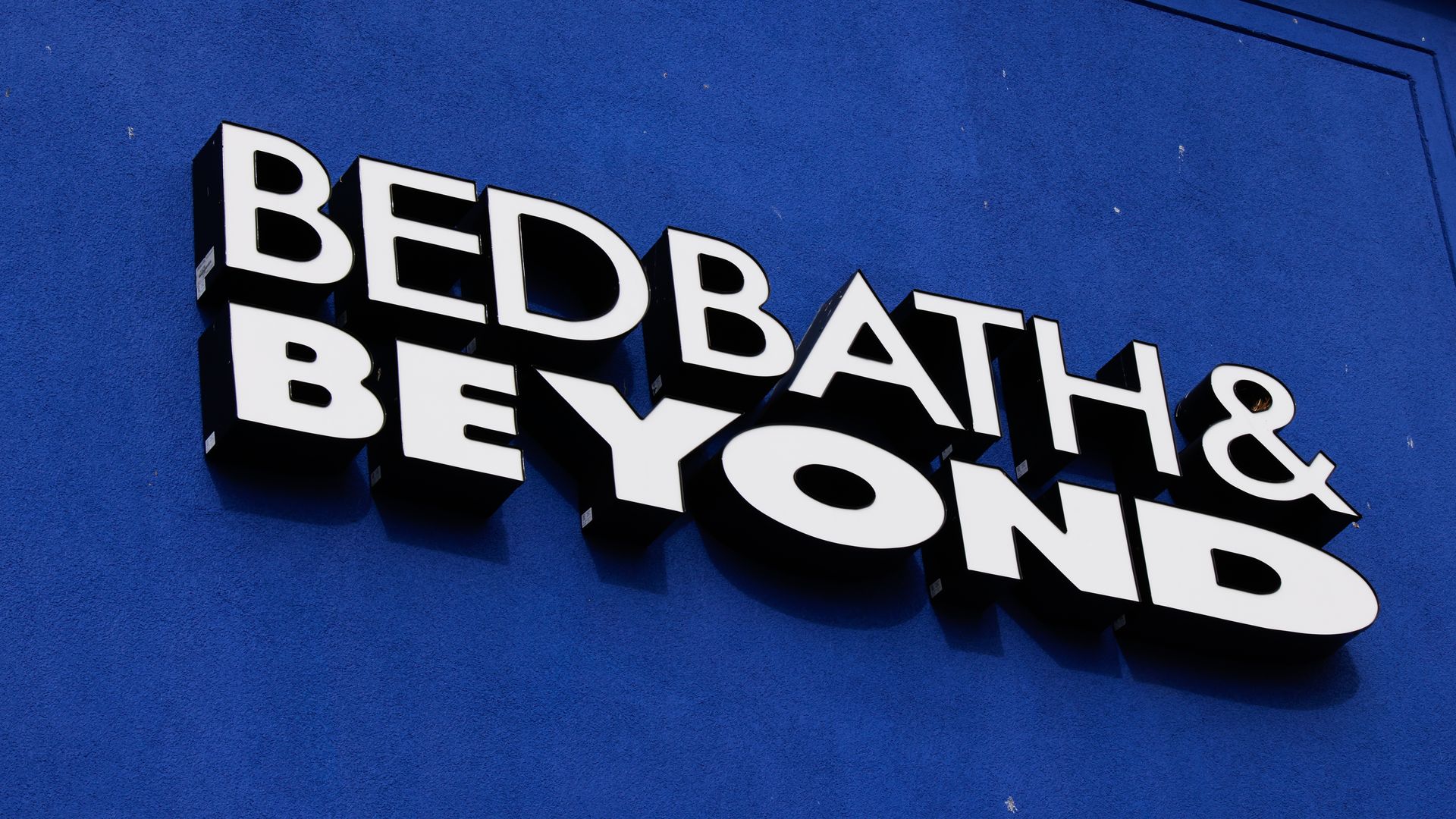 Bed Bath & Beyond is proposing a new $300 million stock offering as the retailer continues to stare down possible bankruptcy after terminating its fundraising agreement with Hudson Bay Capital Management Thursday.
Earnings update: BBBY also provided preliminary Q4 results, projecting net sales of about $1.2 billion, a comparable sales decline between 40% and 50%, continued operating losses, and modest free cash flow usage.
Plus, its revolving loan was decreased from $565 million to $300 million.
Not only has the home goods retailer not stabilized — the negative trends are worsening, says Fitch Ratings senior director David Silverman.
Catch up fast: Last month, Bed Bath & Beyond staved off bankruptcy by striking a deal with Hudson Bay to potentially raise as much as $1 billion, but that plan was ended after its shares fell below $1 per.
It ended up raising some $360 million from Hudson Bay, a spokesperson says in an emailed statement to Axios Friday morning.
The company also paid a reported $28 million of interest due on three tranches of senior notes.
It "cured" its default under its credit agreement, the spokesperson notes.
And it repaid a material amount of its asset-based revolving credit facility, the spokesperson adds.
What they're saying: "Since announcing our turnaround plan, we have been transparent about our focus on enhancing liquidity as we position ourselves to serve our customers well into the future," the spokesperson says.
"Every decision has been driven by careful analysis, advisement, and consideration of all market factors and business conditions."
"As demonstrated by our plans for additional equity capital, our work remains focused on creating operational and financial avenues for further progress."
"We believe yesterday's launch of the ATM Program will expand the reach of our equity program, and accelerate the return of our nationally recognized Bed Bath & Beyond and buybuy BABY brands to prominence."
Reality check: If the home goods retailer were to succeed in raising the $300 million, it would only buy it more time, says James Gellert, CEO of financial analytic firm RapidRatings.
And "unfortunately, not much of it," he says.
The other side: "It's actually stunning that BBBY is trying for yet another 11th-hour save," Gellert says.
"The company was on the razor's edge brink of bankruptcy mere weeks ago when it announced the Hail Mary deal with Hudson Bay," he says.
"It was hard to see how the Hudson Bay deal was going to work — and, go figure — it's not," Gellert says.
Calling the current proposed raise "wishful thinking," Gellert says it's "hard to conceive of equity investors, even the least discerning of the meme retail investors, ponying up dollars when common shareholders will be the first to be wiped out in a bankruptcy."
Between the lines: Gellert points out that the biggest asset remains buybuy Baby and he speculates that management may be banking on a sale.
"Presumably, Hudson Bay went into their deal hoping for the worst case sale value of (buybuy Baby) would be their downside protection, or perhaps the primary objective," he posits.
Be smart: Bed Bath & Beyond is desperate to avoid bankruptcy because it has not secured either debtor-in-possession (DIP) financing, which would fund operations during an in-court restructuring, or a buyer, Silverman says.
Not having those elements and a corresponding reorganization plan headed into bankruptcy would likely lead to an immediate liquidation, he says.
It's essentially trying to buy time to find a longer-term solution, Silverman says.
The bottom line: "It's hard to see how they stave (bankruptcy) off again," Gellert says.
Go deeper