Pinkie, a maker of period pads for adolescents, raises $1M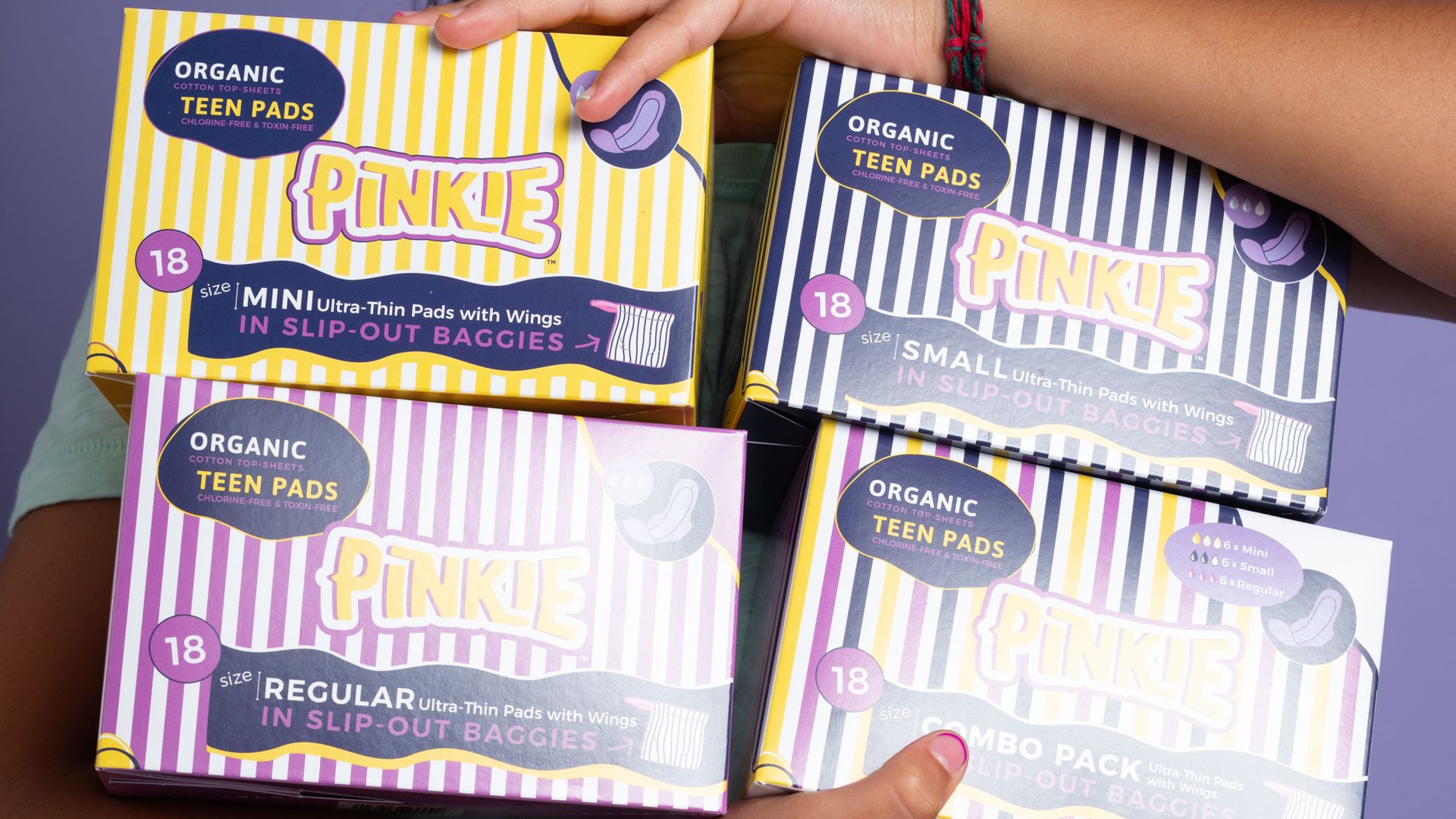 Pinkie, the New York-based maker of period pads for tweens and teens, raised a $1 million seed, founders Fiona Simmonds and Sana Clegg tell Axios.
Why it matters: The market for feminine hygiene, health and wellness products is expected to grow at a compound annual growth rate of mid- to high-single digits.
Details: Proceeds from the raise will be invested in marketing and product runs as Pinkie launches in 500 Target stores, the founders say.
Raising funds from male investors proved difficult — until the founders asked them to take the idea back to their wives and daughters for their opinion on market needs.
That's when the round began gaining more traction, to the point it was oversubscribed, the founders say.
What's next: Pinkie wants to launch a tampon product.
If it snags another national retail partner, Pinkie will look to raise a Series A, Simmonds and Clegg say.
How it works: Pinkie's pads are smaller in design to accommodate the bodies of adolescents, for whom adult-sized products are too large.
To date, CPG companies' answer has been to take an adult-sized pad and place it in a box marketed to tweens and teens — which doesn't solve the initial problem, the founders say.
Pinkie's pads are organic, plant-based and hypoallergenic, though there is a film made of plastic used for the back sheet to prevent liquid from leaking (the company hopes to develop an alternative).
Each pad comes with a slip-out baggie, which can hold the used product for easy disposal later on.
Of note: Though the founders began selling the brand via their website — and it is a top 50 seller on Amazon — they do not think of Pinkie as a DTC.
To test and then sell the products, the company made the pads available in private girls' schools.
The intrigue: Pinkie deposited its early seed money with Silicon Valley Bank not long before the bank collapsed.
In fact, the startup was going to announce its raise on March 10 — the day that the U.S. government took control of SVB.
Simmonds says she was at her daughter's birthday party when her husband alerted her to SVB's troubles, which triggered a panic-filled weekend.
Simmonds was ultimately able to access the cash and Pinkie began banking with Chase.
The bottom line: CPG incumbents will either have to "compete with us or come talk to us," Simmonds says.
Editor's note: This story has been updated to correct the name of Amboy Street Ventures.
Go deeper