M.M. LaFleur emerges from pandemic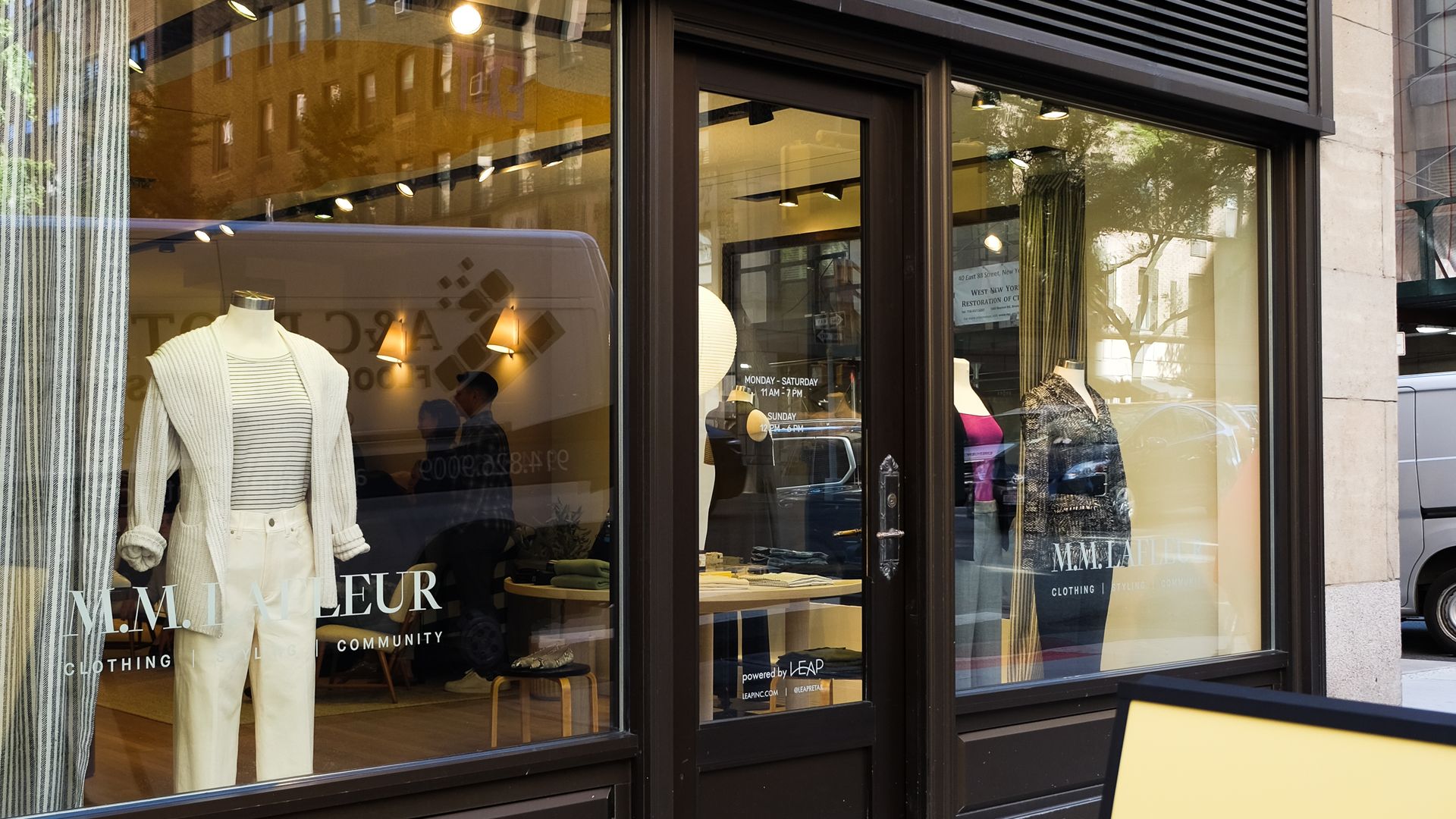 M.M. LaFleur, the New York-based women's apparel brand, is marking a decade in business this year after nearly succumbing to the pandemic, founder and CEO Sarah Miyazawa LaFleur tells Axios.
Why it matters: During Women's History Month, we're featuring several women-founded retail businesses.
LaFleur's story tells us about the problems startups needed to solve to successfully stay in business.
Flashback: Founded in 2013, the thesis of M.M. LaFleur was to provide comfortable but fashionable office wear for women.
The company launched with a collection of work-wear dresses that LaFleur described as "onesies" for women.
Initially, customers were sent boxes of pre-selected wardrobe items based on survey responses.
However, the company discontinued that service in 2019, pivoting to launch a campaign for women running for office that got attention from former presidential candidate Hillary Clinton and Rep. Alexandria Ocasio-Cortez (D-N.Y.).
By February 2020, its spring line was notching the highest sales of any collection the brand had launched, LaFleur says.
What happened: In early 2020, supply chain snags with Chinese partners began to rankle the business, but LaFleur says she assumed COVID-19's impact would be similar to that of SARS.
M.M. LaFleur's imagined worst-case scenario was sales falling by 20%, but the second quarter proved to be disastrous for the company, with sales falling at least 50%, she says.
"The hardest part was trying to plan," LaFleur says, noting the unprecedented length of the COVID-19 pandemic impacted the company's strategy,
What they did: In June 2020, investors put together a small round for the apparel brand without which it would not have survived, LaFleur says.
M.M. LaFleur immediately closed all of its stores, laid off those who worked in them, and experimented with designing apparel primarily focused on comfort.
After business did not rebound in 2021, the company conducted another round of layoffs in September of that year.
When the Omicron variant emerged, LaFleur says she questioned whether the business could continue, and she came close to shutting it down.
Yet another round of layoffs at the end of 2021 saved the business, she says.
Fast forward: By late 2022 — a comeback year for the brand — M.M. LaFleur was back to 89% of its 2019 revenue.
The brand is increasingly focused on "power casual," a blend of dressing for a hybrid work world that consists of a blazer, an underpinning and a pair of pants.
The big picture: "It came down to two things, we were willing to change everything in order to survive— everything was thrown out the window —and all ideas were possibilities," LaFleur says.
Reality check: While M.M. LaFleur sees "a light at the end of the tunnel," the company is still in turnaround mode, the founder acknowledges.
Yes, but: The company plans to open a handful of stores this year.
The bottom line: "If we have good product and we know who the customer is, we will find our footing and we have," LaFleur says.
Go deeper