Morphe's troubles show frailty of celebrity-backed brand model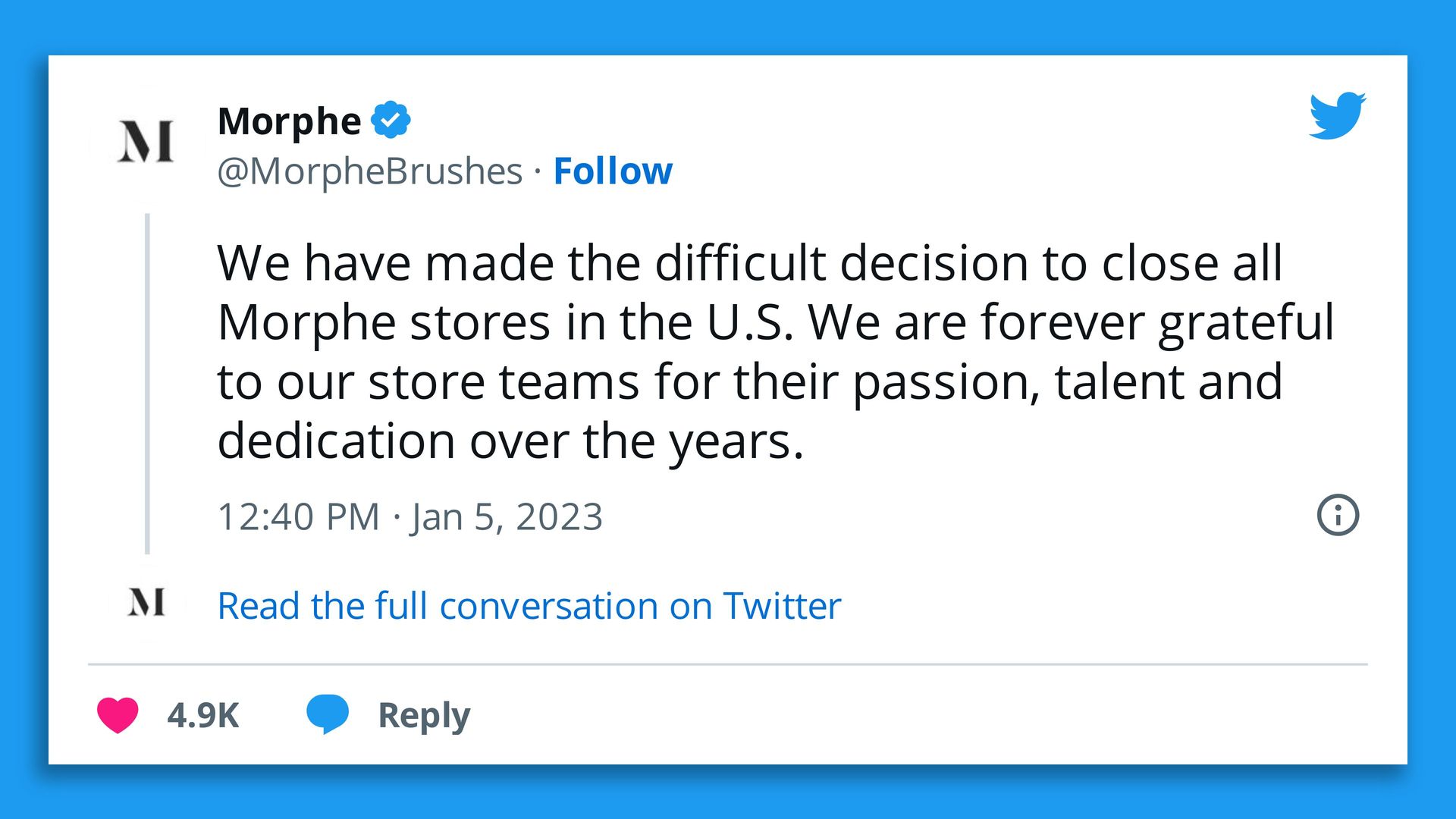 Beauty brand Morphe plans to close all of its U.S. stores, casting a shadow over the company that was once valued at $2 billion and powered by social media celebs.
Why it matters: Celebrity-backed brands are vulnerable to reputation risks, industry insiders say, and it can certainly cloud the prospects of the market in the future.
What happened: The company said it made the difficult decision to close its U.S. stores in a tweet yesterday.
"We are forever grateful to our store teams for their passion, talent and dedication over the years," it said.
Customers will still be able to shop online or at select retailers. Stores outside the U.S. will remain open.
Flashback: In October, trade pub Women's Wear Daily said Forma, Morphe's parent company, was considering bankruptcy.
The company took on $650 million in debt when it was bought out by private equity firm General Atlantic in 2019.
Details: Per Bloomberg, the company was said to have generated $400 million in 2019 from internet celebrities.
"In the first 10 months of that year, revenue tied to [James] Charles, [Jeffree] Star and Jaclyn Hill — another social media star — fell by 66% to $32 million," Bloomberg reported.
Context: Reputational risk is certainly a factor when investing in any celebrity-backed brand, Ryan Nelson, partner at Jobi, an early-stage VC, told Axios about the space in general.
"You wouldn't want a celebrity to invest in your brand who is getting in scandals or things like that," he says. "That could have a harmful impact on your brand reputation."
State of play: The beauty sector is crowded with celebrity and influencer-led brands, Nelson says, adding not all are going to succeed.
"There may be some brands that are sort of moving along, but maybe not growing at the rate at which they would need to, and things like that are good candidates for M&A," he adds.
The bottom line: The ultimate test of a celebrity-backed brand's business model is how well they do over time.
"We want to rely a lot on the celebrity in the early days to help get the early awareness, you know, accelerate the growth, but like, by year 3, 4, 5, we would ideally not be as reliant upon the celebrity," he says.
Morphe's parent Forma Brands didn't immediately respond to a request for additional comment.
Go deeper