January 06, 2023
Good morning, Media Deals readers!
Situational awareness: If you'll be at the 2023 World Economic Forum in Davos, join Axios for an event with MIT Media Lab Digital Currency Initiative director Neha Narula on what's ahead for the crypto industry. RSVP here.
1 big thing: WWE puts up "for sale" sign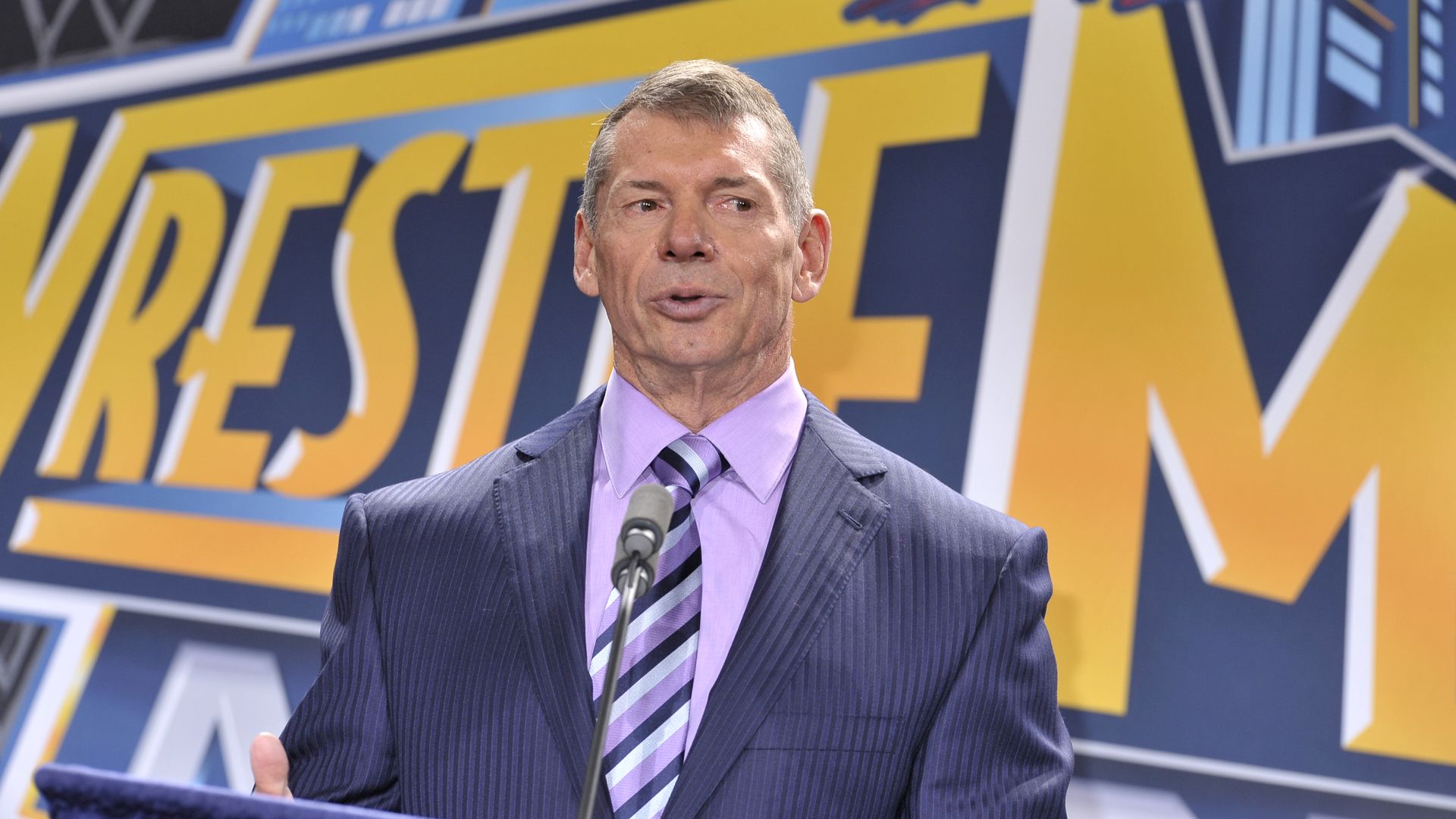 The biggest obstacle to any potential sale of WWE is Vince McMahon himself. Addressing that very point head on, McMahon has strong-armed his way back to the helm of the company and body-slammed a few directors.
Why it matters: Speculation around whether WWE would be put up for sale is now a reality, with McMahon taking the reins and committing to a review of strategic alternatives. He's also committed to leading WWE's media rights negotiations.
Of note: WWE should have no shortage of interested suitors, with Comcast being a strong candidate.
Comcast has a $1 billion streaming deal with the company for WWE Network, and NBCUniversal's relationship with WWE spans nearly three decades of telecasting "Raw" on USA Network.
Other potential companies that analysts have mentioned in recent months include Disney, Amazon and even Apple. Those companies did not immediately respond to a request for comment. Comcast declined to comment.
By the numbers: WWE's stock skyrocketed this morning, by more than 20% and climbed above $88 a share, a price it hasn't hit since late 2018. The company's current market value is around $6.5 billion.
Driving the news: McMahon announced in a press release yesterday that he has elected himself as executive chairman of the company and that he has appointed former WWE co-presidents Michelle Wilson and George Barrios to the board. He did so via a written consent order.
A written consent order is a vehicle that allows the majority owner of a company to take such action and to make it effective immediately. McMahon owns 81% of WWE.
Of note: In a filing this morning, the company said directors JoEllen Lyons Dillon, Jeffrey Speed and Alan Wexler were ousted from the board.
After the filing, the company issued a press release saying Ignace Lahoud and Man Jit Singh have resigned from the board, effective immediately.
Vince's daughter, Stephanie, and Nick Khan, both of whom have been running WWE as co-CEO since McMahon retired, appear to be safe.
"WWE has an exceptional management team in place, and I do not intend for my return to have any impact on their roles, duties or responsibilities," McMahon said in a statement yesterday.
The big picture: Even in retirement, no sale was ever going to happen without McMahon's blessing given his outsize shareholder power. This move allows him to assert more control over that process.
McMahon's return also comes ahead of WWE's media rights negotiations with NBCUniversal and Fox for its two flagship TV programs, "Raw" and "Smackdown."
Be smart: Sale rumors have swirled ever since Khan was hired as president in 2020.
Khan is no stranger to dealmaking. He joined after eight years at CAA, where he was co-head of the TV department. He represented WWE in its media rights talks, including the move of the "Smackdown" franchise from NBCUniversal to Fox.
Upon joining, Khan and Vince McMahon oversaw a near-total remake of WWE's media division and began pursuing other media deals, including the landmark WWE Network deal.
Khan hinted last year during an interview on Matt Belloni's "The Town" podcast that NBCU makes sense as a suitor: "What does NBCU/Comcast lack that they need? And I think it's a factual statement: They don't have the intellectual property that some other companies have."
View archive