1 big meal: Attain's Brian Mandelbaum and Jonah Goodhart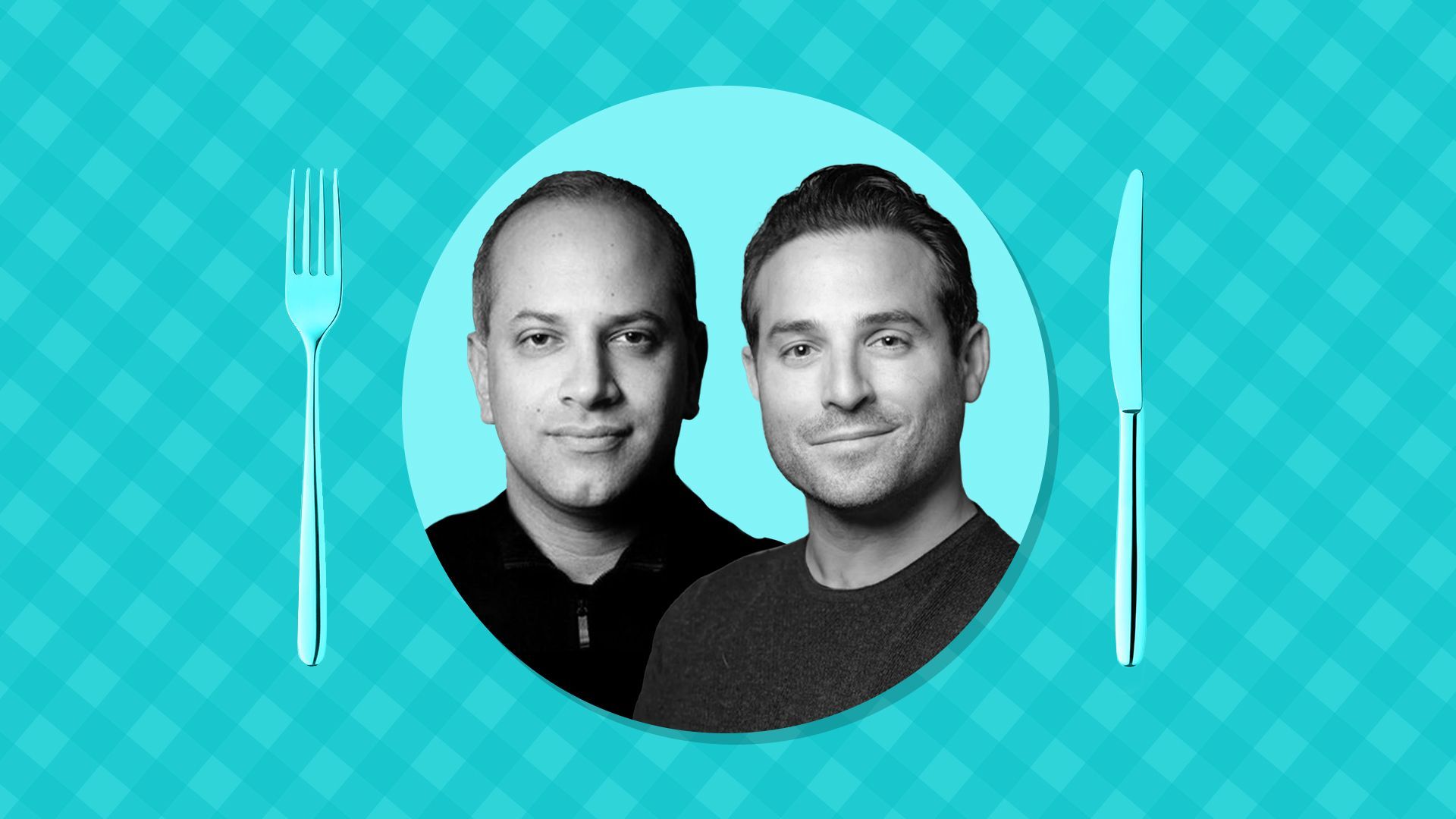 Ad tech veteran Jonah Goodhart joined Attain's board of directors this summer to help the VC-backed measurement firm expand amid the rapid growth of retail media. He, alongside Attain CEO Brian Mandelbaum, dined with Kerry this week as part of our "1 big meal" interview series to talk about the state of ad tech.
Why it matters: Mandelbaum co-founded ad measurement firm Attain, formerly known as Klover, in 2019. Prior, he founded video distribution platform Clearstream TV (acquired by Engine Group). He's also a managing partner at Mayne Capital.
Goodhart was previously CEO of Moat (acquired by Oracle) and a founding investor of Right Media (acquired by Yahoo). He's also co-founder of WGI Group, an investor in more than 100 tech companies, and co-founder of venture studio Montauk Labs.
🏨 Why we chose the restaurant: Hillstone near Madison Square Park. Mandelbaum says his team selected it due to its proximity to his hotel. Goodhart coincidentally had a connection: In 2002, he was pitched Right Media at the restaurant, formerly known as Houston's.
🍣 What we ate: They both drank iced tea. Mandelbaum ate Osaka style pressed sushi. Goodhart ate a veggie burger. I drank an iced Americano and ate a spicy tuna roll.
When went wrong with MediaMath?
JG: "There's a broader discussion, which is programmatic spend is at $100 billion more or less this year. ... The Trade Desk has done extraordinarily well. ... Magnite has done generally well. I look at it in aggregate and go, 'It's a pretty healthy industry.' ... I don't know about MediaMath specifically. I do know that they were early in the space. They were pioneers."
Do you expect more ad tech consolidation?
BM: "There's been a definite increase in consolidation in areas of the ad tech ecosystem [like DSPs and SSPs] ... and in other areas, there's been more fragmentation. ... We're seeing a resurgence of new companies in areas that have not existed before [like retail media and new metrics.]"
JG: "NBCUniversal put together a landscape of the measurement world. If you go back a minute, it was Nielsen, Comscore and ad servers. ... Now it's hundreds of companies. I would argue it's for good reason because you need to understand attention, emotion and contextual signals."
Why did you start Attain?
BM: "GDPR was starting to come become a big thing. ... I told my team there's just going to be this world of people that have data and people that don't. ... What I mean by having data is people that have actual sourced consumer data with permission. We were like, 'How do we provide a real value exchange with consumers to share what we believe is the most valuable data set ... a purchase?'"
What ad tech startups fascinate you?
JG: "A lot of what we're trying to solve in the world of ad tech is actually the same basics that advertisers have been trying to solve forever: Who did I reach? ... In what environment or context? ... Do I believe they were paying attention? ... What type of creative? ... And perhaps most importantly, outcomes."
🍕 1 fun fact: Mandelbaum was fired on "The Apprentice." Goodhart was in a Domino's print ad when he was a kid.
Go deeper