Pac-12 sacked by college sports' lust for TV dollars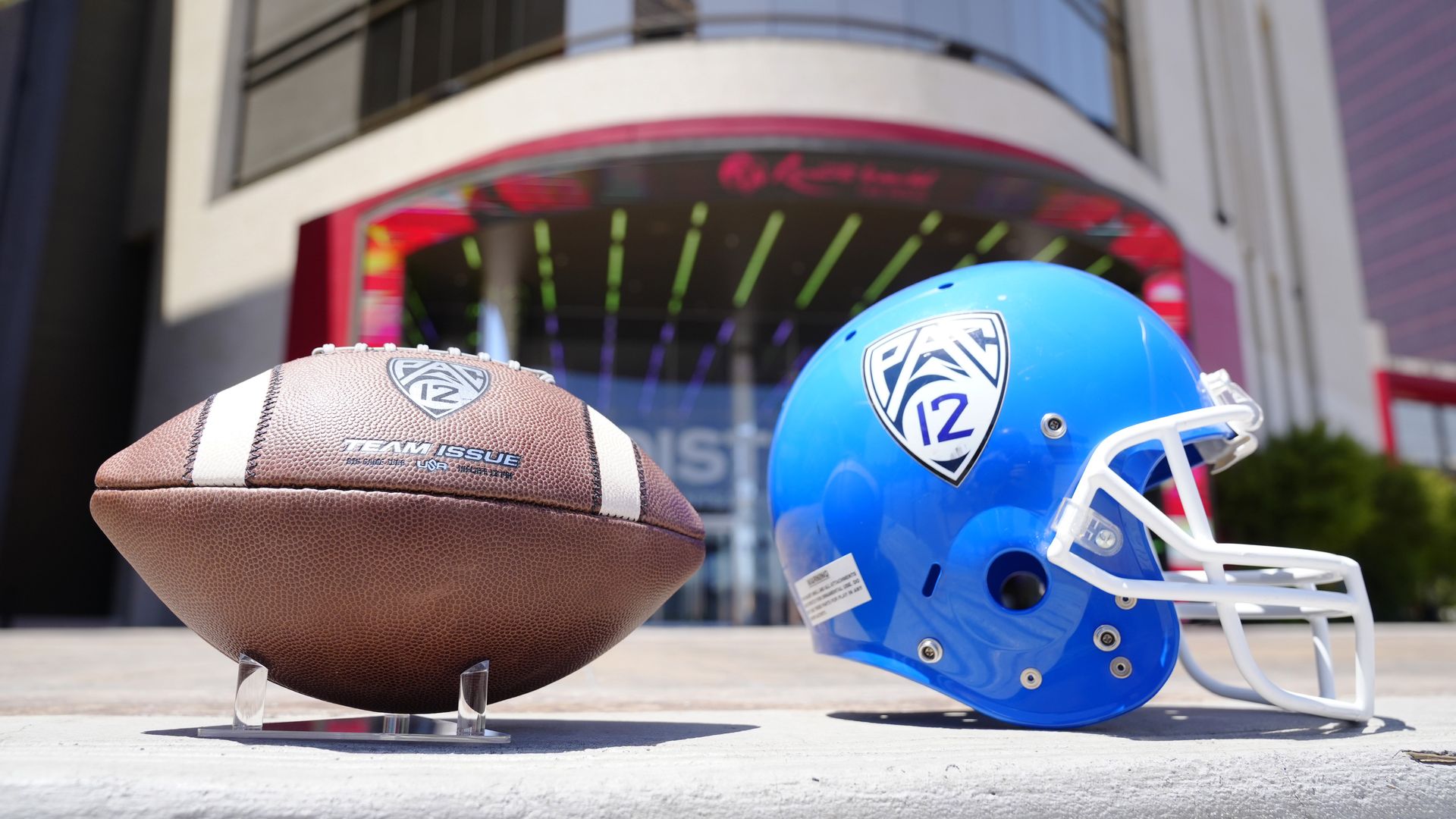 The destruction of the Pac-12 conference is the latest example of how the lust for TV dollars has thrown college athletics into chaos.
Why it matters: Outside of the NFL, no sport drives TV revenues quite like college football, which is going to look a whole lot different after this coming school year.
What's happening: A week ago, it appeared Apple was close to bagging its first college football rights deal. That play now looks dead as the Pac-12 conference was raided over the weekend.
Washington and Oregon joined USC and UCLA in bolting for the Big Ten — and its $7 billion TV deal.
That led Arizona, Arizona State and Utah to follow Colorado's lead and flee for the Big 12, leaving the Pac-12 with four remaining schools: Cal, Stanford, Washington State and Oregon State.
Details: According to The Athletic, the Apple deal was a five-year deal that would have paid schools $25 million a year, with incentives built in based on subscriber growth.
But schools were wary that the deal did not involve a more traditional TV partner, which meant that their games would have been likely seen by a lot fewer viewers compared to their Power Five counterparts.
University of Washington president Ana Mari Cauce told reporters Saturday that the Apple deal "was not going to secure" the conference's future. "When you have a deal that people are saying one of the best aspects of it is 'you can get out in [three] years,' that tells you a lot."
The big picture: Pac-12 leadership failed to navigate college sports' shifting TV landscape.
When the SEC, ACC and Big Ten launched their TV networks, they partnered with ESPN or Fox. The Pac-12's decision to go solo for its seven (yes, you read that right) TV networks turned it into a money-losing endeavor that got too few eyeballs.
The conference also waited too long to try to renew its TV deal with ESPN and Fox and let the Big 12 jump ahead and sign an extension, which tied up time slots and networks' money amid tightening TV budgets.
Lastly, after USC and UCLA announced their Big Ten intentions a year ago, the conference refused to add new schools until it signed a new TV deal.
The bottom line: Sports is media, and now, even if the Pac-12 survives, its days as a Power conference will end after this coming season.
Editor's note: This story has been corrected to state that Colorado joined the Big 12, not the Big 10.
Go deeper