Exclusive: Giannis Antetokounmpo and family invest in Candy Funhouse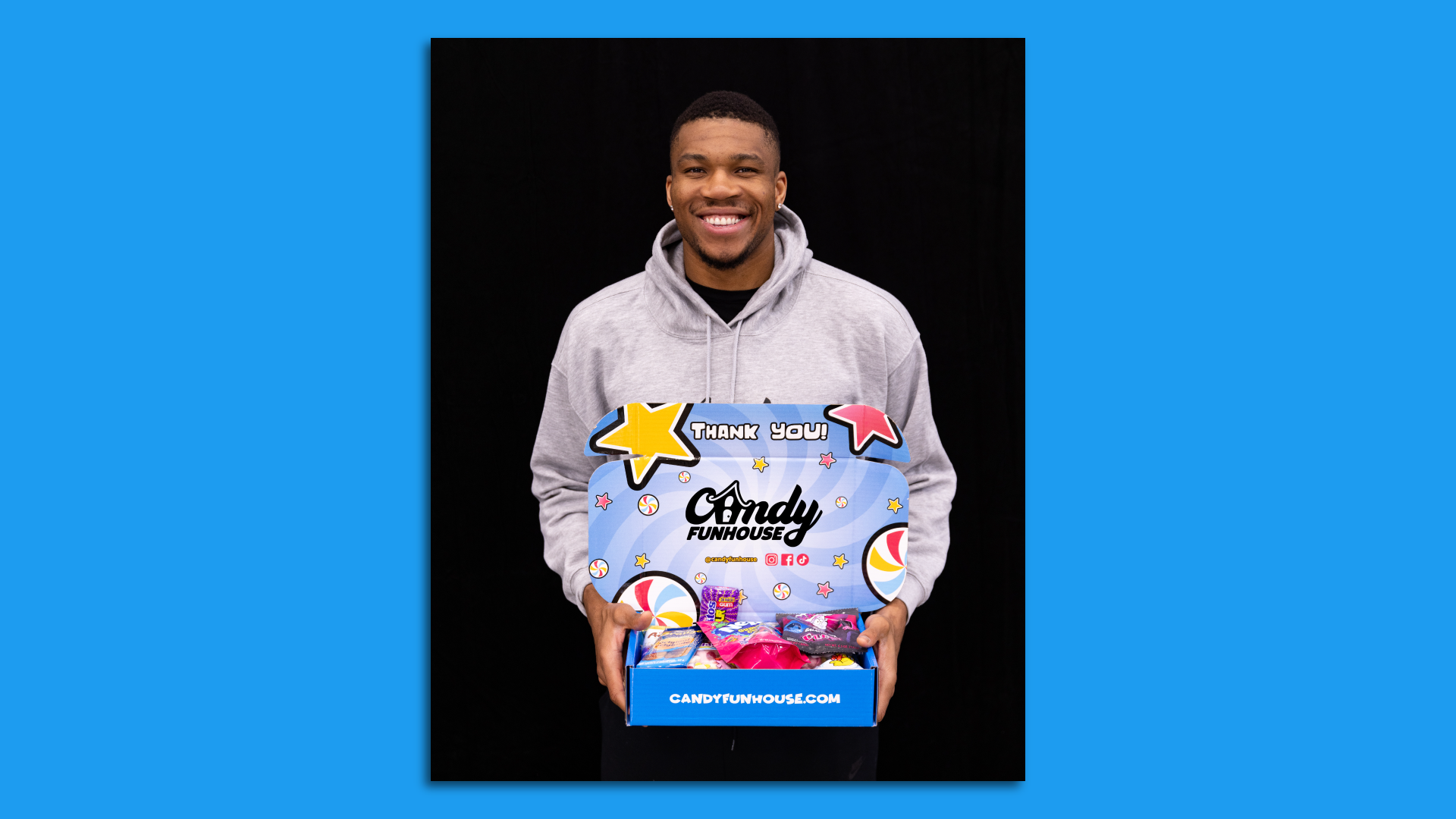 Two years ago, NBA star Giannis Antetokounmpo posted two TikTok videos of himself unpacking a giant box of candy. On Tuesday, he announced that he's investing in the company that sent it.
Why it matters: The Milwaukee Bucks legend's dip into Candy Funhouse provides a major boost to the Canadian company to pursue global growth with the help of his star power.
Of note: "Giannis wants us to become a household name. He's talked about potentially going out in Greece and having a candy fun park," CMO Dave Theodoropoulos tells Axios, adding that the hoop star's family is "really going to help us strategically grow the business on a global scale."
Details: Candy Funhouse, founded in 2018, is a profitable family business that now has about 40 employees. It just launched its U.S. website, where it currently has about 500 products available with plans for fast expansion. Its Canadian site averages from 2,500 to 3,500 products.
The equity partnership comes through Antetokounmpo's recently announced company, Ante, that will manage his investments, businesses and social impact work. He plans to become Candy Funhouse's largest individual shareholder. Terms were not disclosed.
Candy Funhouse executives first met in-person with Antetokounmpo at his Milwaukee home last year and reunited there last month. "We sat down for a few hours ... mapped out the next two to five years," CEO Jamal Hejazi tells Axios. "He's in the thick of it and a real part of the ideas."
Future plans include Antetokounmpo's own candy line by the end of the year, Hejazi says. The NBA star also has helped brainstorm ideas for TikTok videos and other content. The company hopes to expand from online sales into physical retail, too.
By the numbers: Sales were "just under $15 million" in 2021 and the family retains 90% of the business, Hejazi told CNN last year. (He declined to provide updated sales figures.) Another notable stakeholder is Isla Management founder Simon Gebrelul.
The business received a flood of earned media attention after announcing it was hiring "candyologists" in 2021 and again in 2022 for a chief candy officer job posting. It received 80,000 applications for the former and 200,000 for the latter, for which it's planning to hire soon, Hejazi says.
Hejazi touted the company's social reach, including its 3.3 million followers on TikTok. It has garnered two billion views across its social channels over the past year, he says.
Zoom in: Hejazi says Candy Funhouse has received interest from other celebrity investors and has met with private equity and venture capital firms.
"They've told us that we have a path to a billion-dollar company," he says. "We've gotten a ton of offers, but we just thought that Giannis was the right partner."
What Giannis is saying: "I believe no brand is doing what Candy Funhouse is doing," Antetokounmpo said in a statement. "Brands in the U.S. are more focused on the product versus experience. People of all ages find joy in sharing candy, and we want to make those moments happen!"
Go deeper