1 big meal: Vevo head of U.S. sales Rob Christensen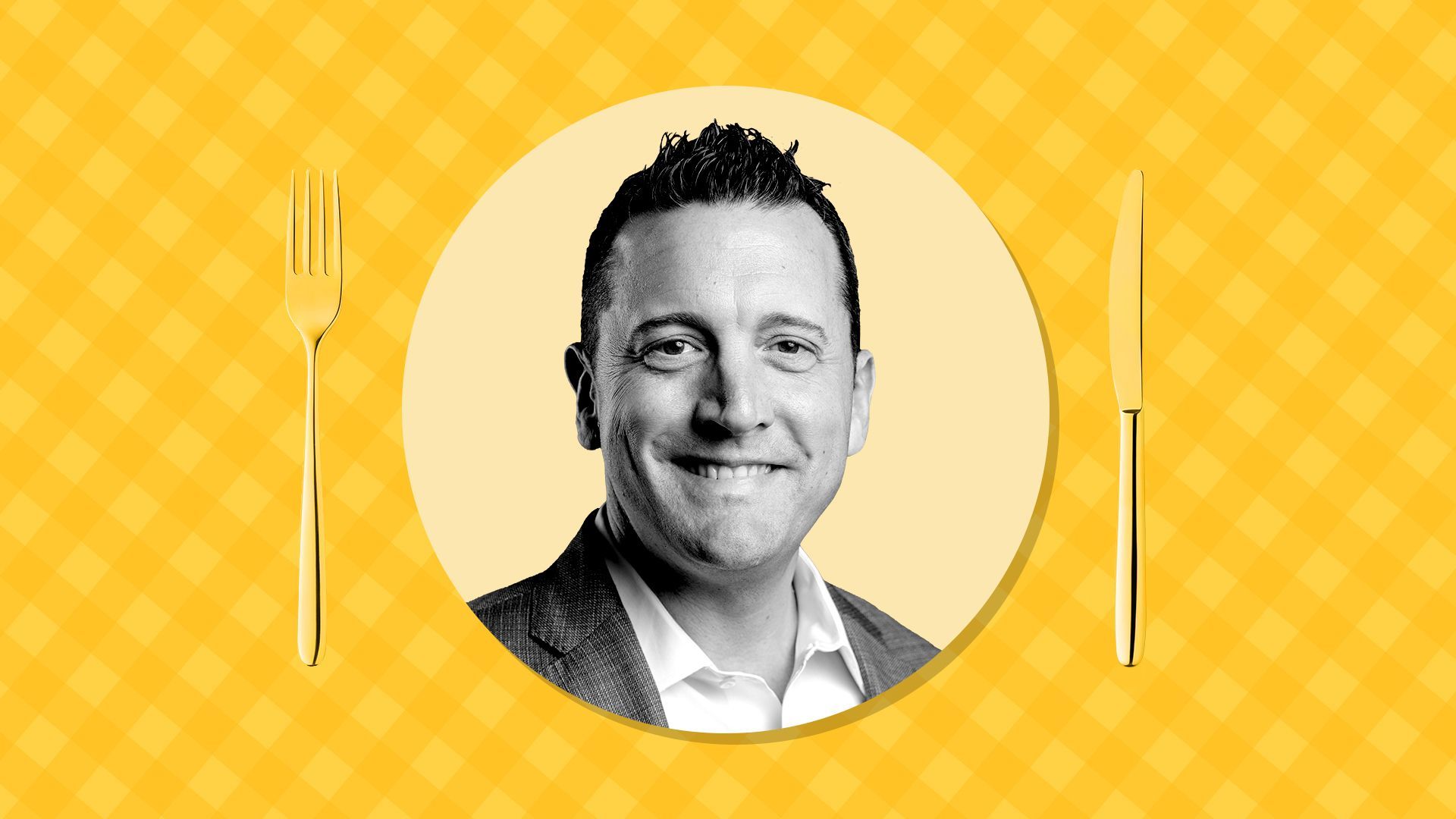 Vevo is returning to the NewFronts in part to break the misperception that the music video network is only found on YouTube, Rob Christensen says. He dined with Kerry this week as part of our "1 big meal" interview series.
Why he matters: Vevo promoted Christensen to senior vice president, U.S. sales and global distribution in March. He joined in 2019 from Fullscreen and previously worked at Revolt Media, Shazam and Hulu.
🚶‍♂️Why we chose the restaurant: Gatsby's Landing is near Vevo's Times Square office. Christensen says he had been to the restaurant previously there and this was his first time trying the new tenant.
🐟 What we ate: We both had iced coffee — mine black and his with cream. He ordered a special, Tilefish. I had the Spaghetti Cacio e Pepe.
Why does Vevo participate in the NewFronts?
I think we have a great story to tell that isn't widely understood. ... I feel like our content set is like this global chameleon.
We don't want to talk about just YouTube. They're a great partner, but they're one partner that's basically the largest MVPD in the world in our eyes and now we have 34 other MVPD partners like Roku, Vizio, LG, Samsung.
If you were to lose YouTube as a partner, would that be a huge deal?
It would be a big deal. They are a very important partner of ours and labels. But YouTube used to be 100% of our traffic, and now on our best day with TV viewership, half of our viewership is off of YouTube as opposed to zero just four years ago.
Do you see TikTok as a threat to Vevo?
I don't personally. The space in general, whether it's TikTok in social or Spotify in mobile audio, I just think for the labels, for our owners, we can all contribute to their success. Our main focus right now is growing our opportunity on the TV screen.
Who should own Hulu — Disney or Comcast?
Jason Kilar, who founded Hulu, was always obsessed with Pixar, with the attention that Pixar pays to detail. I left there in 2014, so a lot has changed since then, but I always associate Hulu and the user experience as being one that the product team obsesses over, and I always associate that high bar with Disney.
🎸 1 fun fact: He played guitar for Driven Blind, a cover band in Staten Island. He was also a backup singer, but with a muted microphone.
Go deeper