MLB squeezes Diamond for game distribution control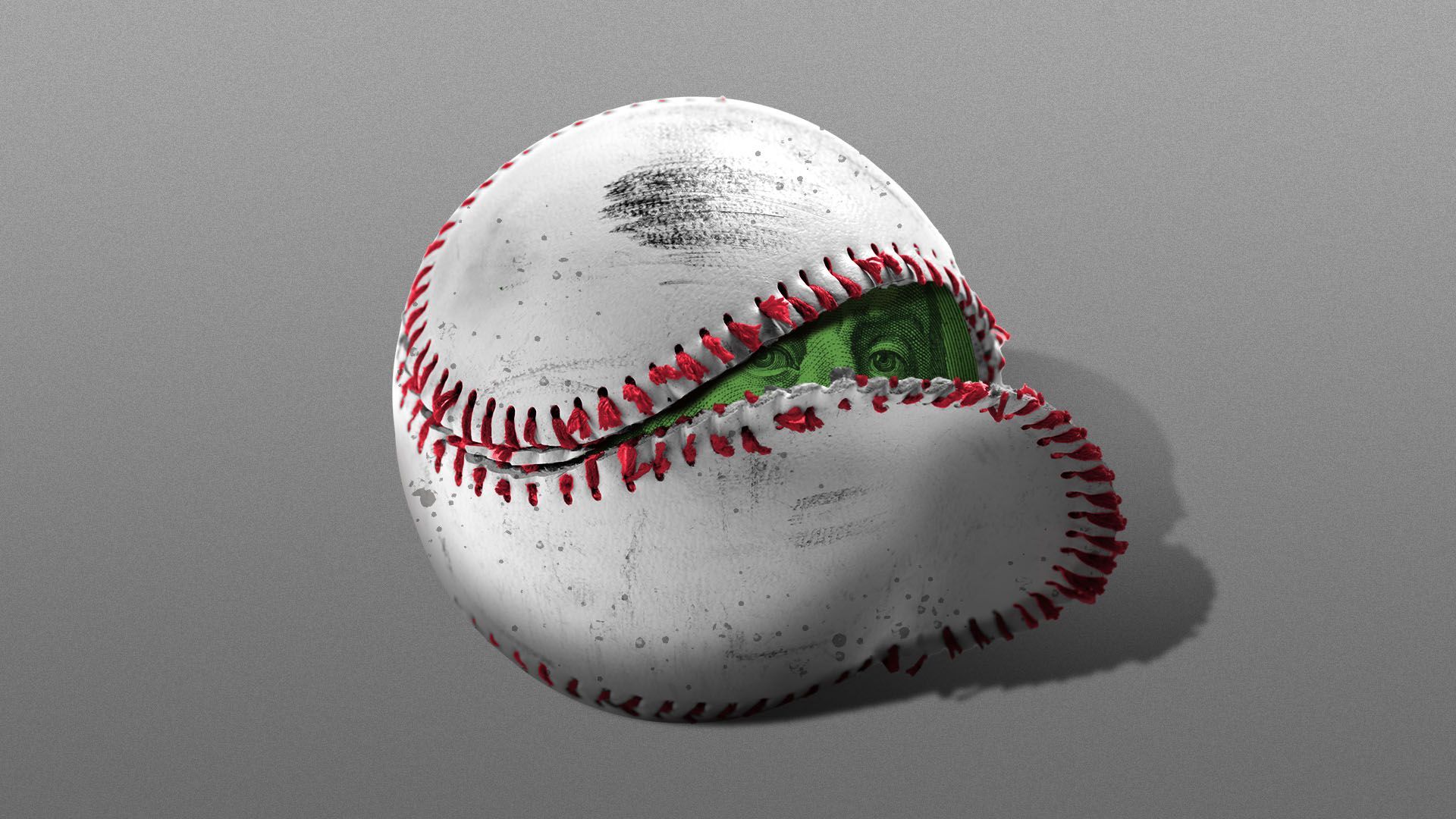 Major League Baseball, the erstwhile partner to the bankrupt Diamond Sports Group, believes that the entire regional sports network model is going to fail.
Why it matters: Negotiations between the two could soon change the way that sports fans, particularly those of MLB, watch their favorite teams play.
Driving the news: As of Thursday, Diamond has now missed rights payments with the Arizona Diamondbacks and the San Diego Padres, according to sources.
Since the Diamondbacks' payment was due before Diamond entered bankruptcy, MLB cannot do anything until the next missed payment to that club, which isn't due until this summer.
Yes, but: Diamond skipped the payment to the Padres on Wednesday, which started a 14-day grace period. Since that happened after Diamond went into bankruptcy, MLB can go to court to take those rights back after those 14 days are up, per one of the sources familiar with the talks.
The big picture: Unlike the NBA and NHL, which have largely tried to help Diamond stay afloat, MLB sees this as an opportunity to play a larger role in how its teams' games are broadcast.
The league said as much Tuesday night after Diamond filed: "Over the long term, we will reimagine our distribution model to address the changing media climate."
MLB has prevented its teams from negotiating with Diamond individually, per multiple sources.
During Diamond's first bankruptcy hearing on Thursday, one of Diamond's attorneys, Andrew Goldman from WilmerHale, accused MLB of trying to "drive us out of the market" and said the league has already "begun discussing with our distributors what they would be pricing the product at, if and when they take over."
Between the lines: Diamond is staking its future on streaming games, but unlike the NBA and NHL, MLB has been mostly unwilling to give them up.
Diamond currently holds the streaming rights to all 16 NBA and all 12 NHL teams that its RSNs televise for its Bally Sports+ streaming service. But it only has five of its 14 MLB teams on board.
Without additional streaming rights, Diamond argues that some of its rights deals with clubs no longer make economic sense.
MLB's view is that Diamond has not presented them with a workable financial model. In addition to in-market rights, Diamond is asking for out-of-market rights and the ability to sell single-game packages — more than what is customary for other leagues, per a source.
What's next: It's not just the Padres and Diamondbacks whose rights are in play as Diamond renegotiates all of its rights deals across its 42 teams.
Diamond has payments due for many of its other 12 MLB teams over the next 30 days.
Other team deals that Diamond is scrutinizing, per one source, include the Cincinnati Reds and Cleveland Guardians. Additionally, the company stated in a court filing that the Texas Rangers informed Diamond that they will look to cancel their deal if the company becomes insolvent.
For MLB, this is not just an issue with Diamond, but with the entire RSN sector. Its eventual plan is to take back the rights to all 30 of its clubs.
The bottom line: Sources on both sides of the aisle believe that Diamond will end up with fewer teams' rights. The question is just how many.
Go deeper