Axios Pro: Health Tech Deals
January 25, 2022
🌄 How's it going, health tech readers? Is your deal pipeline robust or are you up all night worrying about competition and exits? Write to us.
1 big thing: Public-private valuation disconnect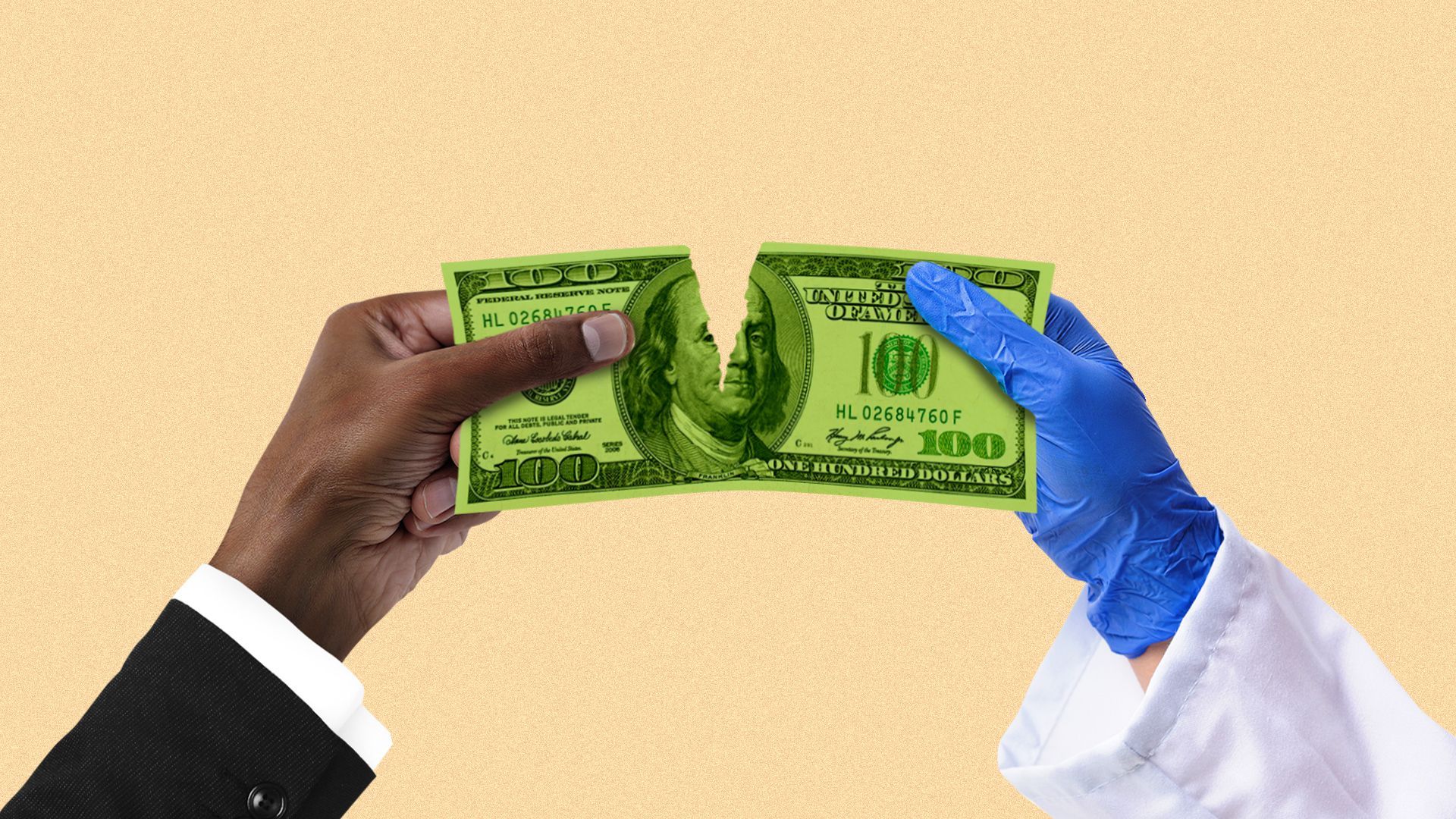 The divergence of public and private valuations has private investors reevaluating their exit options and strategic playbooks this year.
Why it matters: Whether it's Tempus, Included Health or Hinge Health, a long list of digital health companies were either rumored or anticipated to IPO in 2022 at hefty valuations. But the math doesn't work now.
The public market climate remains "cold and chilly" for digital health companies, as one veteran health tech VC puts it.
Digital health issuances are unlikely to emerge until the back half of Q3 or Q4, one industry banker predicts.
What they're saying: "Some of the highest caliber companies are all private, so it's hard to go public as a growth company when you don't have any good comps," the banker adds. "It's a hard story to tell the market [you deserve] a higher valuation 'because we're better.'"
By the numbers: As a new Solomon Partners report reveals, 2021's "New Freshman Class" of 25 publicly traded health tech companies took a beating. The first few weeks of the year haven't been much better.
Only Doximity, Science 37, Agilon Health, Privia Health and Definitive Healthcare ended up on the year, with only the first two outpacing the S&P.
Of the 10 IPOs in 2021, the average post-IPO performance was negative 22%; of the 15 SPACs, stocks on average tumbled 45%.
Yes, but: This comes as firms like Tiger Global, Coatue Management, General Catalyst and Lux Capital fuel mega-rounds into growth-y private companies at staggering valuations.
2021 produced 108 financing transactions with combined proceeds of $4.5 billion, up 30% and 136%, respectively, over 2020, Solomon's report shows.
As Ryan Stewart, managing director at Solomon, sees it, these are bets on "new category creators" that are taking a five-year-plus view. "They are betting on the future of health care leaders."
What we're watching: How those previously gearing up for big splashy IPOs are rethinking their 2022 playbooks.
There could be more stock-for-stock mergers, private-t0-private consolidation and marrying of VC or PE portfolio companies, sources say.
Meanwhile, on the PE side, there's probably a higher potential for a busted sale process in 2022 than ever before.
Sellers still want yesterday's public market multiple, sources say.
But, investors flush with dry powder still have to put their money somewhere. That could mean more sponsor-to-sponsor recapitalizations and structured deals, or a flight to perceived safety (ie. stable with cash flow vs. things that are burning money).
How are you reimagining your investment and exits in the current environment? Write to us.
View archive