Exclusive: Virtual cardiology clinic Ventricle Health pumps $8M seed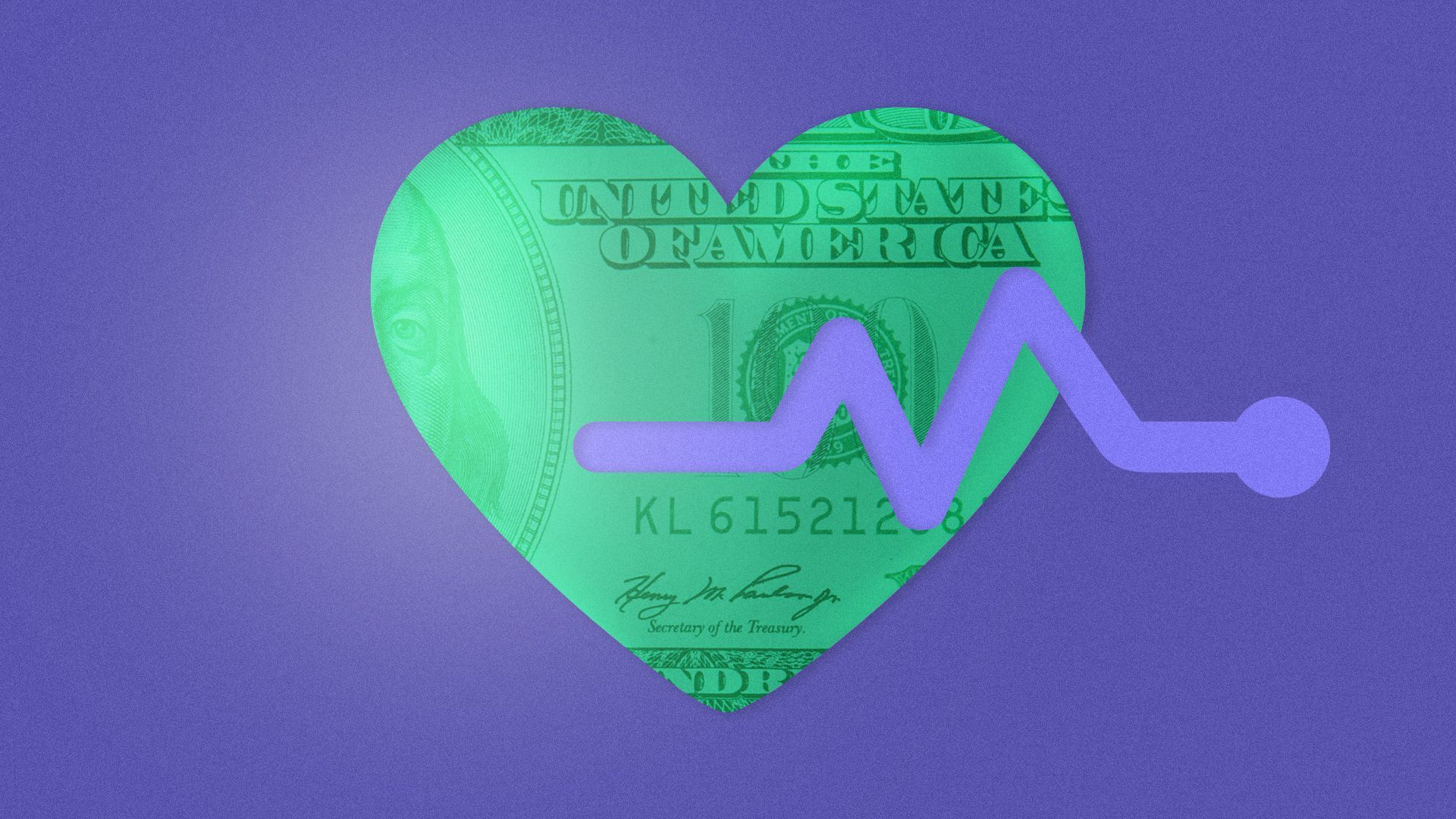 Virtual cardiology care network Ventricle Health closed $8 million in seed funding, the company tells Axios exclusively.
Why it matters: In the U.S., 1 in 4 will develop heart failure — and without guideline-directed medical therapy, the two-year mortality rate for those patients is estimated at 35%.
Details: The round was led by RA Capital Management alongside Waterline Ventures.
Proceeds will go toward building out a network of pharmacists, nurses, clinicians and cardiologists, CEO Sean O'Donnell says.
How it works: Ventricle Health's heart failure management therapeutic model collaborates with value-based care provider groups and payors, founder Daniel Bensimhon says.
The company's care model is anchored around well-established guideline-directed medical therapy (GDMT) pathways, using a combination of up to four medications.
The platform provides patients access to cardiology care appointments from their homes in as little as three days.
"It takes three months to see a cardiologist on average," says Bensimhon. "And only 10%-15% of patients are on full guideline-directed medical therapy.
Ventricle Health's home-based and virtually enabled care model is designed to reduce the overall average annual cost of heart failure care by at least 30-50%, according to Bensimhon.
What's next: The runway for the funding is dependent on the market opportunity and demand, O'Donnell says.
"We will need to bring in capital at some point to continue to fuel the growth," he says.
"We are having direct discussions with national carriers and large value-based management services, as well as looking into Medicare-related risk in their populations," he adds.
What they're saying: "One thing we liked about the company is that they are providing a full solution for patients, providers and payers that overlays on top of existing infrastructure and it is highly scaleable," says Anurag Kondapalli, principal at RA Capital.
"They want to improve the health equity," and it frees up the physicians, allowing them to practice at the top of their licenses, Kondapalli says.
"We are in the early innings of VBC in cardio and we see a long runway," he adds.
The big picture: Many cardiology patients are on the wrong treatment modality, says Bensimhon.
This is also compounded by downward pressure on the industry like a lack of clinicians and a dearth of updated technology.
🎸 🏋️‍♂️ 1 fun thing: Bensimhon was a writer and editor for Men's Health and a writer at Rolling Stone before going to medical school to become a cardiologist.
Go deeper