Data access remains paramount to whole person care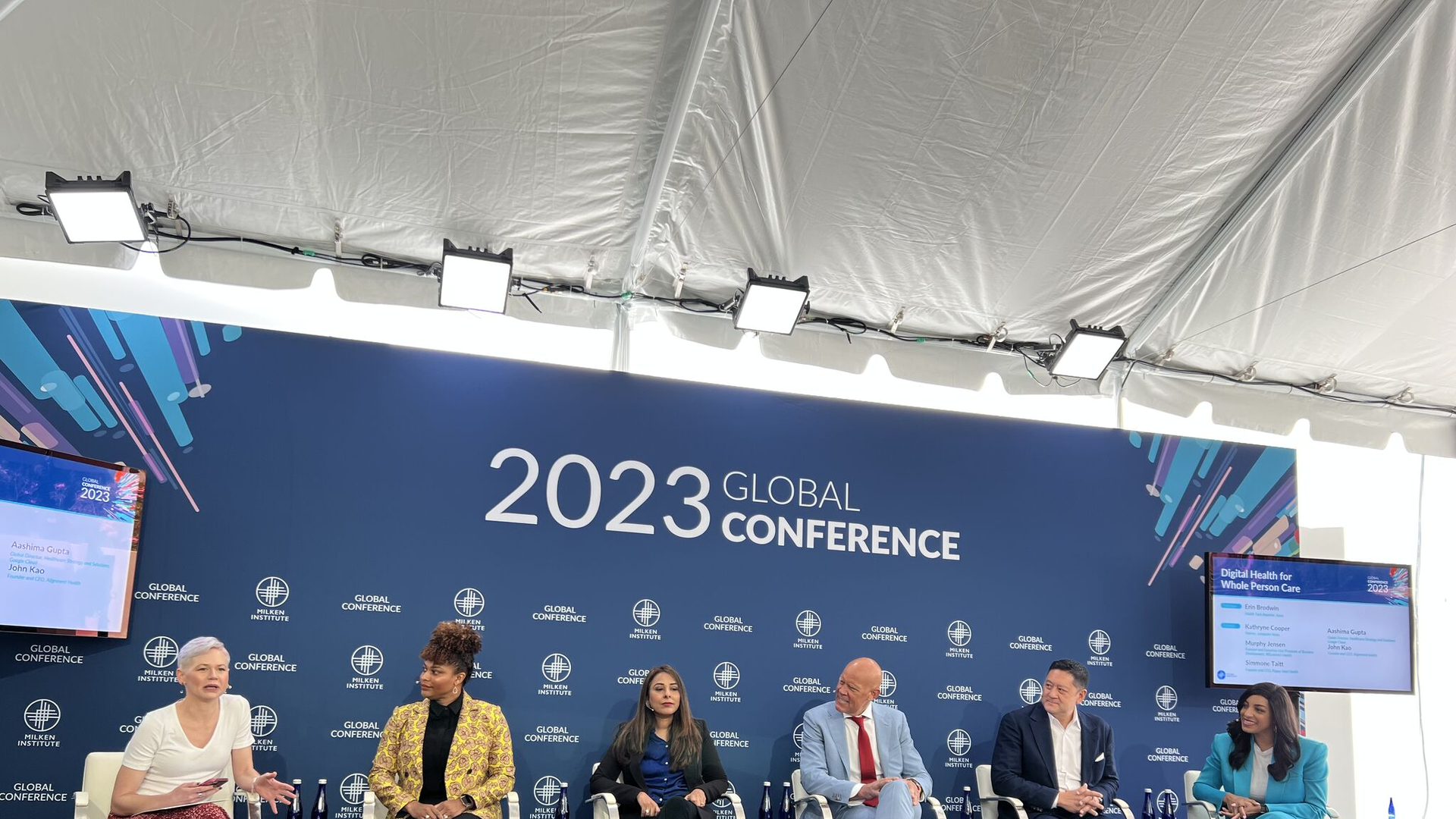 Increased access to data will drive the next wave of innovation in digital health, panelists said at yesterday's 2023 Milken Institute Global Conference.
Why it matters: Digital tools were supposed to usher in the era of interoperability, but barriers persist. A panel on whole-person care featuring Google's Aashima Gupta, Jumpstart Nova's Kathryne Cooper and others and Erin as moderator.
What they're saying: "Less than 2% of the apps can share data," says Gupta, the global director of health care strategy and solutions at Google Cloud.
Meanwhile, 94% of hospitals have digital records — but only a fraction of those records are immediately accessible.
"The big plans have a lot of back-end systems or legacy systems that take 45 or 60 days to reconcile that data," says Alignment Health CEO John Kao.
"It starts with the speed, and then the actionability, of that data to turn that into information," Kao says.
Zoom in: With the gears of change moving slowly across health systems, panelists discussed the demand — and place — for direct-to-consumer (DTC) digital tools.
"We were only DTC for six months," says Simmone Taitt, CEO of women's reproductive telehealth company Poppy Seed Health.
Taitt went on to say that starting DTC gave the company the data points it needed to court enterprise clients like employers, health systems and clinical partners.
"There is a path for direct-to-consumer, but there becomes a bottleneck in terms of scalability and access for all types of consumers," says Cooper. "If it doesn't integrate into the existing healthcare system, it's not a 'no' forever, but it depends on what side you want to play on."
Yes, but: Digital health players should be improving mechanisms to facilitate self-reported data from patients, with tools that enable patients to be honest, Taitt adds.
"I had my first pregnancy loss in 2016 and it was awful," Taitt shares. "I thought I would get the care and the kindness and the medical attention that I needed in those moments, but I didn't. It was 15 minutes."
The bottom line: Whether delivered directly to patients or via enterprise customers, the apps must be easy to use and trustworthy, panelists agree.
"Anyone from the ages of 14 to 90 years old needs to be able to use it and understand how it works," says Murphy Jensen, founder and executive vice president of business development, WEconnect Health.
"In any part of healthcare, that data and the trust that comes with it, is super-important."
Go deeper