Exclusive: Aluna inhales $15M Series B for asthma monitoring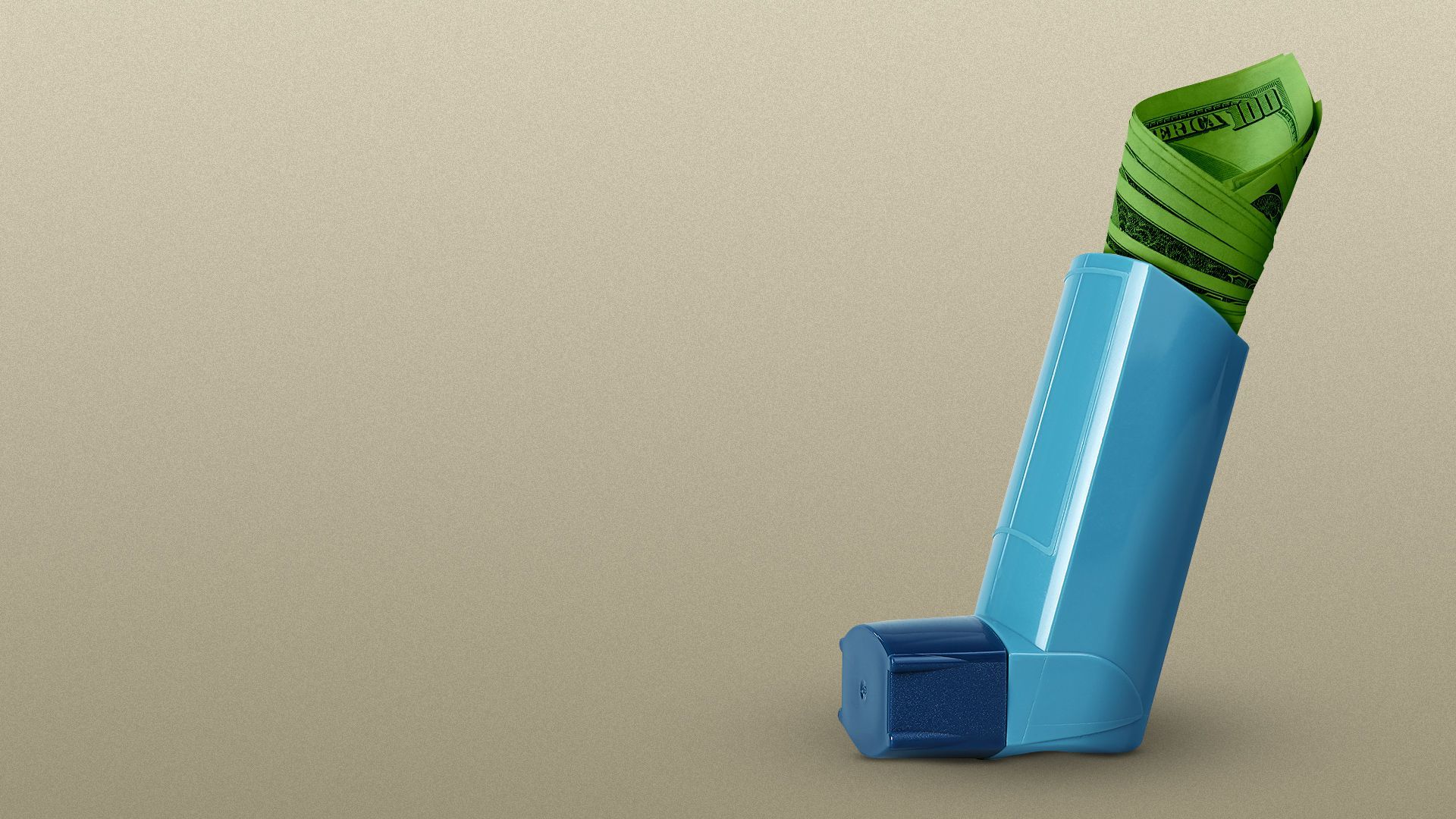 Respiratory health management company Aluna has inhaled $15.3 million in Series B capital, CEO Charvi Shetty tells Axios exclusively.
Why it matters: Although dozens of apps and devices exist to help people with lung conditions manage their illness, few offer what Aluna aims to: a fully integrated, combined service that lets people see how they respond to medications in real time.
"What we do is essentially what you'd do in a clinic," Shetty says.
Deal details: Insider Matrix Partners led the round, bringing Aluna's total funding to $27 million.
Other participants included Rho Ignition and individual backer Warner Carr, an Irvine, Calif.-based allergist.
Shetty says the company plans to use the funds for product innovation, including expanding from asthma into COPD and cystic fibrosis.
Aluna will likely raise a Series C in 2024.
How it works: San Francisco, Calif.-based Aluna partners with providers who offer its FDA-cleared spirometer device and app to their patients. Providers pay a $65 monthly fee to the company, which handles insurance verification so they can be reimbursed through remote patient monitoring.
Roughly 80% of Aluna's customers are adults with mild to moderate persistent asthma. The rest are children and teens.
Customers breathe into the Aluna device and use a corresponding app to see their lung function, visualized as a rocket taking off based on the strength of their breath.
Users then measure their response to medications and input data about potential triggers such as exercise, environment and location — and the data is shared with providers.
The children's version of the app has a game component that lets kids customize their rocket, unlock achievements and encounter various moons and characters.
State of play: Several remote patient monitoring companies focused on respiratory health have attracted investor and acquisition interest in recent years, such as:
Propeller Health, developer of a digital inhaler designed to track medication adherence, in 2019 was acquired by ResMed (NYSE: RMD) for $242.9 million.
NuvoAir, developer of a respiratory care platform, last January raised $25 million in Series A funding led by AlbionVC and Hikma Ventures.
Respiratory Motion, a respiratory monitoring technology developer, in 2022 was was acquired by Senzime for $44 million.
The backstory: Shetty learned she herself had asthma while testing an early version of Aluna's technology as a graduate student at UC Berkeley, where she and co-founder Inderjit Jutla began Aluna as a class project.
By the numbers: Aluna has 4,000 active users across the U.S., per Shetty.
Of note: The company's biggest challenge will be continuing to onboard patients and expand into other conditions, says Aluna investor and Matrix general partner Antonio Rodriguez, who previously invested in non-health care companies including Oculus VR and MakerBot.
"It's a lot easier to move fast and break things when you're not worried about federal audits or doctors encountering difficulties getting patient data," he says.
🌚 One fun thing: The name Aluna was inspired by the Latin root word luna or "moon."
"Historically the moon is what allowed people to venture out in the darkness," Shetty says. "We wanted to bring clarity to parts of people's health they hadn't seen before."
Go deeper