Exclusive: Sperm-focused fertility startup Legacy banks $25M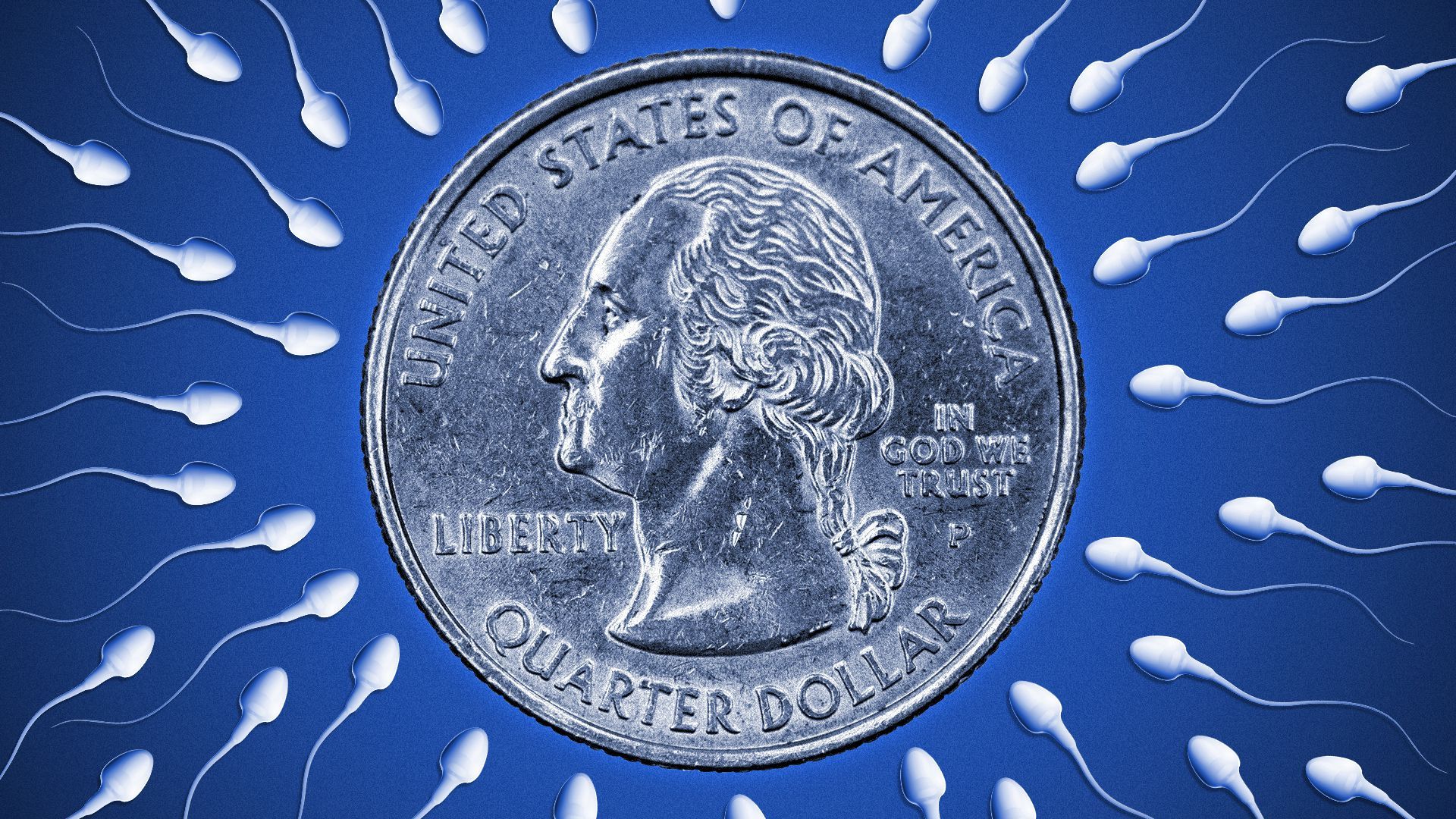 Legacy, the celebrity-backed sperm testing and storage startup, has banked $25 million in Series B funding, thrusting its valuation to $150 million, founder Khaled Kteily tells Axios exclusively.
Why it matters: Fertility has become a white-hot sector for venture investment of late, with backers pouring money into businesses tackling the financial and clinical aspects of starting a family.
While many of those companies focus on women and their reproductive systems, half of all infertility cases involve problems related to sperm, says Sophia Yen, a Stanford clinical associate professor and CEO of women's telehealth company Pandia Health.
"This is not just an issue that heterosexual women should be worried about," Kteily tells Axios.
Details: Bain Capital Ventures led the round and was joined by FirstMark Capital, Section 32 and TQ Ventures.
Driving the news: Several demographic trends are adding fuel to the fertility tech fire, industry observers and investors tell Axios.
People choosing to have children later in life, making the process biologically more challenging and increasing the appeal of supportive technology.
Decreased stigma around discussions about reproductive health, infertility and women's health.
Employers increasingly viewing reproductive health tools as a core workplace benefit.
Context: The past three months have seen a rush of VC interest in startups offering everything from IVF financing tools to nutritional support and home hormone testing.
How it works: Legacy offers its services both directly to consumers and via contracts with employers, insurers, the Veterans Administration and the military.
For a full semen analysis, users order a mail-in test kit for $195, produce a sample at home and ship it back to Legacy's lab.
The company also offers unlimited telehealth visits with urologists and fertility nurses and cryopreservation for between $100 and $150.
In terms of order volume, Legacy is the largest sperm analysis and storage company in the U.S., says Kteily. "We are drowning in sperm."
The company offers its services to anyone with sperm, regardless of gender identity, Kteily says.
One fun thing: Kteily's Instagram handle has long been @djnotkhaled, but he's been forced to rethink that since the real DJ Khaled has invested in his startup along with Justin Bieber, The Weeknd, and Orlando Bloom.
What they're saying: Investors and clinicians tell Erin they are pleased to see more of a focus on inclusive fertility efforts that bring men and people who identify as LGBTQIA+ into the equation.
"Addressing infertility requires innovations that drive toward more inclusive — and ultimately more effective — family care," says Deena Shakir, a partner at Lux Capital who has invested in fertility companies including Alife and Maven.
"I am heartened to see an increased focus on sperm health, especially efforts like this to make sperm preservation and testing more widely accessible — and also more widely acceptable," Shakir adds.
What's next: Legacy plans to use the funds to double its staff and launch a same-day service that lets people supply a sample and get results within 24 hours.
Go deeper