Renewed Senate push for FDA reform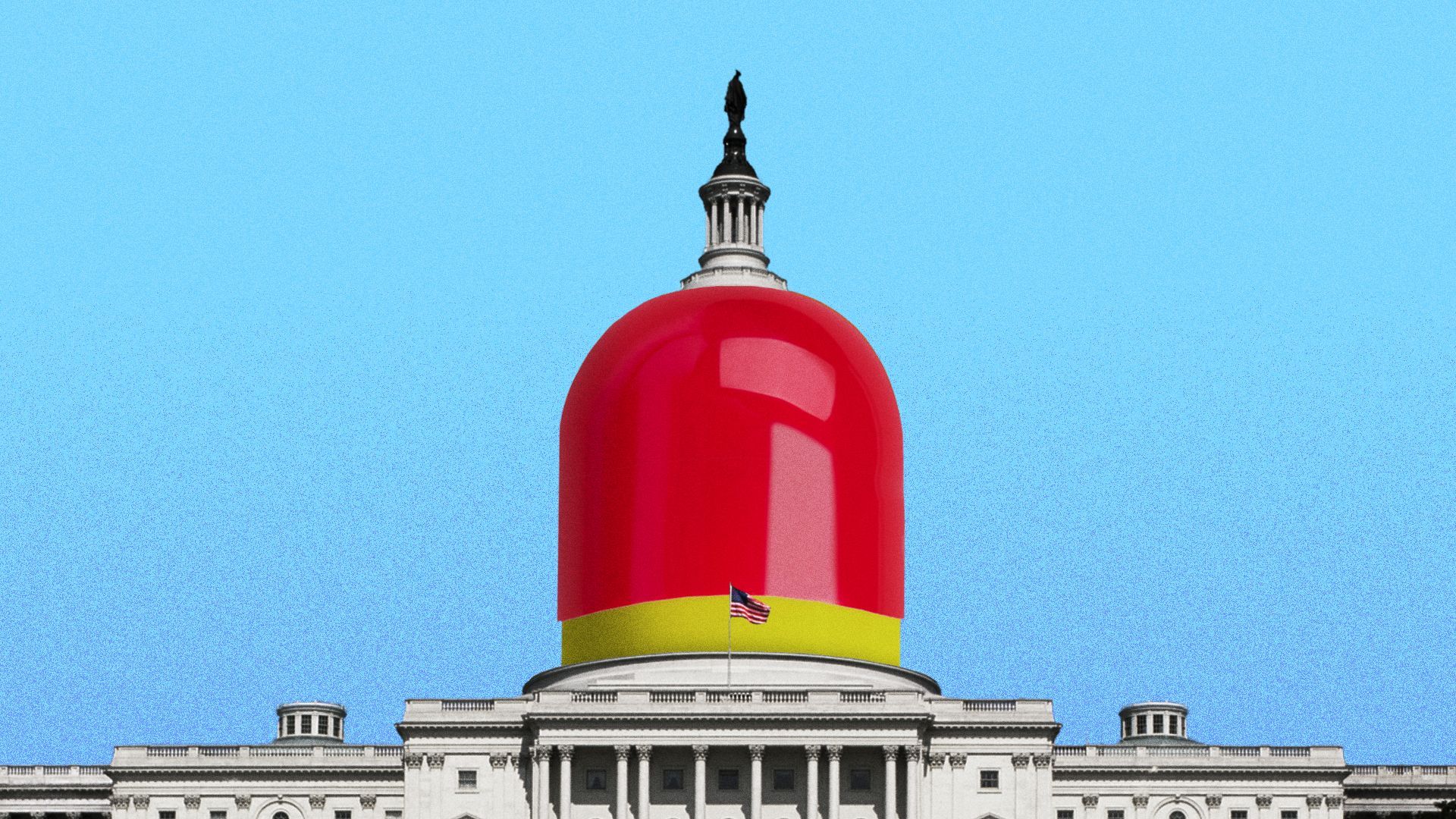 While last year's FDA user-fee reauthorization gave Congress an opening to revamp the agency's drug-approval process, some lawmakers may not be finished with reform ideas.
A bipartisan group of senators is pressing a plan to expedite reviews for new treatments for rare or life-threatening conditions.
Driving the news: Senate Aging Committee Ranking Member Mike Braun aired out the "promising pathway" proposal at a hearing last month, with a focus on a bill that would give priority reviews to treatments for terminal diseases with limited or no other options, such as ALS.
Drugs that have shown some efficacy would get a two-year approval that could be renewed. The plan would also create patient registries of data on the drug's use until fully approved.
This legislation was introduced by Braun for the first time in 2019, but hasn't had Democratic co-sponsors in the Senate until this year.
The intrigue: Braun has convinced five Democrats to get on board — with Sen. Kirsten Gillibrand a primary co-sponsor and Joe Manchin, Raphael Warnock, Jeanne Shaheen and Alex Padilla recently signing on.
What they're saying: "It's a practical common-sense idea," Braun told Axios. "Once it [a drug] starts showing results, promise, you shouldn't have to wait ... It gives hope to people that would have none."
Braun said the FDA can be structured, "to where it doesn't treat every disease in the same way and it differentiates between diseases that have nothing currently that's approved, versus diseases that have all kinds of options."
Gillibrand told Axios she joined the effort after talking to her New York constituents about their rare diseases.
"Some of these diseases are so life-threatening ... they don't have 10 years to wait," she said.
Both Braun and Gillibrand were bullish on getting a vote and even passage this year.
Yes, but: There's been mounting skepticism about an existing FDA fast-track process that lets drugmakers sell their products based on preliminary evidence and finish clinical trials once they're already on the market.
The 2022 omnibus included limited reforms to this accelerated approval pathway allowing the FDA to more easily pull drugs from the market if there is poor efficacy data, and to require certain types of trial design and data as a condition for approval.
Procedurally, the Aging Committee has no legislative authority, meaning Braun's bill would need to move through the Senate HELP Committee, or go straight to the floor if it got enough additional co-sponsors.
Still, HELP Chair Bernie Sanders didn't rule out taking up the bill, if there's time.
"We have about 18 different hearings that we're lining up," Sanders told Axios. "So I think what Sen. Braun is doing is important, and we'll try to accommodate."
Context: FDA reform was a big topic last year as Congress moved to renew programs that generate user fees to fund agency reviews.
But after Senate Republicans insisted on a clean reauthorization, no significant changes were made through riders. The few changes that were made got rolled into last year's omnibus.
But ALS and other patient advocacy groups have continued to push for options like Braun's promising pathway measure.
The issue is coming to a head after FDA advisers recently voted against approving the experimental ALS drug NurOwn, saying studies were insufficient. The manufacturer BrainStorm is conducting further trials.
The other side: Some bioethicists worry that more provisional approvals could leave patients taking unproven drugs that could be hard to pull from the market and weaken FDA's regulatory control.
What we're watching: Despite the sponsors' optimism, the bill still faces significant odds getting through HELP or floor time in what's left of this year.
Go deeper