Health care forges Senate's new odd couple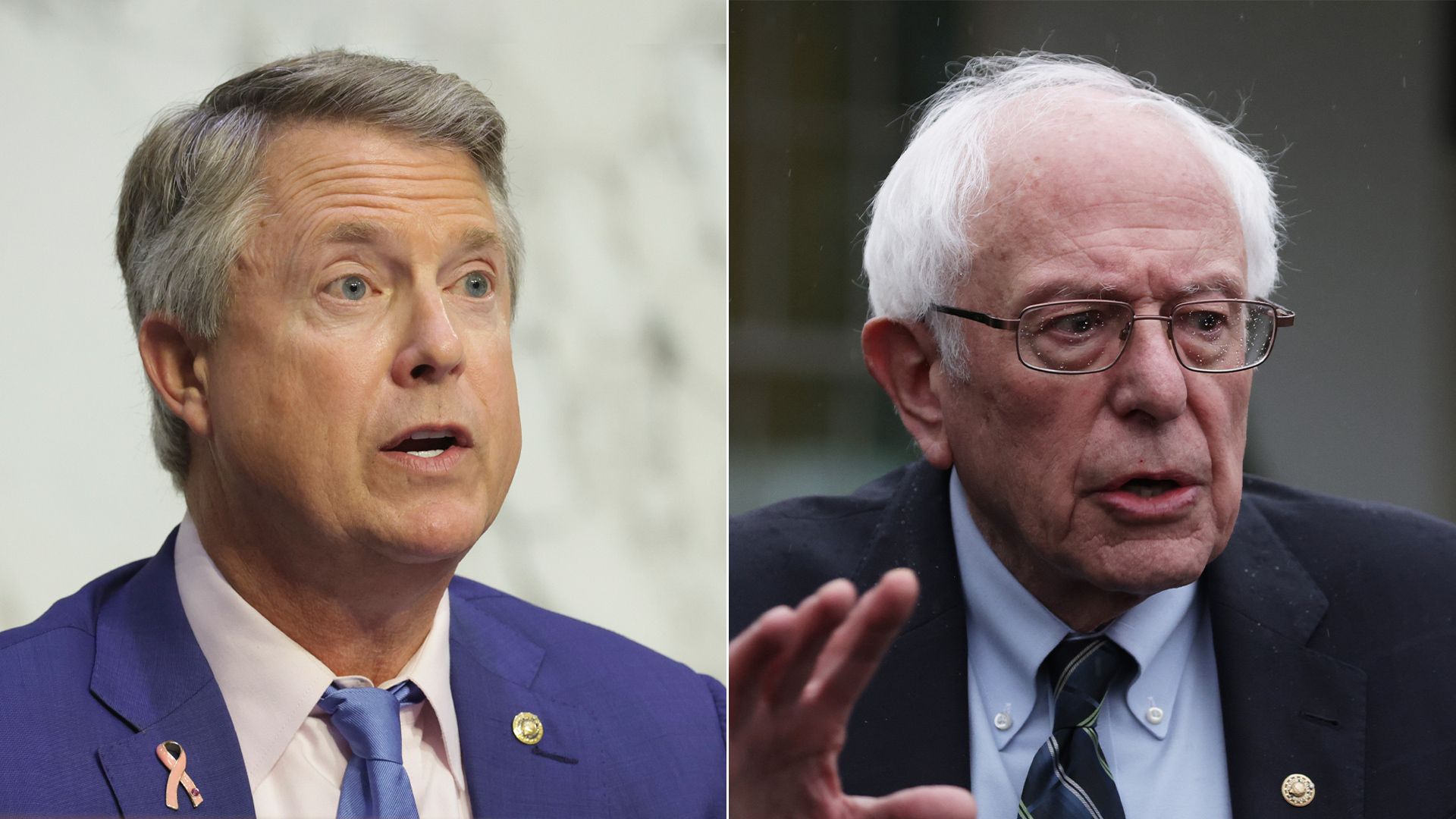 A staunch conservative from Kansas might not seem the likeliest legislative partner for Bernie Sanders, but Sen. Roger Marshall and the Vermont progressive are giving it a try.
Why it matters: The pair are negotiating to boost funding for community health centers and to address a shortage of primary care doctors, nurses and mental health providers. And they say they're making progress.
Driving the news: The lawmakers both told Axios they think the HELP Committee Sanders chairs can mark up legislation on this front this month.
Marshall said he spoke with Sanders "multiple times" over the August recess. "We kind of started like the Grand Canyon was between us and now [we've] just a small river dividing us and we're trying to get to the finish line," he said. "I'm very optimistic."
An OB-GYN who still goes by the moniker "Doc," Marshall was effusive about his "great" experience working with Sanders. "You know exactly where he's coming from ... when I hear him speak, he's really consistent; he's not the typical politician."
The big picture: Their plan would extend funding for community health centers beyond a Sept. 30 deadline, as well as programs to bolster the health workforce, like the National Health Service Corps and Graduate Medical Education.
But the senators are discussing much higher funding levels than bipartisan legislation that's been proposed in the House, which makes consensus difficult.
A draft Sanders released in July, for example, called for over $10 billion a year in community health center funding, compared to $4.2 billion in the House bill (a 5% bump from current levels).
The numbers could come down from Sanders' original levels. But both Sanders and Marshall said they expected higher figures than the House if a final deal is reached.
Yes, but: There are plenty of obstacles remaining.
Payfors. Marshall and Sanders have not settled on how to pay for the bill, always a major challenge. "He and I have not agreed on what the payfors are yet but we've talked about the box of possibilities," Marshall said.
Committee dynamics. It is somewhat unusual for Sanders, as HELP chair, to be negotiating with Marshall instead of with Sen. Bill Cassidy, the ranking member of the committee.
Cassidy has pushed for passing the House language, and expressed some skepticism about paying for higher funding levels. "You just gotta pay for it ... If ifs and buts were candies and nuts we'd all have a merry Christmas," he told Axios.
Abortion. Cassidy previously objected that Sanders's original bill also did not contain the Hyde Amendment, prohibiting government funding for abortion. "They've still gotta work out Hyde protections, that's a big deal," Cassidy told Axios on Wednesday.
What we're watching: Despite these challenges, it would be a notable breakthrough if Sanders could make a deal with Marshall and get GOP buy-in for big funding boosts aimed at improving the state of primary and mental health care.
"I think what Sen. Marshall and I share a view [on] is that we have a major crisis in primary health care," Sanders told Axios. "We don't have enough doctors, we don't have enough nurses, we don't have enough mental health counselors. And we are working really hard to finally address that."
Marshall agrees. "What's missing right now is primary care," he said. "If you go to an emergency room with your legs broken you're going to get it fixed, but we need to have a bigger emphasis on primary care."
Still, he acknowledged that winning over other Republicans to higher funding levels will be "a huge challenge."
Go deeper