Federal health programs may not be immune to a shutdown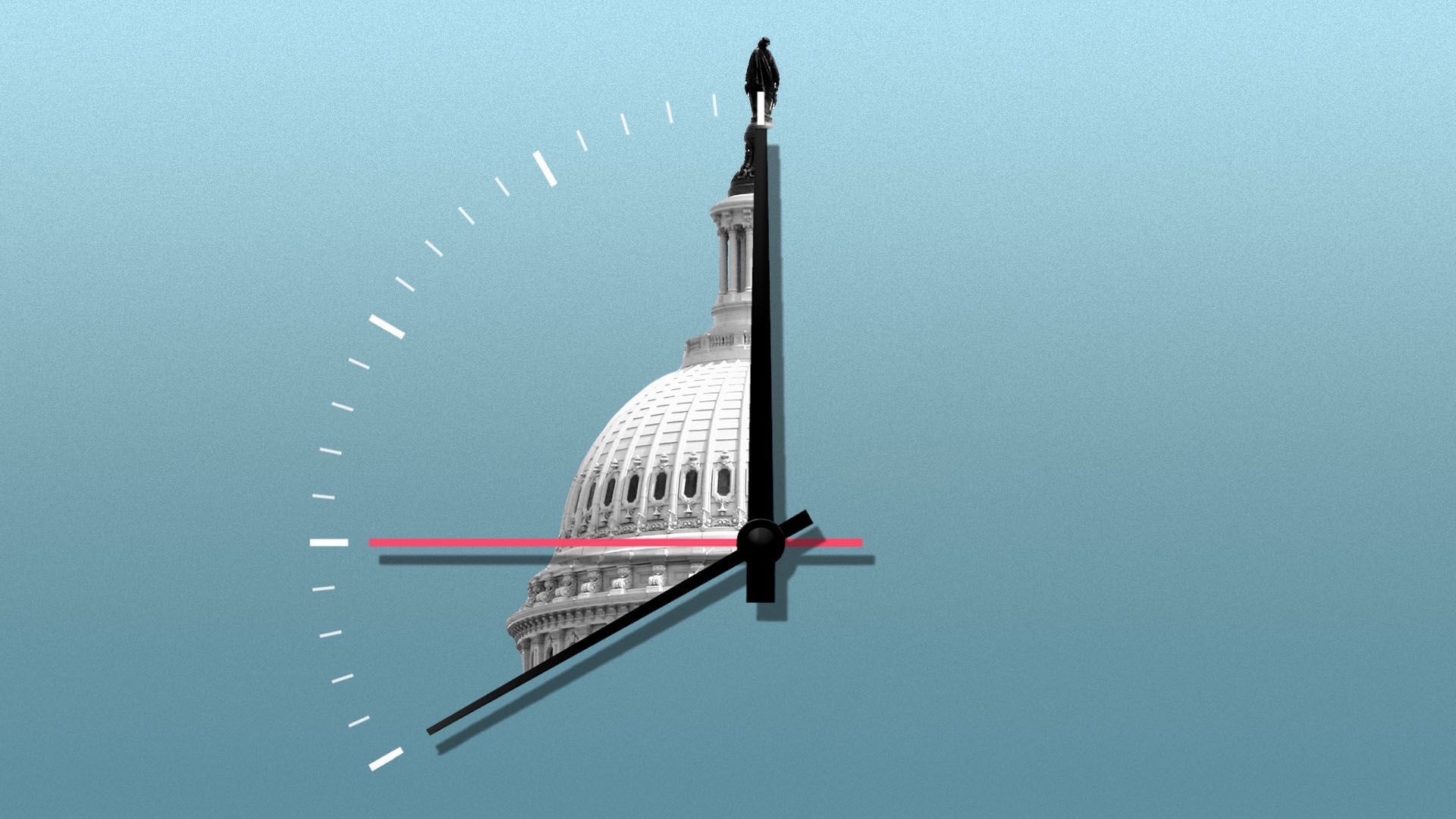 Congress could be headed towards a government shutdown this month, but how much that disrupts public health programs boils down to what the administration would deem essential.
The big picture: The Department of Health and Human Services would have to decide if a cutoff in government funding slows Medicaid redeterminations, drug approvals, CDC operations during a potential COVID resurgence and Medicare enrollment.
All of this could be avoided if Congress passes a CR to avoid a shutdown while it finishes the HHS appropriations bill, of course. But you know what? Don't take anything for granted in this Congress.
Flashback: HHS was fully funded during the 35-day shutdown that began at the end of 2018, because Congress had managed to pass about half of the 12 appropriations bills, including Labor-HHS. However, some FDA operations idled and workers were furloughed because the Ag-FDA spending package languished.
Details: What would be affected this time depends on the length of any shutdown and which workers and programs the Biden administration prioritizes.
"One really important thing to keep in mind is that OMB makes the call on exactly how to implement shutdowns," said Erik Fatemi, a principal at Cornerstone Government Affairs. "Different administrations have taken different approaches ... there's some flexibility in how strictly to shut down the government."
A few things are clear, like there wouldn't be any lapse in funding for Medicare and Medicaid because both are categorized as mandatory spending.
But HHS may still have to send big portions of its workforce home, which would almost certainly affect some agencies and operations.
The department has contingency plans from previous years detailing which percentage of which department gets furloughed and what program operations will continue.
The White House and HHS didn't respond to requests on when the FY 2024 plans will come out.
For a hydra-headed department like HHS, any funding lapse could have widespread implications:
Medicaid unwinding and redeterminations:
A shutdown could slow down states' unwinding and eligibility redetermination process, said Edwin Park, a research professor at Georgetown University.
"CMS staff is constantly working with states to provide technical assistance," said Park. "That could all be affected because some of those CMS staff that is working on unwinding may not be able to work if the shutdown happens."
"It could slow down things, it could hamper the ability of CMS to continue to step in as quickly or as effectively in discovering problems where states are out of compliance with federal requirements" for removing people from program rolls, he added.
Medicare and ACA enrollment:
Medicare sign-ups could also be slowed, said Joseph Antos, health policy scholar at the American Enterprise Institute.
"If we were to go a month or six weeks, then I think Medicare enrollment would be hampered considerably and they would have to extend the enrollment period into next year," he said.
ACA enrollment may not be affected as much, however, since funding for marketing and navigators should already be out the door, said Sabrina Corlette, co-director of the Center on Health Insurance Reforms at Georgetown University.
"There is a question about staffing of call centers, but those are run by contractors" who get made whole once government functions resume, she wrote in an email. The same goes for uploading plans into HealthCare.gov, she added.
CDC and public health efforts:
A shutdown could be ill-timed for the CDC, which is getting a makeover under its new director, Mandy Cohen, while dealing with a resurgence of COVID and seasonal outbreaks of other respiratory illness.
CDC would probably need to designate certain people essential for disease surveillance and other core public health activities, said Antos.
The HHS contingency plan during a three-day January 2018 shutdown (not to be confused with the 35-day one later that year) included suspension of CDC's flu tracking surveillance system at the height of flu season.
FDA:
The FDA has user fees which help pay for product reviews of drugs and devices that can continue during a shutdown.
But as the 35-day shutdown wore on, the FDA in January 2019 had to tap those fees to keep the agency running. It also can't accept new user fees while the government is shut down.
In the past, the agency suspended some food safety inspections — a dicey proposition considering food-borne illnesses would be less likely to be detected.
NIH:
NIH's ability to award new grants to research institutions could be affected by a funding lapse, but likely only if the shutdown lasted for months, said Chris Meekins, health policy analyst at Raymond James.
The peer review process for research awards would be halted and NIH wouldn't be able to issue new funding solicitations, said Fatemi of Cornerstone. But researchers who have already received their money shouldn't be affected.
The section of the NIH that would be most significantly impacted is the clinical trial center.
"Patients that are currently enrolled in trials would continue receiving their treatment ... but the center couldn't enroll any new patients," added Fatemi.
The bottom line: A shutdown wouldn't be as devastating for health programs as if the government failed to reach a deal to raise the debt ceiling. But it still would be a disruptive experience that could drag out for weeks.
Go deeper