What's next for Medicare for All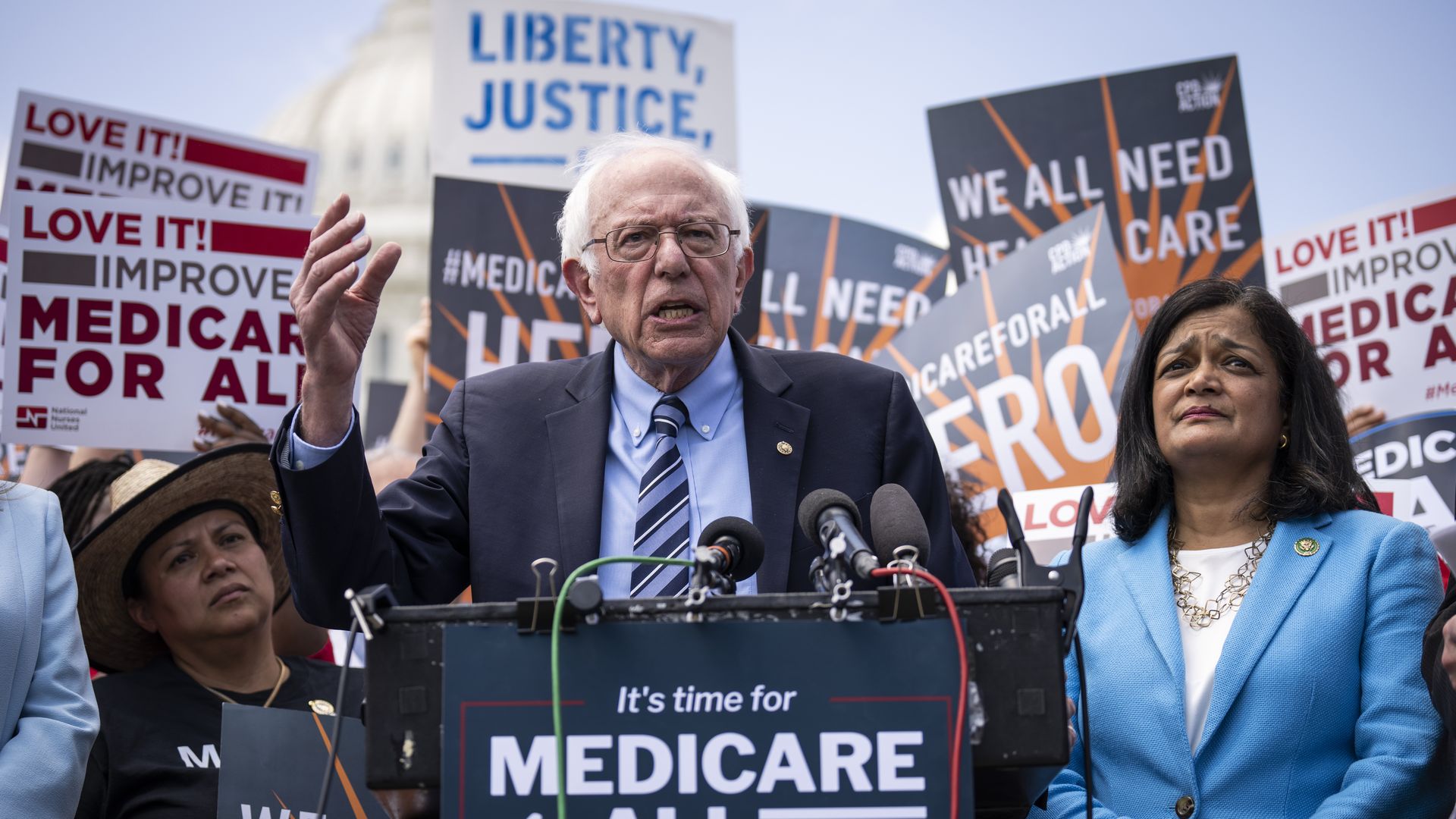 Medicare for All is back for the 118th Congress — but even its advocates acknowledge there's a ways to go before there's any serious movement on single-payer health care.
Why it matters: The reintroduction keeps single-payer health care advocacy in the national conversation, even if it doesn't stand a chance in the current Congress and likely won't be a focal point of the 2024 presidential election.
Driving the news: Sen. Bernie Sanders and Reps. Pramila Jayapal and Debbie Dingell reintroduced the Medicare for All Act last week. The bill would provide universal health care coverage for all U.S. residents.
What they're saying: "Our current health care system is clearly broken," Sanders told reporters when asked about the purpose of the Medicare for All reintroduction. "The point that I want to make is that when a system is broken and dysfunctional, we need an alternative."
Yes, but: President Biden will in all likelihood be the 2024 Democratic nominee for commander-in-chief, and he's not a single-payer advocate.
But he has moved leftward in other ways to satisfy the Medicare for All backers, so we're watching to see if he does again — especially since he'll need to keep enthusiasm high among progressive Democrats.
Sanders' 2020 candidacy for president pushed Biden to advocate for a public option and lower the age of Medicare eligibility, said Larry Levitt, KFF's executive vice president for health policy.
"Those ideas have dropped off the table, and it'll be interesting to see if President Biden returns to them as part of his agenda for [the] next term," Levitt said.
Between the lines: Sanders' advocacy for the policy resulted in increased support from lawmakers and the public, backers said. They see the bill reintroduction as an incremental step towards system change.
"Medicare for All is the north star, that's always our goal, but we definitely recognize that this is a long haul," said Gillian Mason, communications director for Healthcare NOW, a single-payer advocacy group.
Several single-payer advocacy groups said they're also pushing for other Medicare policy changes, such as adding hearing, dental or vision coverage and preventing further privatization of the program through Medicare Advantage.
What's next: Even progressives acknowledge the 118th Congress isn't going to be the one to pass Medicare for All.
"We got a big election next year, not just for the presidency. We have 33 Senate seats up for grabs," Rep. Jamaal Bowman said during a press conference last week.
"If we increase voter turnout in states across the country ... we can get the right senators into office who support Medicare for All and vote the wrong senators out," he said.
Where it stands: Jayapal said last week that the House bill had more original co-sponsors than ever before. But we checked it out, and the bill actually has the same number of original co-sponsors as it did in the 117th Congress.
A Democratic aide later confirmed to Axios that Jayapal's statement was a mistake due to errors in internal documents.
The Senate bill also has the same number of co-sponsors as last Congress, with the only new addition being Vermont Sen. Peter Welch replacing his predecessor, former Sen. Patrick Leahy.
Industry groups are sticking with the tried-and-true attack lines.
"Every American deserves access to affordable, high-quality health coverage and care — however one-size-fits-all proposals like Medicare for All that result in government-controlled health care won't help us get there," Partnership for America's Health Care Future executive director Lauren Crawford Shaver said in a news release.
Members of the partnership include the American Hospital Association, AHIP and PhRMA.
Go deeper