NIH director nominee faces conflicting pressures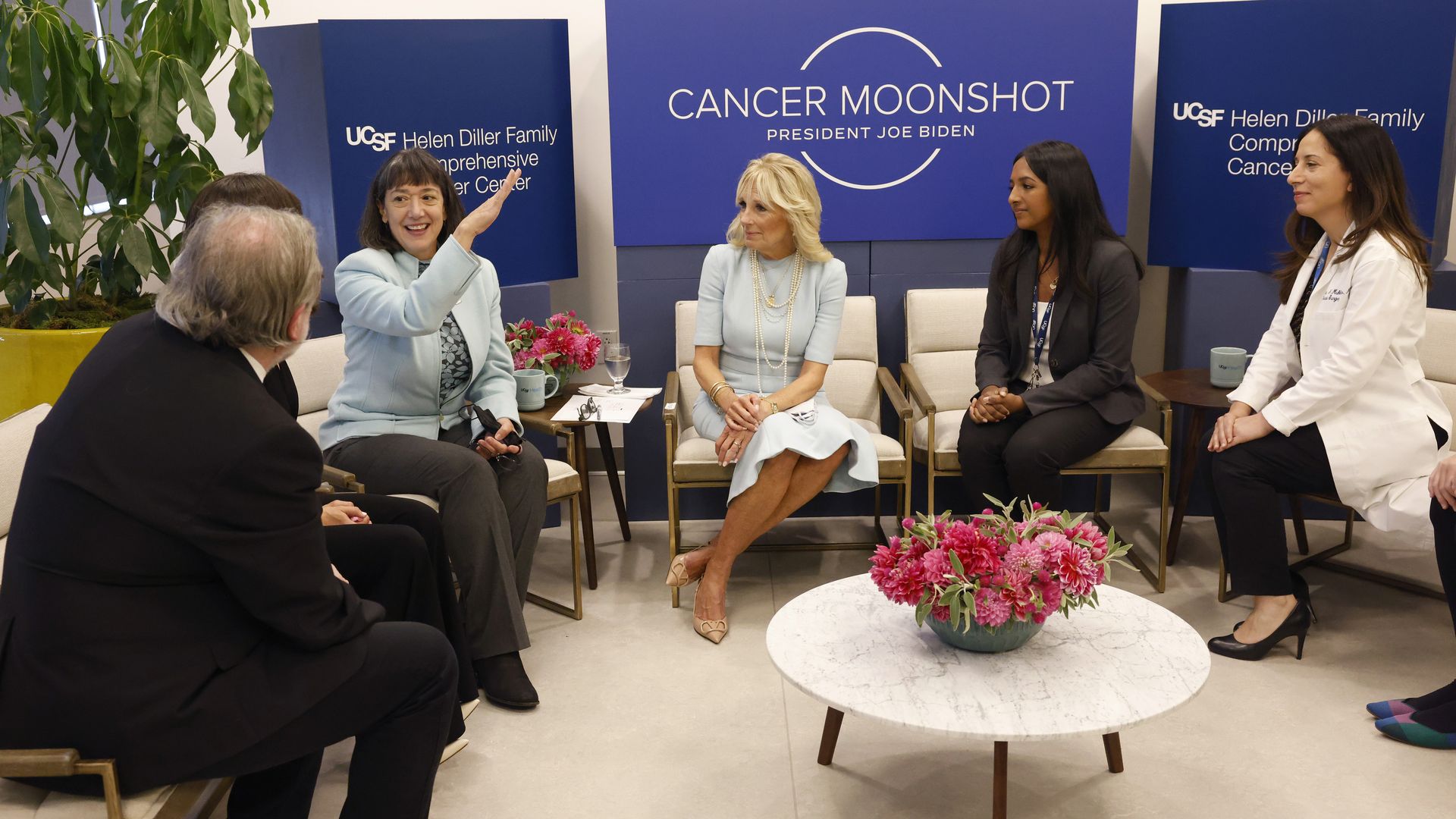 Unlike past NIH directors, Monica Bertagnolli — President Biden's newly official nominee to lead the agency — may not face the easiest path to Senate confirmation.
Why it matters: The NIH is currently facing a barrage of demands from Congress on both sides of the aisle, and any new director is going to have to navigate enhanced political pressures while also staring down potential budget cuts to the agency.
State of play: Congressional Republicans are becoming increasingly frustrated with the agency's funding of gain-of-function research and a recent renewal of a grant to EcoHealth, while HELP Chair Bernie Sanders has said he won't vote for any nominee who doesn't produce a plan to reduce drug prices.
What they're saying: Senate HELP Committee members would need to see specific guarantees before voting to confirm a new director, they told Axios last week.
"I want to see the administration telling us what they are going to do so that we don't pay twice as much for prescription drugs as the people of other countries," Sanders said. "I will not support any nominee who was not prepared to do that."
Sen. Roger Marshall said a new NIH director would need to show a "commitment to being honest with America to not have the attitude that the CDC and NIH are all knowing."
Marshall, who has also introduced legislation to ban gain-of-function research, said he has concerns about the NIH renewing the EcoHealth grant, and that he would like to know what the new director's stance is on gain-of-function research before confirming her.
Sens. Mike Braun and Rand Paul had similar concerns about gain-of-function and the agency's COVID response.
"I would hope that whoever is going to get that [NIH director position] would be out front that they're going to learn from some of the mistakes that the NIH made especially vis-à-vis coronavirus," said Braun.
He added he would want a "vigorous discussion" on regulation of gain-of-function research and whether it should be occurring at all.
"It's a huge mistake to reward malfeasance with more money," said Paul, referring to the EcoHealth grant. He added that his most likely questions would focus on "additional restrictions on gain-of-function."
The new NIH grant to EcoHealth does have a lengthy set of restrictions, including forbidding any research being done in China or that would make viruses more virulent or collecting samples from bats, according to Nature.
Yes, but: "I don't have a checklist of things they can't have ever said or have ever done," said Sen. Mitt Romney. "I look for a person who is outside of politics and is inside the world of science."
What we're watching: It's essentially guaranteed that any House Labor-HHS appropriations bill will include cuts which could hit NIH — even though senators at a Senate Appropriations NIH budget hearing two weeks ago seemed to support keeping the agency's funding levels steady.
"We're going through the skeleton of the bill. We don't know how much we're going to have to cut, we don't have any final numbers," Rep. Robert Aderholt, chair of the House Labor-HHS Subcommittee, told Axios.
"Because obviously us being one of the largest [appropriations bills] other than defense, and defense is not going to have a lot of cuts. Since we are one of the largest, we will obviously have some cuts and we're preparing for it," he added.
Our thought bubble: Former NIH director Francis Collins, who served for 12 years, may have been the last agency leader to work under both Republican and Democratic presidencies.
With increased politicization of research and the pandemic response, it seems likely that scientific agency leadership confirmations are going to become more contentious.
In addition, as of 2025, the Centers for Disease Control and Prevention director role will have to be Senate-confirmed, a provision included in last year's omnibus bill.
Flashback: Collins was confirmed by unanimous voice vote without even holding a confirmation hearing in the HELP committee. The two previous NIH directors before Collins, Elias Zerhouni and Harold Varmus sailed through their own HELP confirmation hearings with little conflict.
Go deeper