1 fun thing: A Rayburn Reuben with Michael Cannon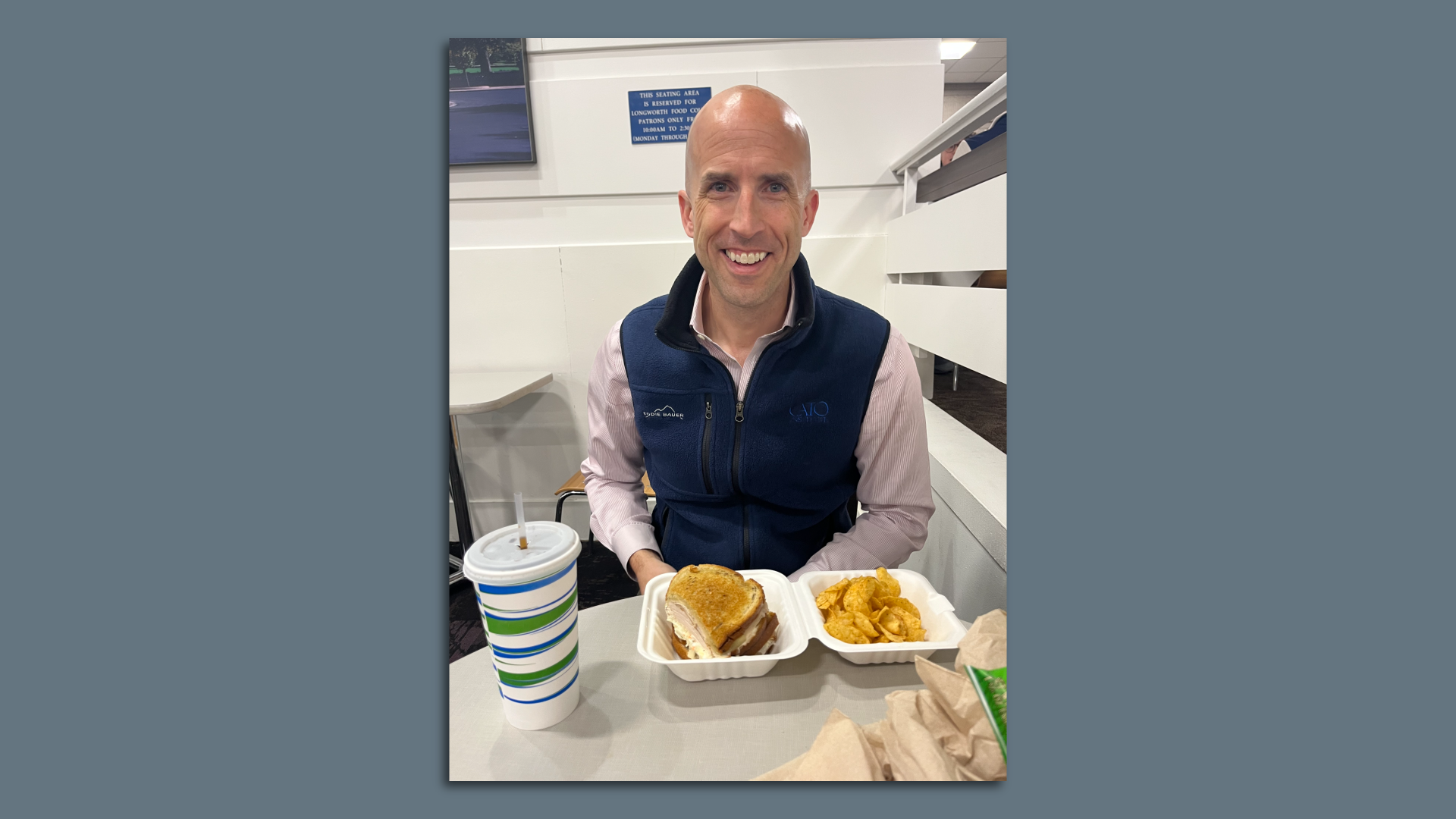 We're back with our series featuring health care wonks around D.C.!
This time, we had lunch with Michael Cannon, director of health policy studies at the Cato Institute, in the House Longworth Cafeteria.
They both ordered the Rayburn Reuben, because Cannon just had to know what Victoria was always tweeting about. (Read to the end to get his review of the sandwich!)
Favorite coffee spot on the Hill: Cups. I worked for the Senate Republican Policy Committee for four years. And that is like three floors above Cups and Co. in the Russell basement, and so now every time I go by the Russell building I try to stop by Cups.
Most effective negotiator of the health care lobby: Hospitals. The Medicare program is largely a subsidy program for propping up inefficient health care delivery systems that we call hospitals.
And it's not just that Medicare props them up by paying them when a market would have moved on to better models by now — [it] also pays them so much more than physicians for the same service.
There are other special programs to help hospitals with their bad debts that other industries don't get, because hospitals are able to come up here and say "But health care is special." And everyone has sympathy for hospitals because of EMTALA.
Health care issue he's passionate about right now: Medicare's impact on quality, how it's negative and how you can reverse it by applying public option principles to Medicare.
[W]hat you have to do to level the playing field between traditional Medicare and private plans ... the only way to do that is to turn Medicare basically into a Social Security-like cash transfer program where you just give the enrollees cash and let them choose. It's the only way to eliminate those distortions.
It would get government out of the business of making these pricing decisions and errors, because that would all be left to consumer preferences and market forces.
Favorite political TV show: "The Wire." I mean, it casts a critical eye in all sorts of directions, like politics, and the drug war and public education and the media. Oh, and did I mention corruption?
Rayburn Reuben review: 8/10. Would give it a 10, but would've preferred pastrami over the turkey.
Want to have a meal with us and be featured in the newsletter next? Email us!
Go deeper