House GOP zeroes in on transgender health care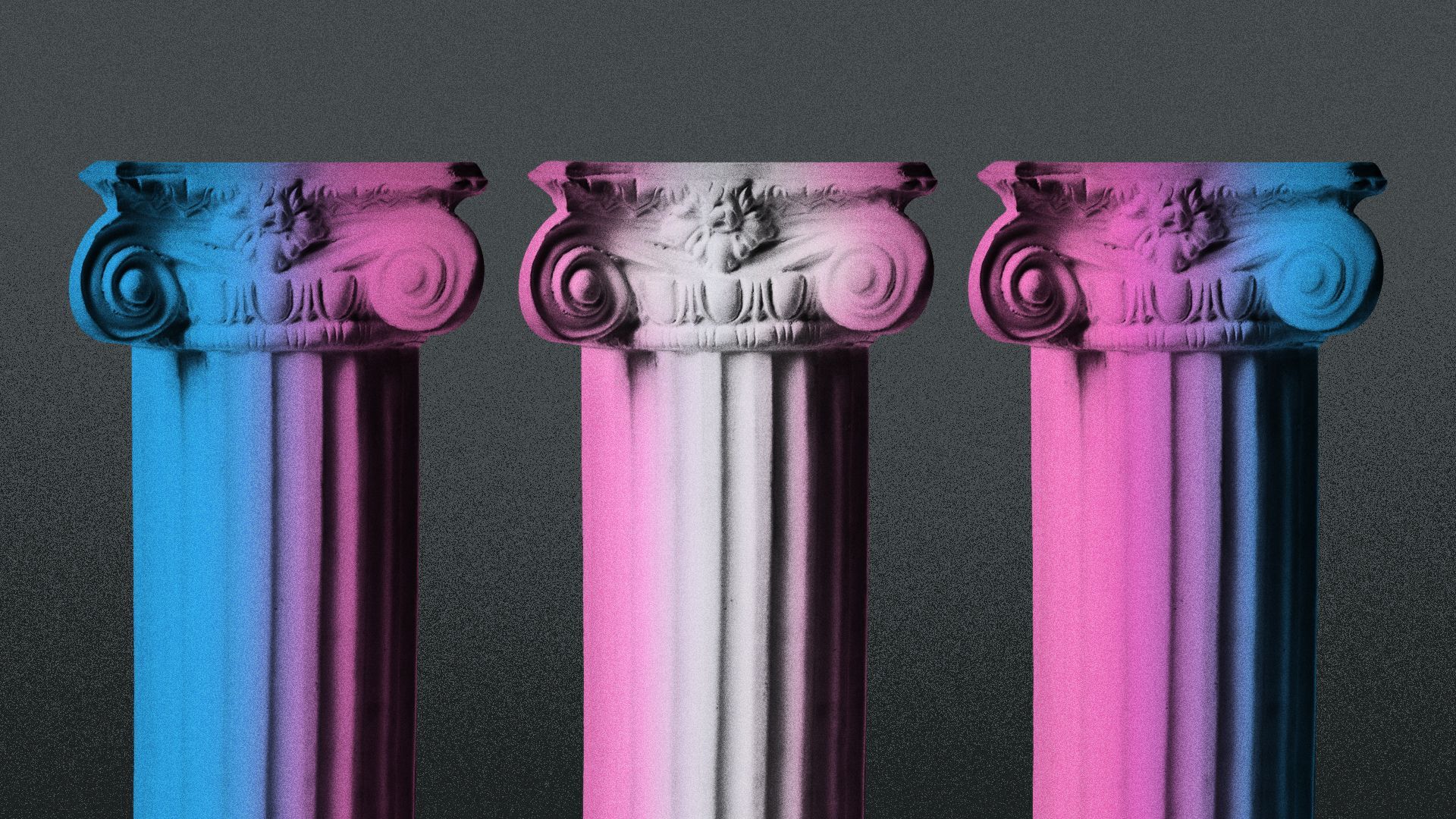 Some House Republicans are pushing ahead with a bill to cut off access to health care for transgender and nonbinary people — and this year, with a GOP majority in the chamber, the policy could get a vote.
Why it matters: Although the legislation would likely die in the Senate, if it gets a vote on the House floor it sets the stage for Republicans to take a national stance on gender-affirming care, an issue that has already been playing out in states.
Driving the news: Last week, Rep. Marjorie Taylor Greene reintroduced the Protecting Children's Innocence Act, which would make performing gender-affirming care on minors a felony. It's one of the first federal bills this Congress that would ban transgender medical care.
The bill would also affect trans adults by essentially banning Medicare, Medicaid and Affordable Care Act health plans from providing gender-affirming care and prohibiting medical schools from training providers to offer gender-affirming care.
The legislation garnered 49 co-sponsors last Congress but never had a hearing, despite being referred to four committees.
Reality check: Professional medical associations recommend that transgender children and adolescents receive early gender-affirming care, and what that looks like varies on a case-by-case basis. Most care options — including social affirmation, puberty blockers and hormone therapy — are reversible or partially reversible and take place over an extended period of time, although hormone therapy can have some permanent effects.
Proponents of the bill argue it would safeguard kids from making life-altering decisions. "We're, as leaders, protectors for these innocent children," said Rep. Diana Harshbarger, a co-sponsor.
But for the estimated 1.4% of teens ages 13 to 17 who identify as trans, gender-affirming care can be a life saver: A 2022 study found gender-affirming care to be associated with 60% lower probability of depression and 73% lower probability of suicidality in teenagers.
Existing medical guidelines typically advise surgical interventions just for adults, though they are sometimes recommended for adolescents on a case-by-case basis.
Ilana Sherer, a pediatrician who works with trans and gender-diverse people up to age 25, said only a very small percentage of her patients undergo surgery. Those who do are typically in their late teens or early 20s, Sherer said.
What they're saying: "This would set back transgender health care for youth and adults 50 years, and it would make a lot of our care impossible to receive," said Erin Reed, an independent reporter and civil rights activist.
Having lawmakers debate whether LGBTQ people should receive health care "can have harmful mental health consequences even if it doesn't become law," said Sarah Warbelow, legal director for the Human Rights Campaign.
Any type of gender-affirming medical care requires time and risk-benefit discussions and usually conversations with mental health providers before any action is taken, Sherer said.
"In the last two years since all of these legislative efforts have come up, what I've been seeing is that kids are getting bullied more," she said. "There's just so much more hopelessness. I mean, I feel it, I'm imagining my patients feel it."
Go deeper: More than 100 anti-trans health care bills have been introduced in state legislatures this year, according to the American Civil Liberties Union.
Greene's bill is just one anti-trans bill introduced in Congress this year: The House Education & the Workforce Committee already held a hearing on a bill to prevent trans girls from playing on women's and girls' school sports teams. Sen. Josh Hawley introduced a bill in February that would make it a civil liability to perform gender-affirming care on minors.
Worth noting: There isn't consensus in the Republican party, or even among its most conservative members, that Congress should weigh in on gender-affirming care.
House Freedom Caucus chair Rep. Scott Perry called gender-affirming care for children "child abuse."
"But I also don't know if it's the role of the federal government as opposed to the states," Perry added.
"I want to see Congress take less initiative in American peoples' lives," Rep. George Santos said when asked if he'd support the bill.
Still, "I think a lot of members support this," said Rep. Kevin Hern, chair of the Republican Study Committee, and a co-sponsor.
What's next: Greene told Axios she presented the bill to the Republican Study Committee and House Freedom Caucus. She hopes to see the bill passed on its own rather than attached to an annual appropriations bill or other legislative vehicle.
Greene said at the Conservative Political Action Conference this month that having a Republican majority will help get the bill passed.
But Speaker Kevin McCarthy's office didn't respond to Axios' request for comment on whether the bill would receive a floor vote, and committees haven't said they'll hold hearings on the bill yet, either.
Asked if she'd be willing to hold up the passage of other legislation to get her bill through the House, Greene said she hadn't thought about it.
Rep. Pramila Jayapal, chair of the Congressional Progressive Caucus and the parent of a transgender daughter, told Axios she has a "deep commitment" to making sure Greene's bill and similar proposals do not pass the House.
Go deeper