Tesla's EV charging domination risks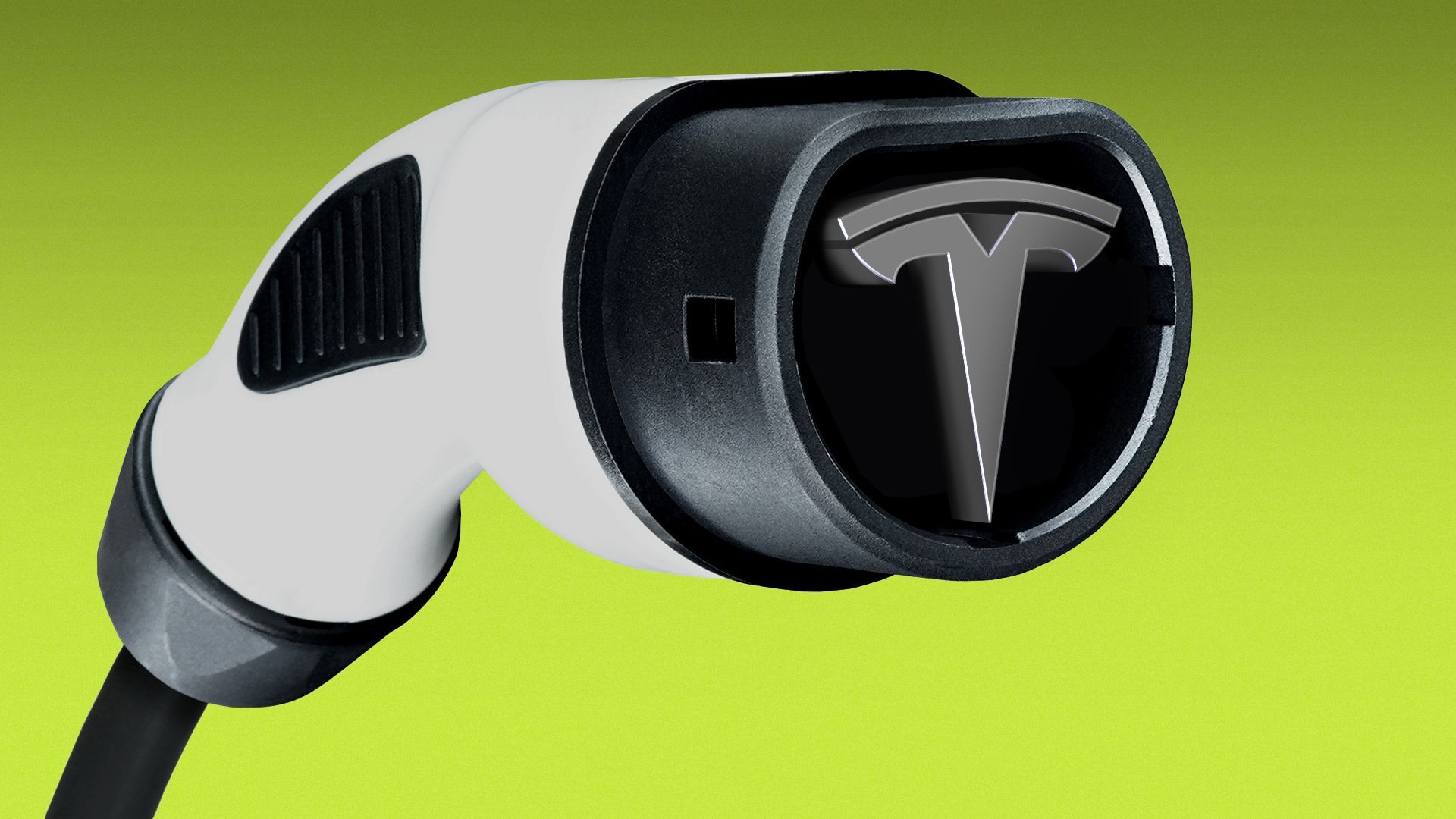 As Tesla maintains dominance in the fast EV charging business, experts say it could give Elon Musk's company considerable influence over the experience of owning an electric car.
Why it matters: The rise of the EV will likely mean more business for Musk, even if you don't buy one of his cars.
Musk's biographer, Walter Isaacson, has compared the vast Supercharger network to Starlink — Musk's satellite Internet service that has troubled national security experts with how much leverage it exerts in war-torn Ukraine.
"It gives him more control," Isaacson told journalist Kara Swisher last month.
That alarms Senate Finance Chair Ron Wyden, who told Jael:  "We do not want a repeat of Starlink."
Driving the news: Many major automakers, including BMW, Ford, General Motors, Honda, Hyundai, Kia, Nissan and Volvo, have recently agreed to start using Tesla's charging connection tech — known as the North American Charging Standard — for their EVs.
Between the lines: Lots of charging access will be a good thing for EV buyers, at least short-term.
Automakers want would-be EV owners to know they can easily access a speedy charging station to refuel, similar to the experience of gas-powered cars.
"The continued adoption of NACS by [automakers] and charging providers is unquestionably a good thing for electrification," said Al Gore Jr., who heads ZETA, an EV industry trade group that represents Tesla.
"There are many aspects to interoperability and there is still a lot of work to be done to ensure this works as intended, but this will dramatically expand access to charging in a way that is potentially game changing," Gore said.
Yet there are risks in relying so heavily on a car company that also controls the refueling process — imagine ExxonMobil also being a leading carmaker.
McKinsey analyst Shivika Sahdev recently wrote in Barron's that the rise of NACS raises questions for non-Tesla drivers, depending on how much control Tesla has over its usage.
"[If] one player controls the standard, the result could be an unhealthy dominance over future evolutions of the standard, pricing, access, and data to name a few."
Tyson Slocum, energy program director at Public Citizen, agreed.
"Elon Musk exhibits fairly erratic behavior," Slocum said. "It would be good to get some regulatory clarity. EV charging infrastructure is increasingly a public good."
What they're (not) saying: Tesla, which gutted its PR department in 2020, did not respond to requests for comment.
Zoom in: There is a "risk" of an imbalanced "power relationship" between Tesla and other car companies as NACS proliferates, said Daniel Schlagwein, a professor at the University of Sydney who has studied the Tesla business model.
That's because, in Schlagwein's view, Tesla behaves like Apple — a tech giant that created the App Store with a "walled garden strategy" that brought in revenue by requiring other businesses to pay a fee to sell applications to iPhone users.
As with the App Store, other automakers are "putting themselves into a vulnerable position because in the end, it's Tesla's technology," Schlagwein said.
Last week, we got a glimpse at how uncomfortable this dynamic is for Tesla's competitors when Lucid Motors, a luxury EV startup, announced it would be the latest to adopt Tesla's charging standard.
The other side: The Biden administration does have at least one mechanism to block anticompetitive behavior in the EV charging landscape: money.
Tesla had to open its charging ports to non-Tesla vehicles to qualify for getting money through the Transportation Department's NEVI program, which received a glut of cash in the recently passed infrastructure law.
Tesla is reportedly the largest recipient of NEVI funds right now.
Angela Gates, a spokeswoman for DOT's Federal Highway Administration, told Axios that existing regulations prohibit NEVI-funded stations from "playing favorites by charging a premium or giving a discount based on vehicle or payment type."
"The [NEVI standard] helps to ensure that chargers operated by different networks operate similarly and provide the traveling public with a predictable EV charging experience – no matter what car you drive or what state you charge in," Gates said.
At the same time, industry-led efforts are underway to make the NACS design no longer proprietary to Tesla, reducing the company's ownership over the standard.
Major auto companies have also jumped into the fast-charging fray, investing $1 billion in developing their own network that would compete with the Supercharger.
Also, charging entities Electrify America, EVgo and ChargePoint are continuing to expand. Some, like ChargePoint, are also starting to use NACS.
Reality check: All those other charging companies will need to spend time and money on upgrading to NACS instead of just sinking cash into building more stations.
It's also an open question whether opening up NACS to other companies will totally liberate companies from having to still do business with Tesla in some fashion.
The bottom line: Although competitors are emerging in fast-charging, Sahdev of McKinsey told Axios "it's very likely" Tesla will "be the largest share of the market" for years to come.
Go deeper