The Hill's post-Maui grid challenge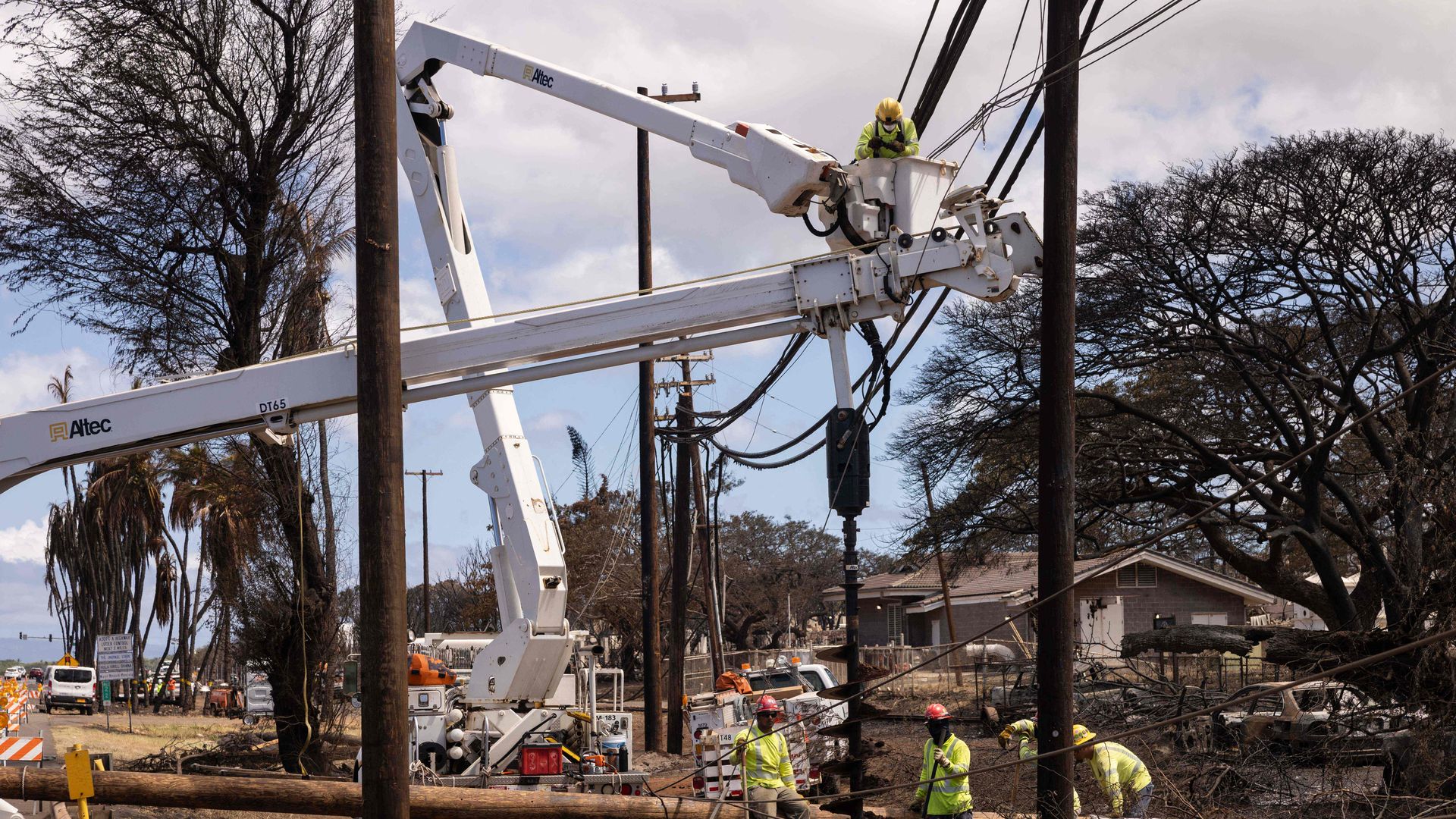 Preparing the electric grid for the impacts of climate change that we're already seeing is an immense challenge that Congress has barely begun to address.
Why it matters: The Hawai'i wildfires — and a series of other extreme events — are shining an uncomfortable light on the nation's aging power infrastructure.
Zoom in: The discussion on the Hill to date has focused on environmental permitting and expanding long-distance transmission to accommodate the coming influx of new renewables.
But utilities and their regulators also face tough decisions about how to spend money — and raise costs for their consumers — to both harden their infrastructure and clean up their greenhouse gas pollution.
"Mitigating wildfire risk is a very difficult fit for the conventional regulated utility paradigm," said Devin Hartman, director of energy and environmental policy at the R Street Institute.
"Unfortunately, that's going to leave utilities in a situation where they have a lot of legal ambiguity and risk, and it's really up to legislators and regulators to start addressing these things," he said.
Context: Hawaiian Electric shares are tanking amid potential evidence that the fires on Maui were caused by downed power lines.
The power system in Hawai'i is unique, for obvious geographic reasons, but we've seen similar scenarios play out on the mainland.
PG&E pleaded guilty to criminal charges after California wildfires started by its equipment killed 84 people in 2018.
And Winter Storm Uri caused devastating power failures across Texas in 2021.
By the numbers: Congress provided billions via the IRA and bipartisan infrastructure law to modernize the grid and deploy new technologies, including the $10.5 billion Grid Resilience and Innovation Partnerships program at the Energy Department.
"It's incredibly important that this program, and the need for an emphasis on greater resilience, was included as part of the larger infrastructure package because it's essential that we get started now," said Lesley Jantarasami, managing director of the Bipartisan Policy Center's energy program.
Utilities have also increased spending on transmission and distribution systems in recent years.
But the American Society of Civil Engineers estimates the U.S. grid will face a funding gap of nearly $200 billion by 2029.
What's next: Long term, the federal government should require the power sector to prepare for new risks from climate change, said Melissa Lott, senior director of research at Columbia's Center on Global Energy Policy.
"Right now, we don't really do that. We have blinders on," she said. "We're preparing our grid for what we've seen for the past 50 years, not what we're going to see in the next 50 years."
That could change the cost calculation for utilities and local regulators examining grid resilience investments.
Go deeper