An EV drive-thru chat with Al Gore III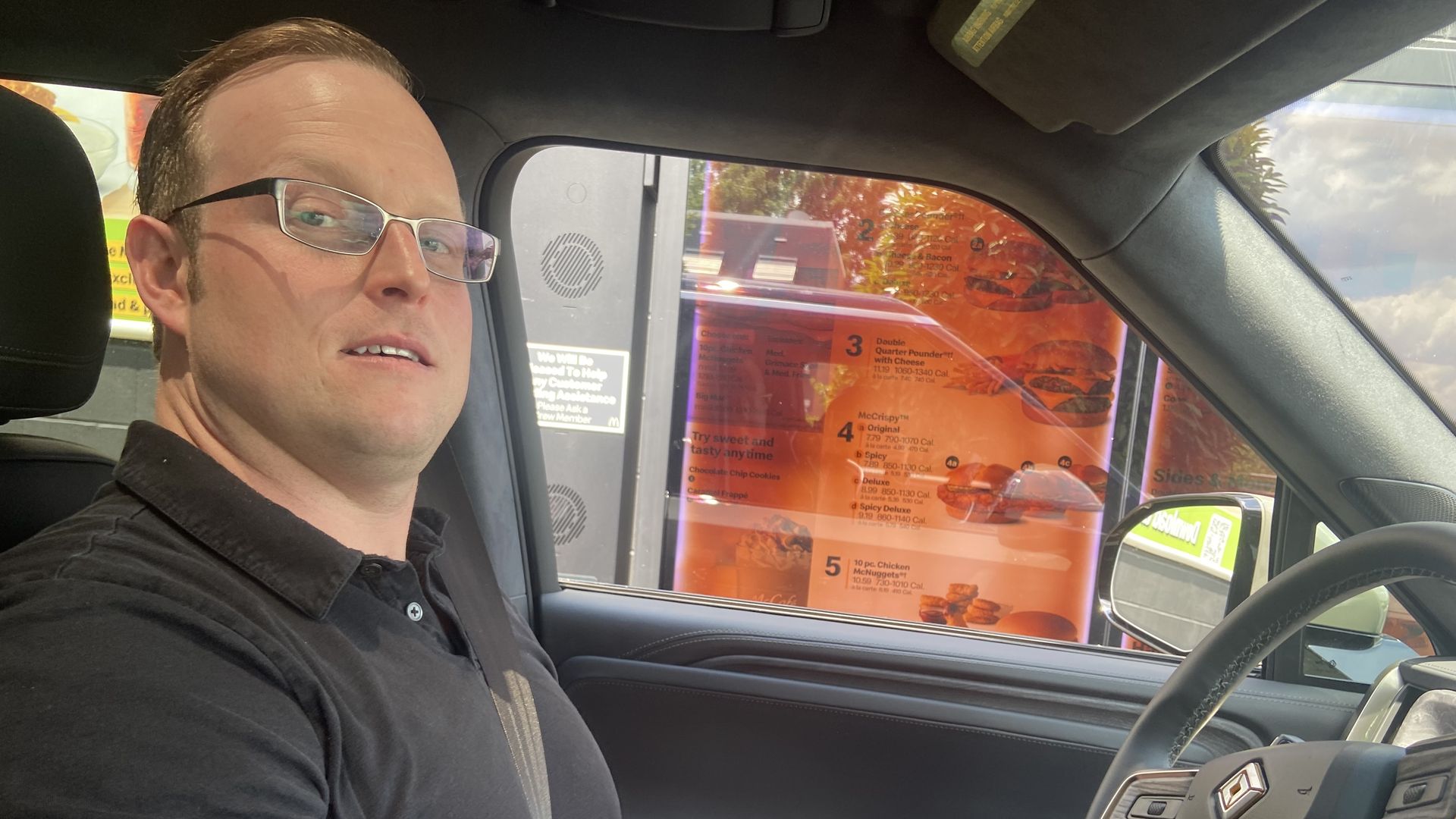 Al Gore's son is the new face of the EV manufacturing supply chain in D.C.
Why it matters: The electric vehicle sector is pushing aggressively to ensure Congress doesn't chip away at gains made in the Inflation Reduction Act.
Driving the news: Al Gore III became executive director of the Zero Emission Transportation Association in January.
ZETA represents EV-only automakers including Tesla, Lucid and Rivian.
They rep battery companies, like LG Chem, and firms that mine, process and refine materials for batteries with U.S. operations.
Axios chatted with the younger Gore on a trip in his Rivian that included a McDonald's drive-thru (yes, really). Here's what we learned:
🚙 Driving Mr. ZETA — Gore's a car guy (and climate guy) who got into EV policy after stints at SolarCity and then Tesla.
He said he took the job because after Tesla he knew he "wanted to work in electric vehicle policy going forward."
🥊 How to fight back — Gore hopes the Inflation Reduction Act's pro-free market approach to supporting EVs helps bat back any efforts to repeal programs like the consumer vehicle tax credit.
That's because the IRA offered the kind of all-carrot, no-stick approach to climate action that, as we've reported, conservatives long wanted.
"There's a two-decade history of folks who were advocates for decarbonization and various approaches [that] were in vogue at various times," he said. "I think it's not a coincidence that this approach gets across the finish line."
Gore also sees the national security community's concerns about industrial policy and EVs actually working in their favor.
"A lot of people care about the various benefits of making batteries here, making microchips here. I think there was this sort of deep psychological understanding that global supply chains that are brittle don't matter until they do, and then nothing else matters."
⛏ Mining for batteries — Gore sees decarbonization benefits in unlocking a better regime for approving U.S. mines that produce battery material.
He compared mining policy to conversations around siting new transmission lines.
ZETA's mine permitting framework calls for the type of lead agency and timeline requirements included in the recent debt deal. It also calls for Congress to address a recent court ruling that upended mill and waste siting at mining projects.
"If we think about how to do [mining] in a way that we believe can uphold social and environment safeguards, then we oughta think about how to do it where we can in the United States and among our trade partners, our allies," he said.
"That way, we can have a say in how it happens."
Go deeper