Inside Senate Budget's insurance probe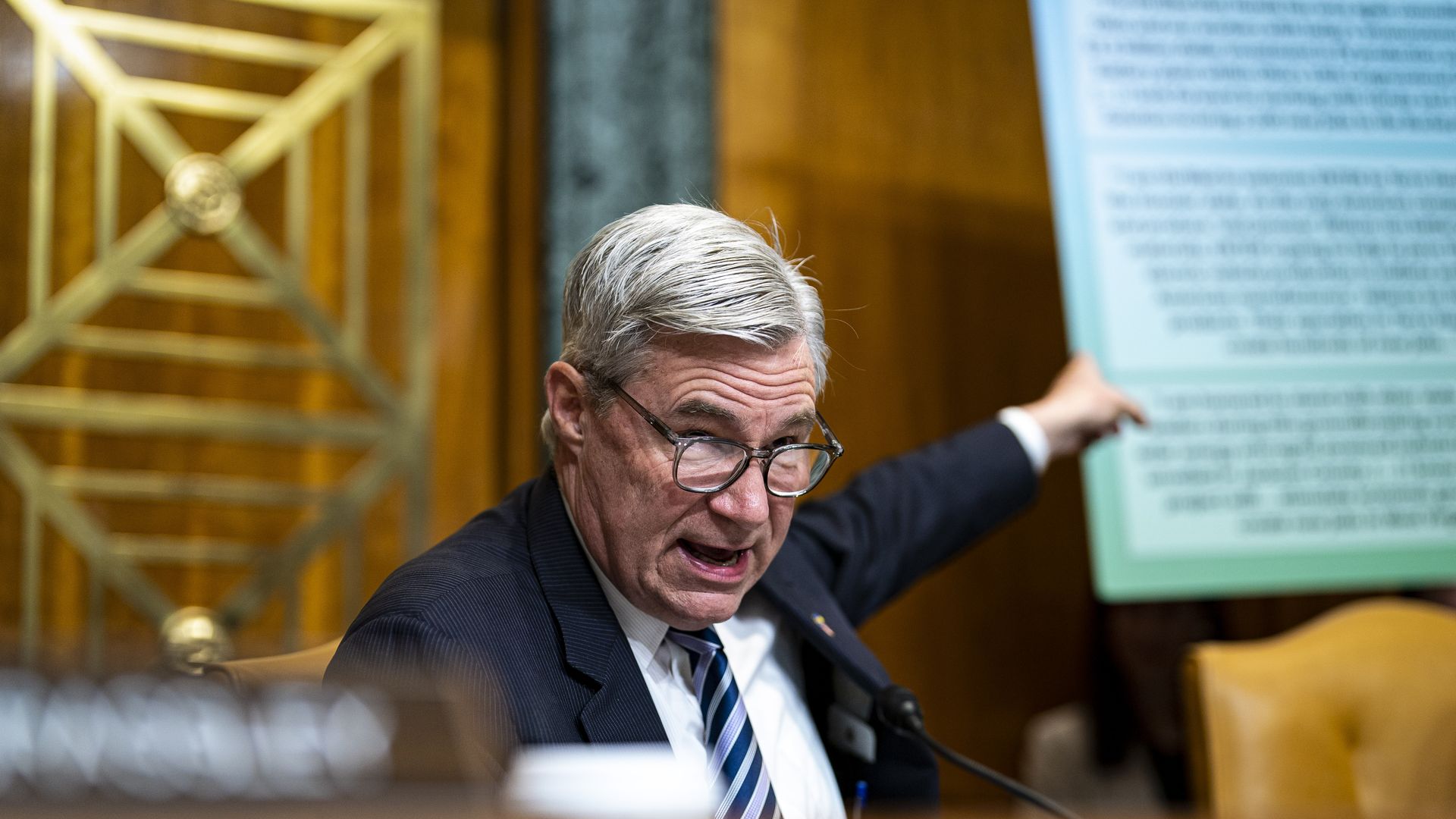 Sen. Sheldon Whitehouse is using the Budget gavel to go after insurance companies for their climate practices — an investigation that comes as the financial sector grapples with the energy transition.
Why it matters: It will draw significant attention to an issue that progressive groups have been working on for years.
It's also part of a broader conversation on the left, with environmentalists and activist investor organizations pushing financial institutions — and fossil fuel companies — to reduce their greenhouse gas footprints.
A GOP Budget Committee spokesperson said Democrats are "using the committee's investigative arm to pressure insurance companies to cut ties with industries Democrats don't like. The Budget Committee should turn its focus to addressing our serious economic and budgetary situation."
Driving the news: Whitehouse and other committee Democrats sent letters to U.S. insurance giants last week asking for information and documents on their advocacy work, net-zero plans and underwriting of fossil fuel projects.
Whitehouse sees a contradiction: Insurance companies increasingly have to account for climate-driven disasters while simultaneously supporting the carbon-emitting projects that contribute to them.
Those underwriting and investment decisions come "home to their customers when they can't get insurance any longer," Whitehouse told Axios. "We're looking at that problem. It affects real people."
He pointed to State Farm's recent move to stop selling new homeowners policies in California amid rising costs from the state's massive wildfires.
The letters went to AIG, Berkshire Hathaway, Chubb, Liberty Mutual, Starr, State Farm and Travelers. AIG declined to comment, while the others didn't respond to requests.
Whitehouse is relying, in part, on information from advocacy groups such as Public Citizen and Insure Our Future.
The intrigue: As the letters note, some insurance companies outside the U.S. have moved to restrict their involvement in coal, oil and gas projects.
But Democrats cite a report that found U.S. insurers had $582 billion invested in fossil fuel-related activity at the end of 2019.
"As more companies put out climate policies that include these vague net-zero commitments, we're met with the reality that we're not getting the full picture," said Deanna Noël, climate campaigns director at Public Citizen.
Of note: The probe also asks insurance companies how they integrate "Free, Prior and Informed Consent" from indigenous peoples into their business decisions.
This term — known as FPIC — is an ideal standard sought by the human rights advocacy community and recognized by the United Nations that gives indigenous peoples consent rights for using their land.
Many countries, including the U.S., fall far from what advocates consider adequate indigenous consent.
Yes, but: Some of Democrats' assumptions about the insurance industry are misleading, said Jerry Theodorou, director of R Street's finance, insurance and trade program.
For example, when State Farm pulled out of California, it cited both "rapidly growing catastrophe exposure" and "a challenging reinsurance market."
In short, the state's regulatory environment was a contributing factor, said Theodorou, who testified at Budget's hearing on the insurance industry in March.
Democrats believe this falls within the committee's jurisdiction because continued financing for fossil fuels could cause economic — and therefore federal budgetary — risks in a carbon-constrained world.
Insurance companies that make net-zero emissions commitments do have some responsibility to shareholders to show they're delivering, Theodorou said.
But an immediate end to insurance underwriting for fossil fuel projects could be in itself economically risky, he said.
What we're watching: Whitehouse is asking for answers by this Friday and documents by June 23.
Go deeper