Tim Scott's "happy warrior" climate vibes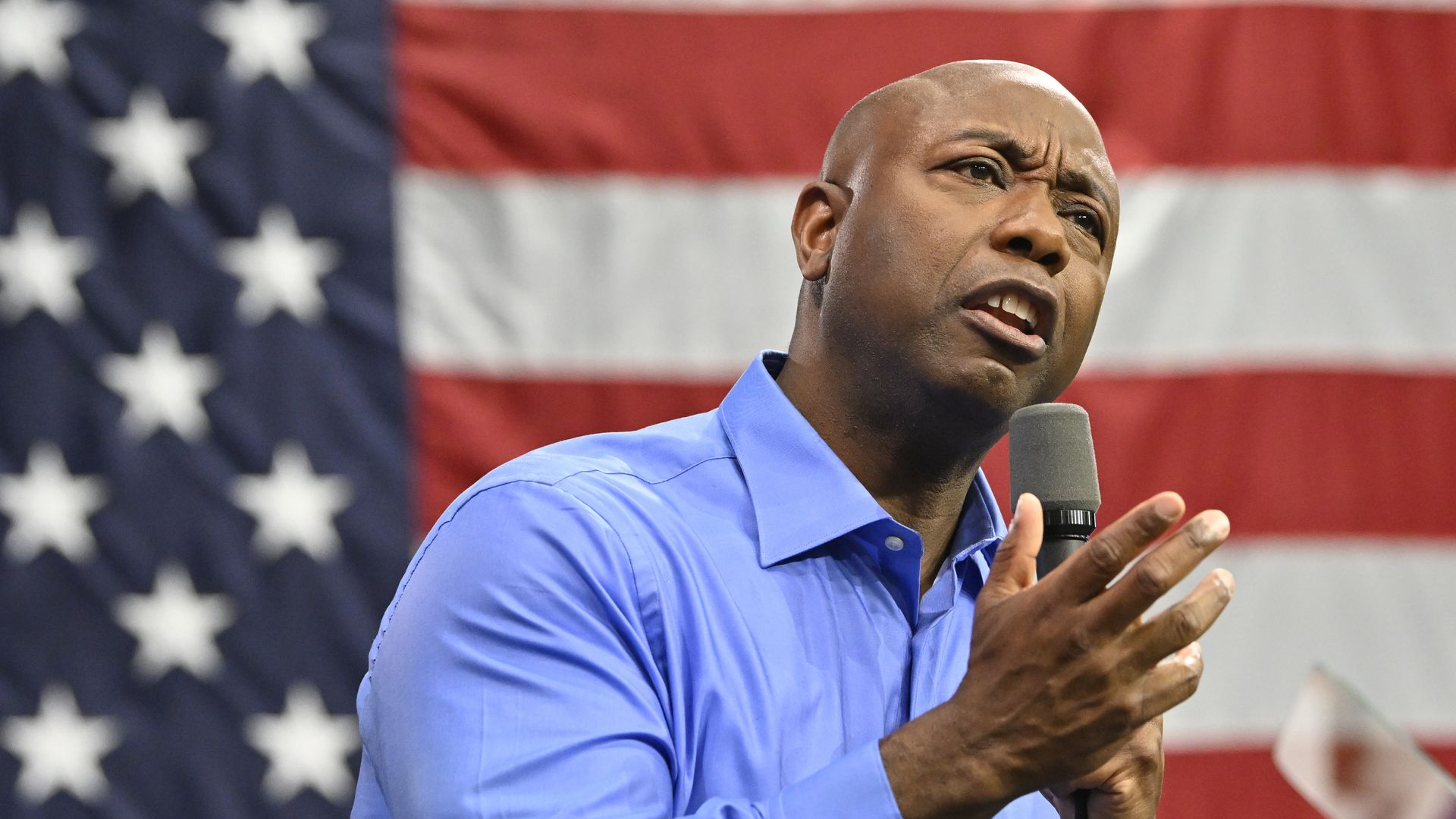 Tim Scott is the presidential candidate the eco-right has been hoping for.
Why it matters: Conservative climate advocates around D.C. hope Scott is an off-ramp from the climate denial and grievance obsessions of the far right. His candidacy could test their theory of a more climate-friendly GOP.
Zoom in: Scott doesn't talk much about climate change, but his Reaganite "Happy Warrior" vibes contrast with former President Trump, who called global warming a "hoax."
The eco-right certainly thinks so: "Tim Scott exemplifies the evolving landscape of Republican perspectives on climate change," said Danielle Butcher Franz, executive vice president of American Conservation Coalition Action.
"He's really been very clean energy-friendly," said Citizens for Responsible Energy Solutions president Heather Reams.
CRES and ClearPath Action Fund have both backed Scott as a senator and generally view him as among a small-ish group of GOP "clean energy" supporters.
Yes, but: Scott's record is well within the Republican mainstream.
When he does talk about those issues, it's often in the context of consumer energy prices, and he's generally hawkish on China.
And here's his take, as ranking member of the Banking Committee, on climate risk to the financial sector: "Banks have and continue to account for weather-related risks in their risk management, but efforts that attempt to predict climate change far into the future fall outside the scope of their authority."
Still, Scott's been active on coastal flooding issues and is a supporter of his state's nuclear and solar industries.
He and Jon Ossoff, for instance, successfully lobbied FEMA to change a policy related to inherited land that prevented many Black homeowners in the South from getting federal disaster aid.
And he has supported the RISEE Act, a bipartisan bill to direct offshore wind leasing revenues to states for coastal restoration.
Between the lines: Scott can raise serious cash, and he's got support from one of the nation's leading climate philanthropists: metals magnate Andy Sabin (yes, that Andy Sabin).
Sabin, who supported Trump in 2016 and 2020, recently said he plans to back away from Ron DeSantis in favor of Scott.
DeSantis' views on abortion and Ukraine convinced him to back Scott, Sabin told Nick in an interview.
"[Scott] was very pro-modular nuclear, which I agree with," Sabin said.
GOP mega-donor ​​Larry Ellison, a generous contributor to Scott's super-PAC, also plans to sink millions into the campaign.
Our thought bubble: We'd expect energy policy under Scott — or any of the other Republican candidates — to look quite a bit like the Trump administration.
For all the bluster and scandal, Trump pretty much did what the GOP wanted on energy: rolling back Obama-era regulations, downplaying climate change at the agencies and overhauling permitting processes.
The GOP's (relatively) newfound climate science belief hasn't translated into huge policy shifts on greenhouse gas emissions.
But what politicians say certainly matters, and if the 2020 presidential race is any indication, Scott would likely need to be able to say something about climate change in a theoretical campaign against President Biden.
The big differences would come down to personnel and how Scott, who has good relationships on the Hill, would deal with Congress.
Editor's note: This story has been corrected to note that Butcher Franz is the executive vice president of American Conservation Coalition Action, not the American Conservation Coalition.
Go deeper