Debt limit abyss for the climate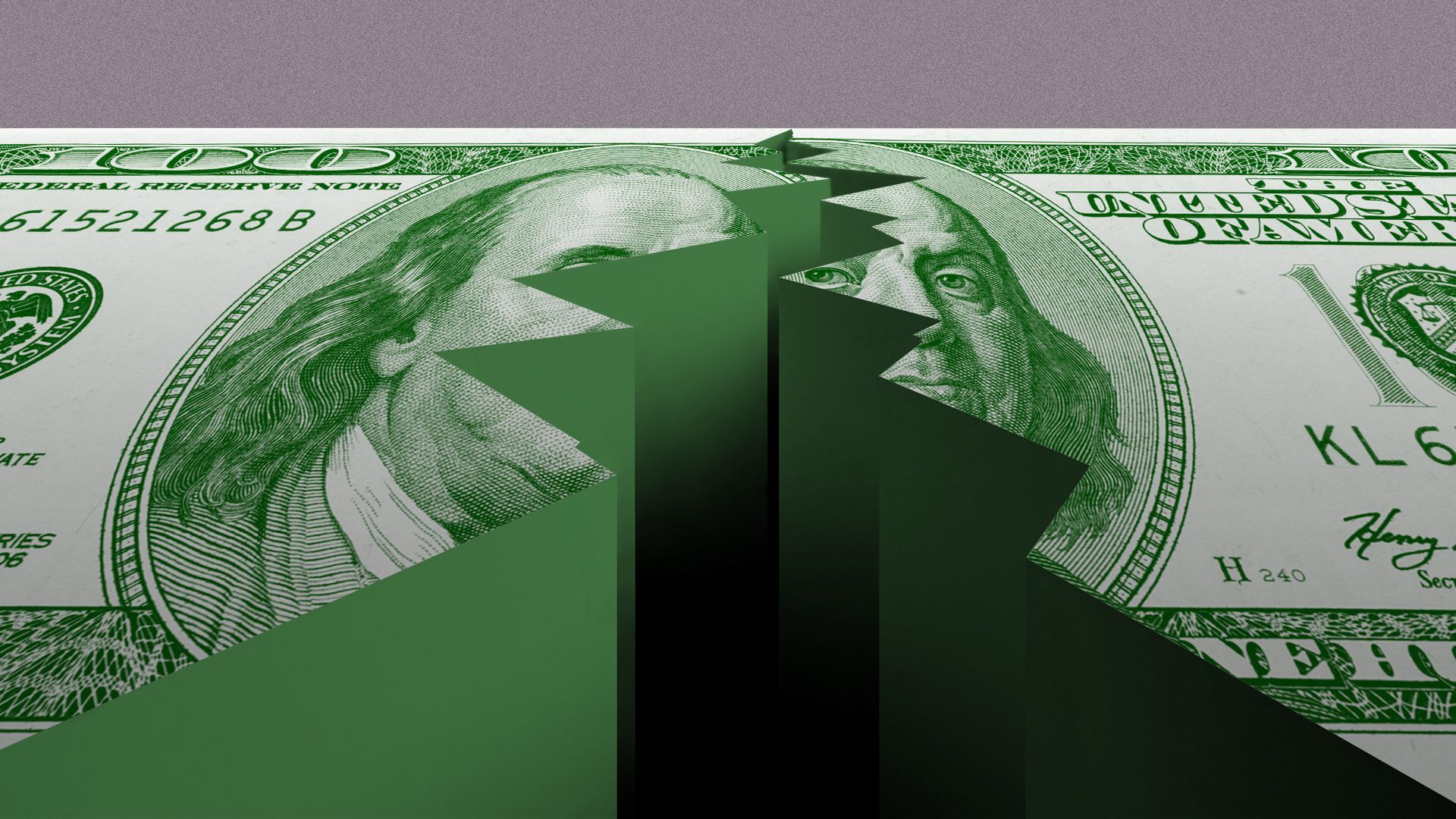 If negotiators can't reach a deal to raise the debt ceiling, a breach would send domestic decarbonization efforts into a dark abyss rife with potential danger.
Why it matters: Experts and industry executives told Axios a debt breach could hurt the U.S. energy transition in two major ways: constricting consumer spending and rendering the nation a less reliable place to build things.
And politically, Democrats are waking up to the reality that a debt breach could render their major legislative climate achievements moot.
"We're on the precipice of building a new energy economy.... That money is worth so much less if we default," Rep. Scott Peters told Axios on the House steps.
Details: Rising interest rates could hurt renewables' cost-competitiveness with fossil fuels and make it harder for consumers to afford lower-emissions products like electric cars.
Sinking commodity prices would damage mining and mineral processing projects that are key to the U.S. developing its own supply chain.
And federally backed power administrators like the Bonneville Power Administration and the Tennessee Valley Authority might see their credit ratings decline along with any downgrade of the U.S.'s rating, according to Moody's.
"We're on the edge of stepping into the great unknown," said Ethan Zindler, head of Americas for BloombergNEF, adding he's wary of making predictions on how this will play out.
Catch up quick: If White House and House GOP negotiators do reach a debt limit deal, it could include federal spending caps and permitting changes, such as mandatory review deadlines under the National Environmental Policy Act and protection from some legal challenges.
A deal could also include a transmission siting overhaul authored by Peters and Sen. John Hickenlooper, a source briefed on the matter tells Axios' Andrew Solender.
But given the likelihood that some Republicans and progressives will oppose any deal, negotiators are working with incredibly thin margins.
Between the lines: A debt breach would weaken the effectiveness of U.S. climate policy because the IRA is based mostly on consumer habits, said Noah Kaufman, a former Biden White House economist.
"I'm not sure people appreciate how fully our country's climate strategy is based on consumers and firms spending money," said Kaufman, who is now at the Columbia University Center on Global Energy Policy.
Zoom in: The U.S. battery minerals arena offers a granular example of how a debt breach would reverberate.
Mining and processing companies have announced a flurry of investments in the U.S. to take advantage of the Inflation Reduction Act.
But U.S. mining executives, who requested anonymity to speak candidly on the situation, said a breach would jeopardize the viability of mines operating in the U.S. today and any proposed projects in progress.
"Mining and energy investments have a long-term horizon," one executive said. "If the U.S. doesn't keep its financial promises, it opens the door to, 'What other promises won't they keep?'"
What they're saying: 83 Democrats signed onto a letter released yesterday saying they won't vote for a deal that "fast-track[s] polluting industry development."
But even progressives who signed that missive are alarmed about a breach hurting climate progress.
"All the IRA funding, all the investments, all the tax credits to promote clean energy, they're all co-dependent on that.… Those are all jeopardized," Rep. Raul Grijalva told Axios outside the Capitol.
Reality check: Time is not on Congress' side for a deal to be law by June 1.
Under House rules, Speaker Kevin McCarthy needs to give lawmakers at least 72 hours to review legislation coming up for a vote.
Plus, any Republican who is against a deal has the power to call for an up-or-down vote to oust McCarthy as speaker.
Then there's the Senate, which presents its own challenges to fast-paced legislating in a crisis.
That's not to say it won't happen, but it could be a heck of a weekend.
Go deeper