Interior's new balancing act on mining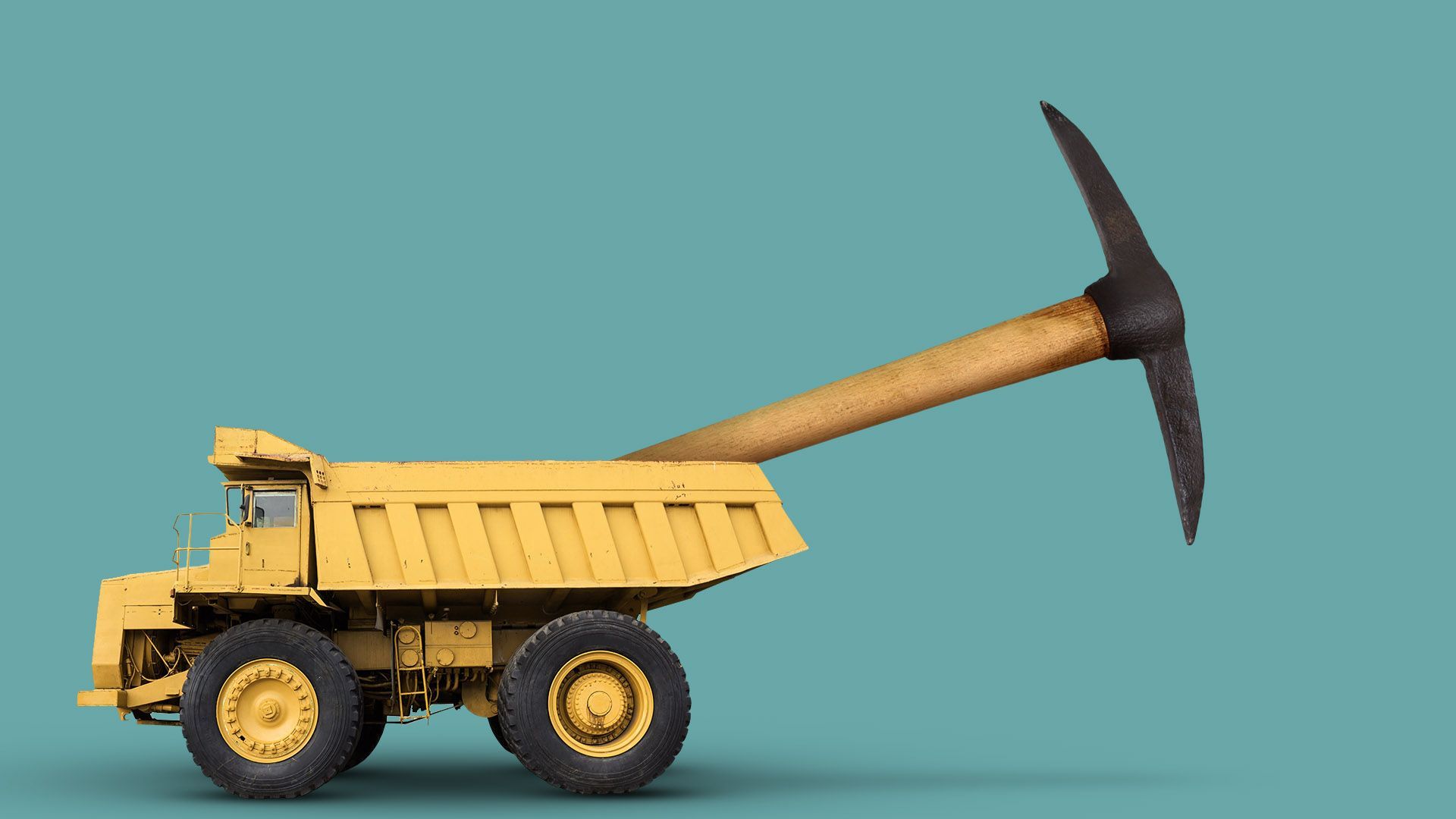 New Biden administration guidance clarifies how officials will treat a court ruling that has threatened to throw mining projects into legal danger.
Why it matters: The guidance reveals the Biden team balancing desires for more minerals to supply the energy transition with its aspirations to update a Gold Rush-era legal framework for mining projects — but it's going to complicate Democrats' intraparty dynamics around mining.
Driving the news: The Interior Department late Tuesday released a legal opinion detailing how it'll handle last year's Rosemont court ruling, which upended where and how mine developers locate mineral mills and waste sites on federal land.
Before Rosemont, the federal government let companies put waste sites on mining "claims," defined as land that had been possessed for mining purposes.
Under the nation's 151-year-old primary mining law, a mining claim is valid only if there's evidence of a mineral discovery.
The Rosemont case dealt with environmentalists challenging the validity of a waste site at a copper mine in Arizona situated atop mining claims. Activists argued that the waste site meant there couldn't have been valuable minerals below it.
The plaintiffs won, netting a judgment that set a precedent potentially threatening properties at other mines.
Interior's opinion now says companies can put waste sites on mining claims — as long as companies submit evidence of minerals beneath the proposed disposal area.
If there's no evidence, Interior says, companies have a smorgasbord of options: They can designate the land as supporting a mine, seek a land exchange or apply for a permit, lease or right-of-way.
Offering an example, Interior said the Thacker Pass lithium mining project in Nevada can put waste rock nearby since it demonstrated that minerals are at its disposal area.
Interior told the AP that dozens of other mines face situations like those at Thacker Pass.
Between the lines: Interior's move highlights how hardrock mines rely on a 1872 law that the Biden team wants updated.
The claim system itself was for Gold Rush frontier prospecting.
The White House wants a mining overhaul included in permitting discussions. Clean energy czar John Podesta said at a Bipartisan Policy Center event this month that the archaic statute was "in need of some update."
The intrigue: Rep. Raúl Grijalva supports the opinion and is planning to reintroduce his signature mining reform bill this week, a Democratic congressional aide told Jael.
"While this opinion does reaffirm the minimal protections for public lands afforded by the Mining Law of 1872, it also makes abundantly clear that our more than 150-year-old mining system is still woefully inadequate in protecting our environment, communities, and tribal input," Grijalva said in a statement.
Grijalva has long wanted to update the current mining claim system to one based on leases, which is how oil, gas and coal projects operate on federal land. Industry has opposed these efforts.
But the opinion brushes up against a new bill from Sen. Catherine Cortez Masto, who is seeking to update existing law to allow past mining industry practices pre-Rosemont.
Cortez Masto spokeswoman Lauren Wodarski said in a statement that the senator "will continue to focus on passing her bipartisan legislation to address the misguided Rosemont decision and protect the good-paying jobs the mining industry supports in Nevada and across the U.S."
National Mining Association spokesman Conor Bernstein praised the clarity the opinion provided to Thacker Pass but raised concerns about the broader opinion.
He said the group seeks "quick action" on Cortez Masto's bill and other legislation that "will underpin efforts to meet the extraordinary mineral demand now at our doorstep."
What we're watching: Biden's interagency working group on mining reform, which has yet to issue its recommendations on changing the law.
Go deeper