Inside Biden's minerals trade mess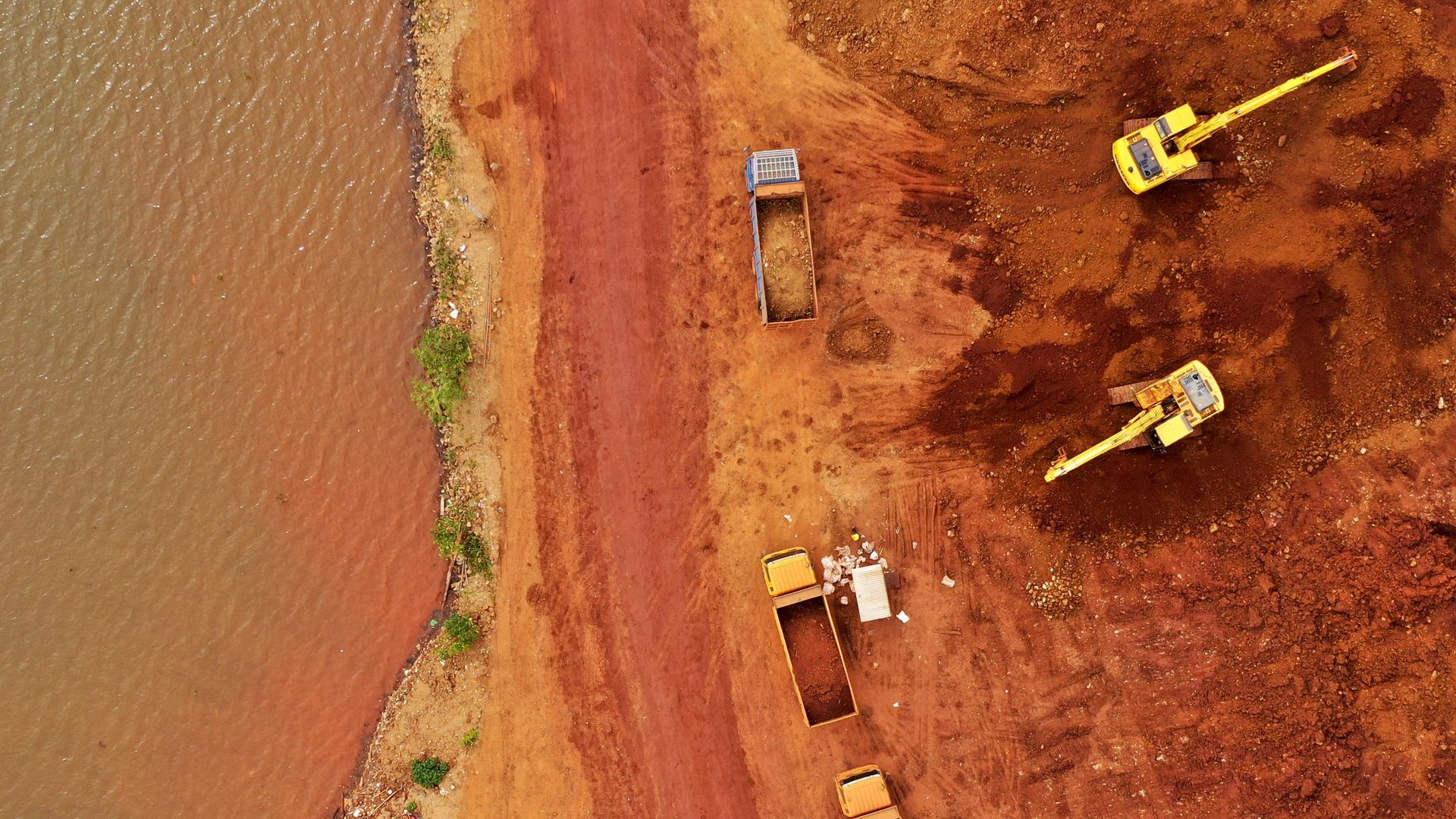 Bipartisan blowback is hampering the Biden administration's strategy to use trade deals to enable more electric vehicles to qualify for tax credits.
Why it matters: Trade hawks in Congress loathe how Biden's gone about striking these deals and are voicing concerns as he looks at future pacts.
Some GOP critics seek to gum up potential for a deal with Indonesia — a mining hub where China has a considerable presence.
Catch up quick: His signature climate law expanded a credit for people buying EVs that, in theory, should've made lots of cars cheaper.
But few vehicles can claim the full credit because of strict mineral sourcing rules.
One of the rules: Half of the credit can be claimed only if a percentage of a battery's minerals come from the U.S. or a nation with a "free trade agreement."
Driving the news: Biden is making minerals-centric trade deals so more cars can qualify for the credit.
The U.S. struck a "critical minerals agreement" with Japan in late March ahead of the official rollout of the tax credit sourcing rules, which allow these deals to count as free trade agreements.
A similar deal with the European Union is in the works.
Between the lines: Lawmakers have lots of questions about these deals, including transparency concerns and worries that they won't improve industry practices.
Senate Finance Chairman Ron Wyden told Jael he was "strongly opposed" to the Japan deal.
A spokesman for Wyden said staff "conveyed in multiple meetings [with U.S. officials] that the offer was insufficient" and the "deal was then closed without showing our office the final agreement."
Wyden's frustrations are shared by other Democrats, some environmentalists, and Republican lawmakers.
The pressure from the Hill has only intensified after reports surfaced that Indonesia wants its own minerals agreement, Jael has learned.
Indonesia, one of the world's largest producers of nickel for batteries, reportedly wants a deal so its mammoth mining sector — mired in allegations of China ties and dirty practices — can benefit from the IRA.
Rep. Pete Stauber wrote U.S. trade representative Katherine Tai on April 14 complaining about Indonesia "receiv[ing] preferential tax treatment" under the IRA.
Instead of trade deals, Stauber wants the administration to embrace mining EV minerals in his district, which is rich in battery-grade nickel.
"By entering FTAs focused on critical mineral supply chains with other countries, the U.S. will continue to increase our reliance on foreign actors, in direct conflict with the Biden Administration's stated goals," Stauber said in the letter, which hasn't previously been reported.
Asked in the Senate subway about Indonesia, Wyden said he'd need to see the details of any deal, and said he's engaged with trade officials to ensure "we can all come together" on what future minerals pacts look like.
To him, new deals should have the spirit of Trump's USMCA agreement with Canada and Mexico, which also opened up new export markets for U.S. businesses. (The Japan agreement didn't do that.)
Meanwhile, Sen. Marco Rubio asked the DOJ and SEC last week to investigate Ford Motor Co. over a deal it struck in Indonesia involving China-backed mining company Huayou Cobalt.
Rubio also wrote Secretary of State Antony Blinken asking for the behind-the-scenes on a recent speech by Sung Kim — the U.S. ambassador to Indonesia — praising the deal.
The other side: A senior U.S. Trade Representative official told Jael there's currently "no administration decision or position related to" a deal with Indonesia.
The official, who spoke anonymously to speak candidly, pushed back on transparency criticisms. The official said the administration has had more than a dozen congressional consultations on new minerals agreements.
The official said the Japan deal was modified in response to congressional input even though these deals can be done without explicit congressional approval using existing authorities.
And the official gave a full-throated defense of the Japan deal: "It's about ... ensuring the IRA is a success, that we have sufficient minerals for sufficient vehicles to qualify and have that benefit flow down to U.S.-made vehicles."
Our thought bubble: It would be a shock to see Biden strike a minerals deal with Indonesia any time soon.
Unless it came with strings attached, an Indonesia deal could undercut White House claims that it's using trade to lift standards in the mining sector.
Go deeper