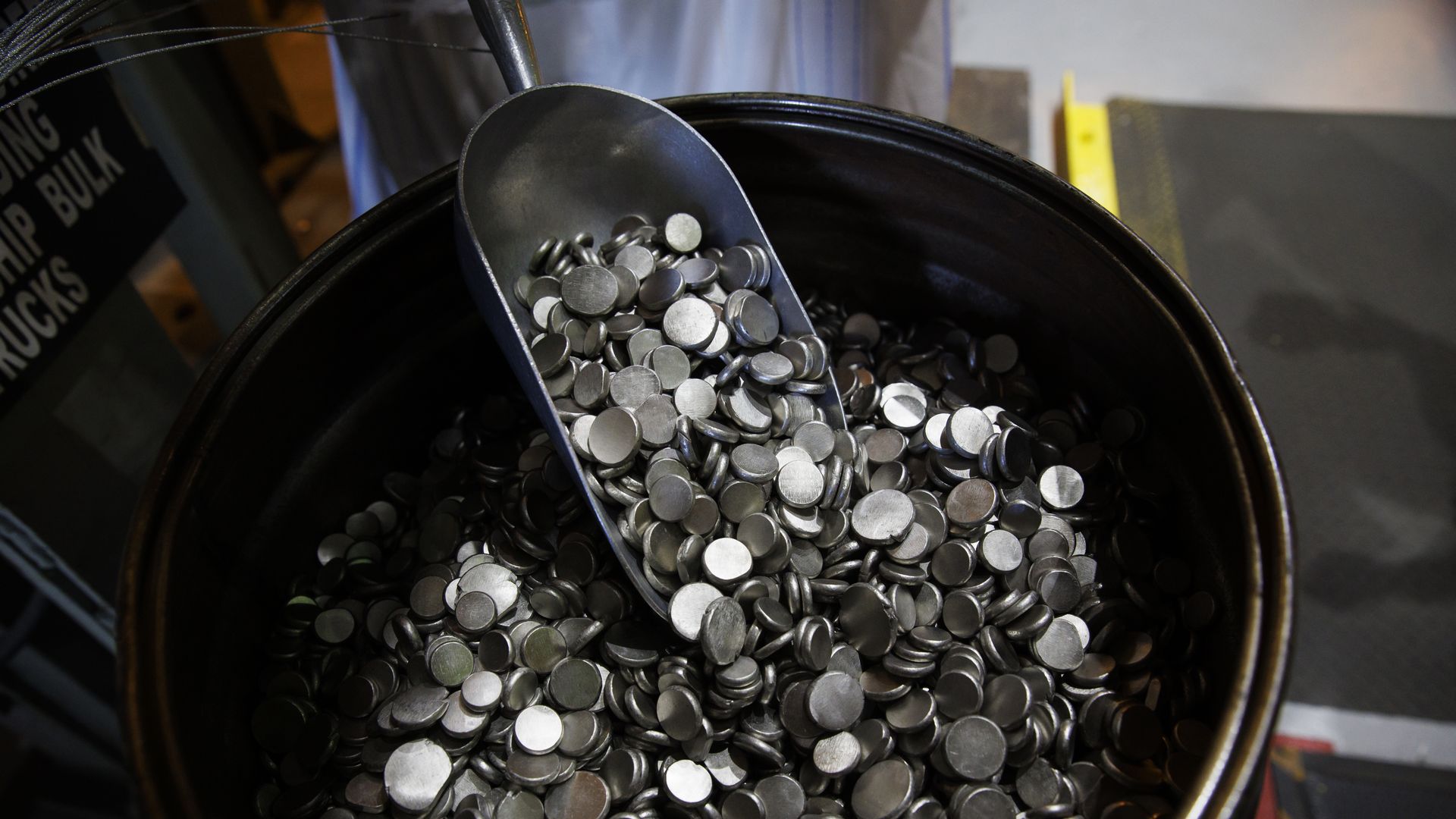 Lawmakers are pressing the Biden administration to boost domestic nickel production as a wider mining mania grips both sides of the aisle.
Why it matters: Nickel is crucial for many EVs, and Congress wants the administration to do more to wrestle U.S. cars away from foreign supply chains vulnerable to geopolitical tensions.
Nickel is one of many useful minerals mined and/or refined in large quantities by China and Russia.
Driving the news: Both Republicans and Democrats are pressing the Pentagon to use the Defense Production Act — a Korean War-era statute — to boost domestic nickel output, letters obtained by Axios show.
In October, Democrats Eric Swalwell, Mary Peltola and Vicente Gonzalez wrote the Pentagon asking that the act be used to back "projects and programs that encourage the development of a complete and durable nickel supply chain."
The letter to William LaPlante, under secretary of defense for acquisition and sustainment, singles out nickel mining exploration in the Lake Superior area — including in Minnesota and Michigan — as well as in Alaska.
The lawmakers fretted that Russian metals companies may turn to Chinese buying markets "to undermine the effect of American or European [sanctions] measures" if they were taken against Russian nickel.
Then in November, Rep. Pete Stauber — who now leads the mining subcommittee on the House Natural Resources Committee — wrote his own letter to LaPlante asking that the act be used to "mine and process nickel from Minnesota and the rest of the [U.S.]."
Between the lines: The letters build off a major Biden climate action: He invoked the DPA last year to liberate wartime authorities and funding for U.S. minerals projects in a bid to unshackle the nation from foreign metals.
The Biden administration requested $75 million in its latest budget for the Energy Department to carry out DPA determinations.
The other side: The DOD told Swalwell's office in a January letter that it had developed "an acquisition strategy" under the DPA and is "using recent appropriations to implement it."
"The Department is actively engaging with companies across the United States and our allies to secure our critical mineral supply chains using DPA funds, including for nickel," wrote Deborah Rosenblum, assistant secretary for nuclear, chemical, and biological defense programs.
The big picture: U.S. mineral import needs are sparking bipartisan concern.
What we're watching: Today, Stauber is holding a field hearing at a public school in his northern Minnesota district focusing on its "vast mineral wealth" and the "local and national benefits of mining in the region."
Swalwell is also in mining country today, touring the Mountain Pass rare earths mine in California (he also recently introduced a bipartisan bill on rare earths).
Of note: If you're interested in a deeper view into DOD's thinking, watch this virtual panel hosted by Swalwell's Critical Materials Caucus on mining.
Go deeper