Dems' high-voltage permits challenge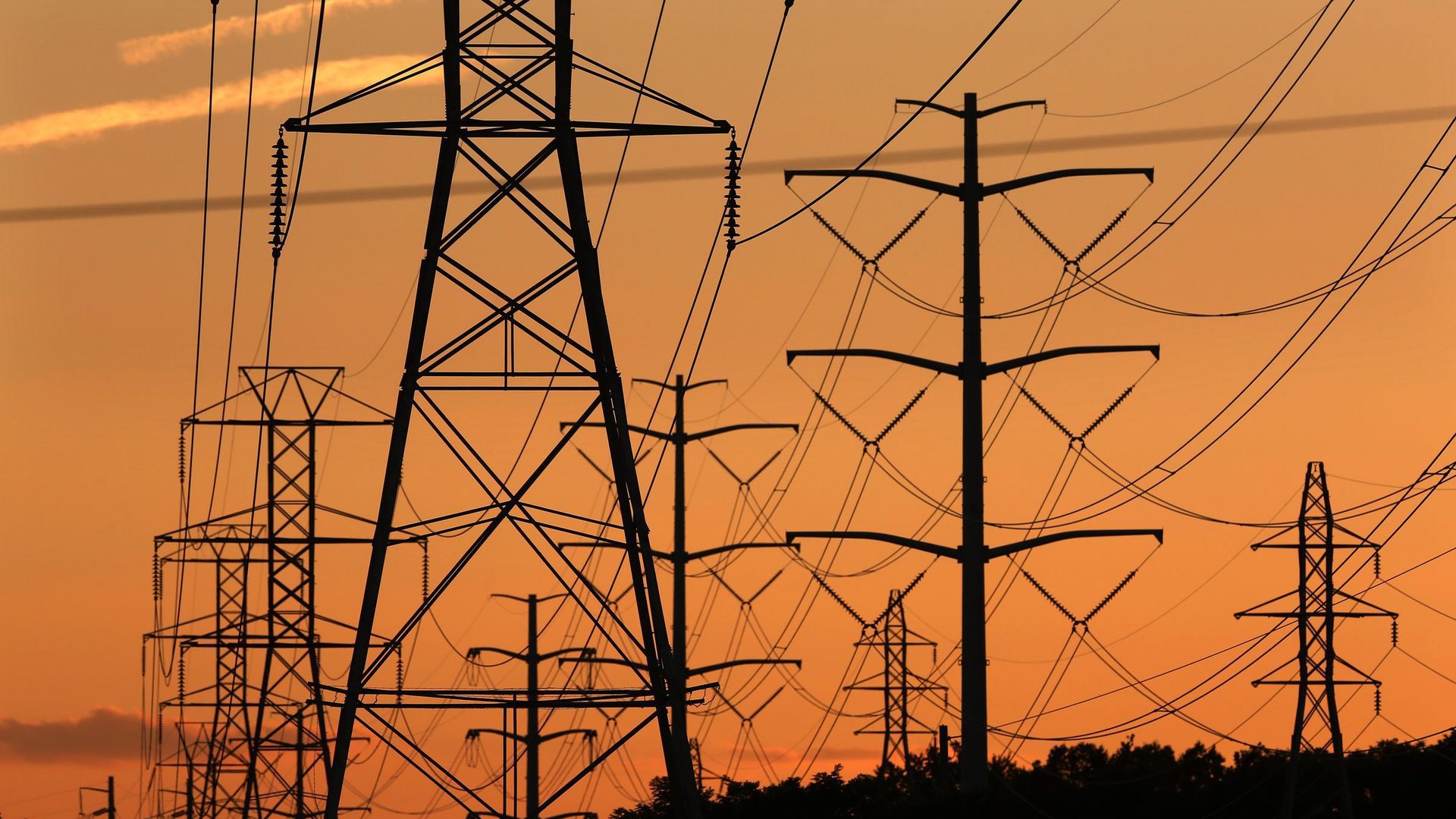 An overhaul of electricity transmission laws is crucial to Democrats' permitting dreams — but it's a big project that will be the subject of a wonky fight over the next few months.
Why it matters: Think about the vision behind the IRA tax credits: huge wind and solar installations in rural areas supplying low-carbon power to population centers hundreds of miles away.
The intrigue: The kind of permitting changes that Democrats are talking about don't always involve traditional environmental laws.
It's often disputes over siting, cost allocation and jurisdiction among the Federal Energy Regulatory Commission, states and grid operators that hold up long-distance power line projects.
Zoom in: The 2021 infrastructure law gave FERC more authority over projects in key national transmission corridors.
Sen. Joe Manchin's permits overhaul last year offered a next step, with a provision that would have expanded those centralized powers to site lines and allocated the costs to the consumers who would benefit.
Sen. Sheldon Whitehouse similarly has a bill to make FERC the primary siting and cost-sharing authority for interstate transmission projects with more than 1,000 megawatts in capacity — an idea that environmental groups support.
Sen. Martin Heinrich, meanwhile, has proposed a transmission investment tax credit, as well as legislation to overhaul FERC's interregional power line planning process.
Experts say interregional planning is currently a big blind spot in the regulatory system.
In the House, Sean Casten and Mike Levin are planning to unveil a wide-ranging transmission reform bill "shortly," Casten told Axios.
Casten said the bill would seek to "fix the economic problems in transmission policy" and make the FERC transmission permitting process more similar to the way the agency handles natural gas pipelines.
That includes ensuring that communities affected by these projects benefit and get a say in the process, Casten said.
Between the lines: These are huge changes to how the power sector operates, which could be difficult to pass in a divided Congress, even with the fervent interest in permitting reform.
Republicans and state regulators don't want to give FERC more authority here, viewing it as a federal power grab. That's part of what sunk the Manchin bill.
Environmentalists who have made careers opposing big infrastructure projects are now in the position of supporting them.
"I have watched time and again, as Congress has punted to FERC and FERC has punted the ball back to Congress because these questions are just really hard," former commission chair Neil Chatterjee told Axios.
What we're watching: The policy folks working on this believe it's possible to chip away at the problem through FERC without major legislation.
That could involve encouraging line operators to install so-called grid enhancing technologies to reduce congestion on the existing network.
"If you want to get the most bang for your buck as soon as possible, it starts with optimizing the existing system," said Devin Hartman, director of energy and environmental policy at R Street.
Chatterjee is also optimistic that FERC will move on its own to clean up the messy interconnection process.
Currently, renewable energy developers face lengthy waits for cost assessments that show how much they'll have to chip in for the lines needed to bring their power online.
Right now, nearly 2,000 gigawatts of wind, solar and storage projects are sitting in interconnection queues, per a recent Lawrence Berkeley National Lab study. Much of it won't ever get built, but it's a staggering number.
"We've got to figure out a way to make it smarter, more efficient, to focus on real projects as opposed to speculative ones, to cut down the amount of time it takes to do studies," Chatterjee said.
Go deeper