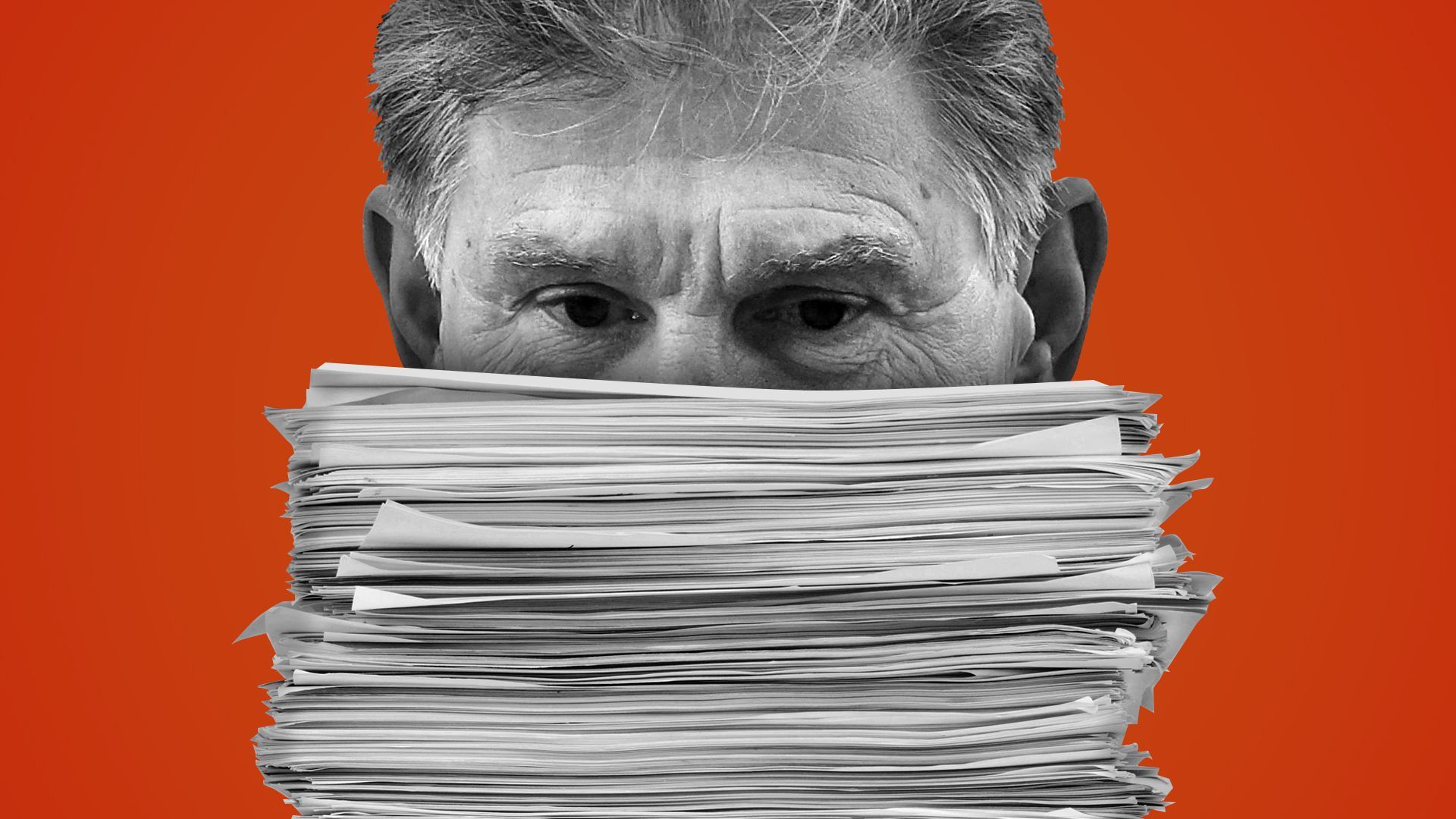 👀 Sen. Joe Manchin is once again causing headaches for the Biden administration by threatening to derail nominees.
Why it matters: The West Virginian's independent streak could have tangible impacts for crucial roles at the Energy Department, Interior and other agencies.
Here are the spots we're watching:
David Crane, nominated for DOE undersecretary for infrastructure, and Jeff Marootian, picked for DOE assistant secretary for ​​energy efficiency and renewable energy, will have to move through Manchin's Energy and Natural Resources Committee again. Both were reported out favorably in December.
President Biden will have to send Manchin a nominee for the fifth spot at FERC. Manchin clashed repeatedly with former FERC chair Richard Glick, stalling his renomination and eventually forcing him to leave the commission.
Context: Manchin on Friday formally withdrew support for Laura Daniel-Davis, who has been stuck in Senate limbo for two years awaiting confirmation to be Interior secretary for land and minerals management.
Manchin was enraged by an internal agency document that showed she had signed off on higher royalty rates for an oil and gas lease sale in Alaska.
He also voted against IRS pick Daniel Werfel on the floor last week, citing ongoing concerns about the Biden administration's implementation of the IRA energy tax credits.
In an op-ed Friday, Manchin pledged to put Biden's appointees through the wringer.
"Going forward, each and every proposed nominee I will review will be judged through one prism: Are they political partisans first or Americans first?" Manchin wrote.
The big picture: Manchin can't sink most nominees alone, since Democrats expanded their majority in the midterms. Werfel was confirmed with some GOP support.
But he can certainly deny committee action to those under his purview as ENR chair and make things difficult for Biden.
Nominees who aren't confirmed at the end of the year are returned to the president.
There are plenty of Biden picks pending who have been renominated and given back to the Senate.
Meanwhile, Biden has re-upped two top EPA picks with the EPW Committee.
That panel held a hearing on Joe Goffman, tapped to lead the Air and Radiation Office, earlier this month, and Democrats are hoping to move him soon.
Also on EPW's list is David Uhlmann, who was tapped to lead the agency's enforcement efforts.
At DOT, Biden has yet to pick anyone to lead the Pipeline and Hazardous Materials Safety Administration.
Those spots aren't in Manchin's jurisdiction — but they're likely on his radar, since they're top players on the Biden administration's regulatory agenda.
Yes, but: Some of these folks are already serving in the administration, and that might continue — whether or not they're confirmed.
Daniel-Davis is the principal deputy assistant secretary for Land and Minerals Management at Interior, and she's effectively doing the job she was nominated for.
Interior spokesperson Melissa Schwartz said Daniel-Davis "will continue to lead this portfolio at Interior."
Goffman is serving in a similar capacity at the EPA air office.
Our thought bubble: This all highlights problems with the executive branch nomination process — and the Senate quagmire that comes with it.
"It's mathematically impossible for the Senate to review and vote on 1,200 positions in a president's first year," said Valerie Smith Boyd, director of the Partnership for Public Service's Center for Presidential Transition.
"We think it would be very important for government effectiveness to reduce the number of positions requiring Senate confirmation," she said.
Go deeper